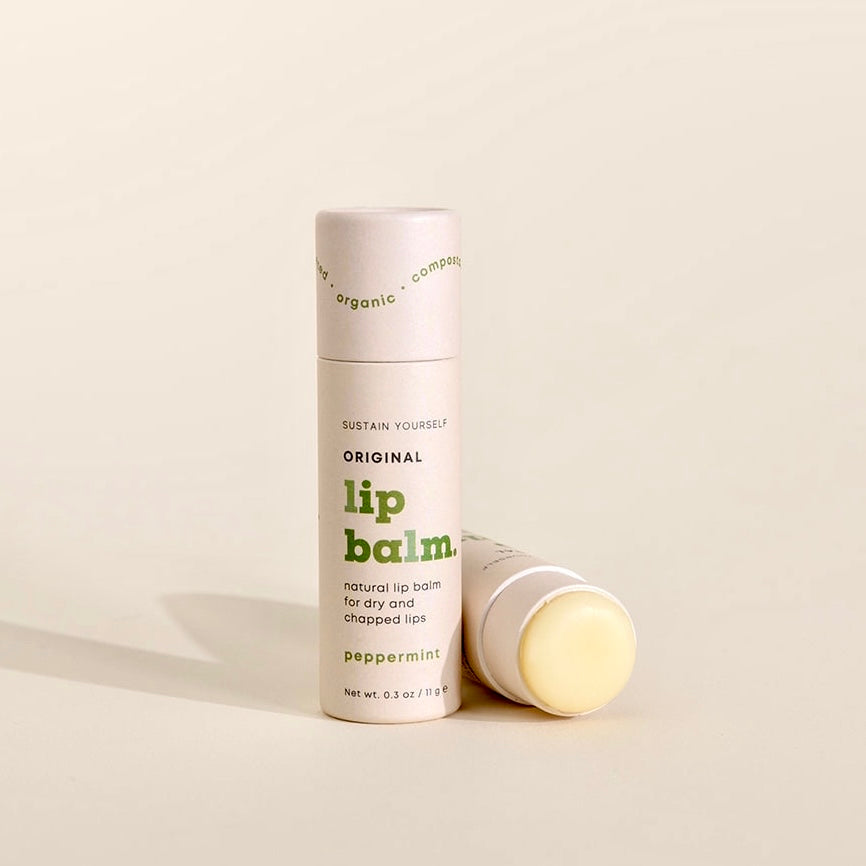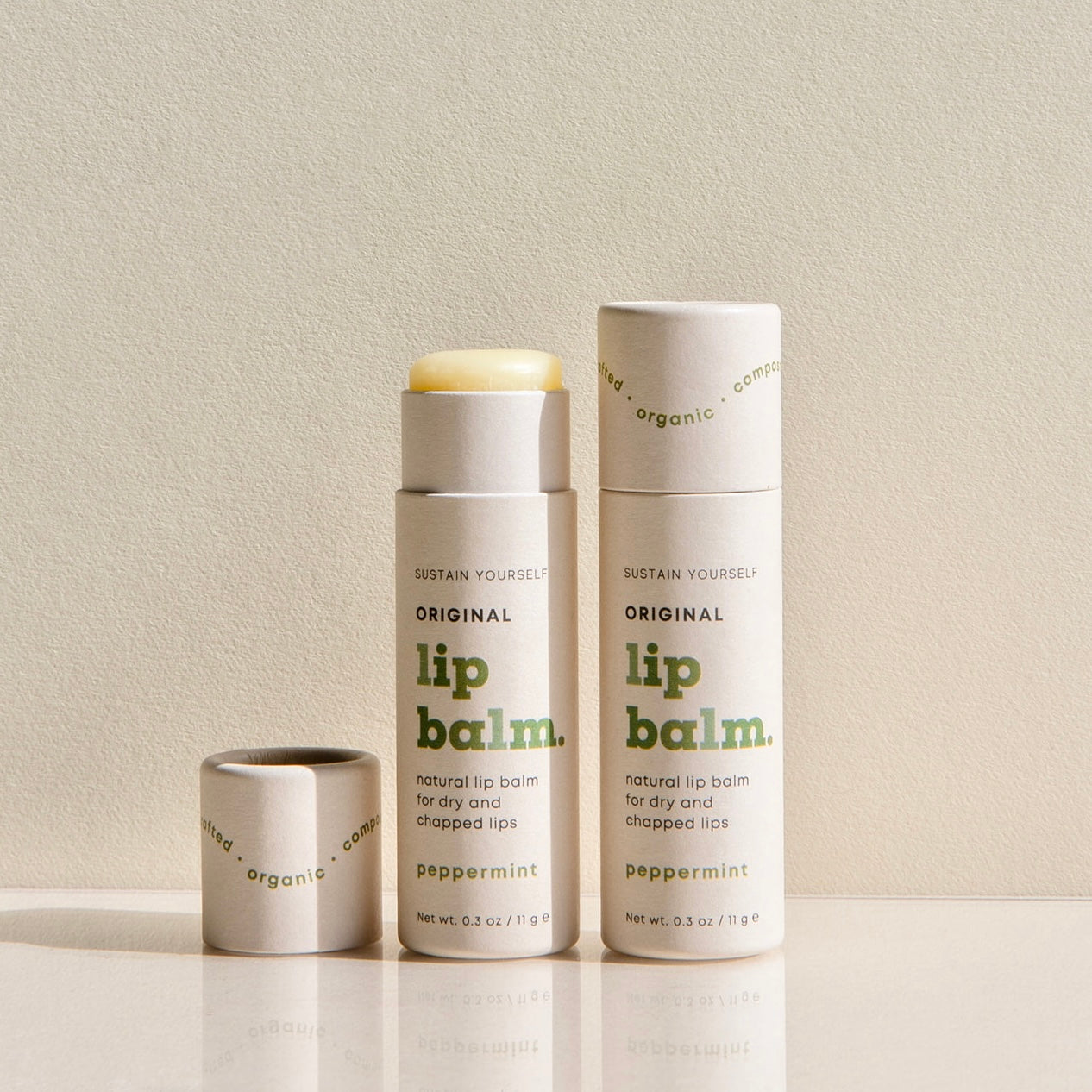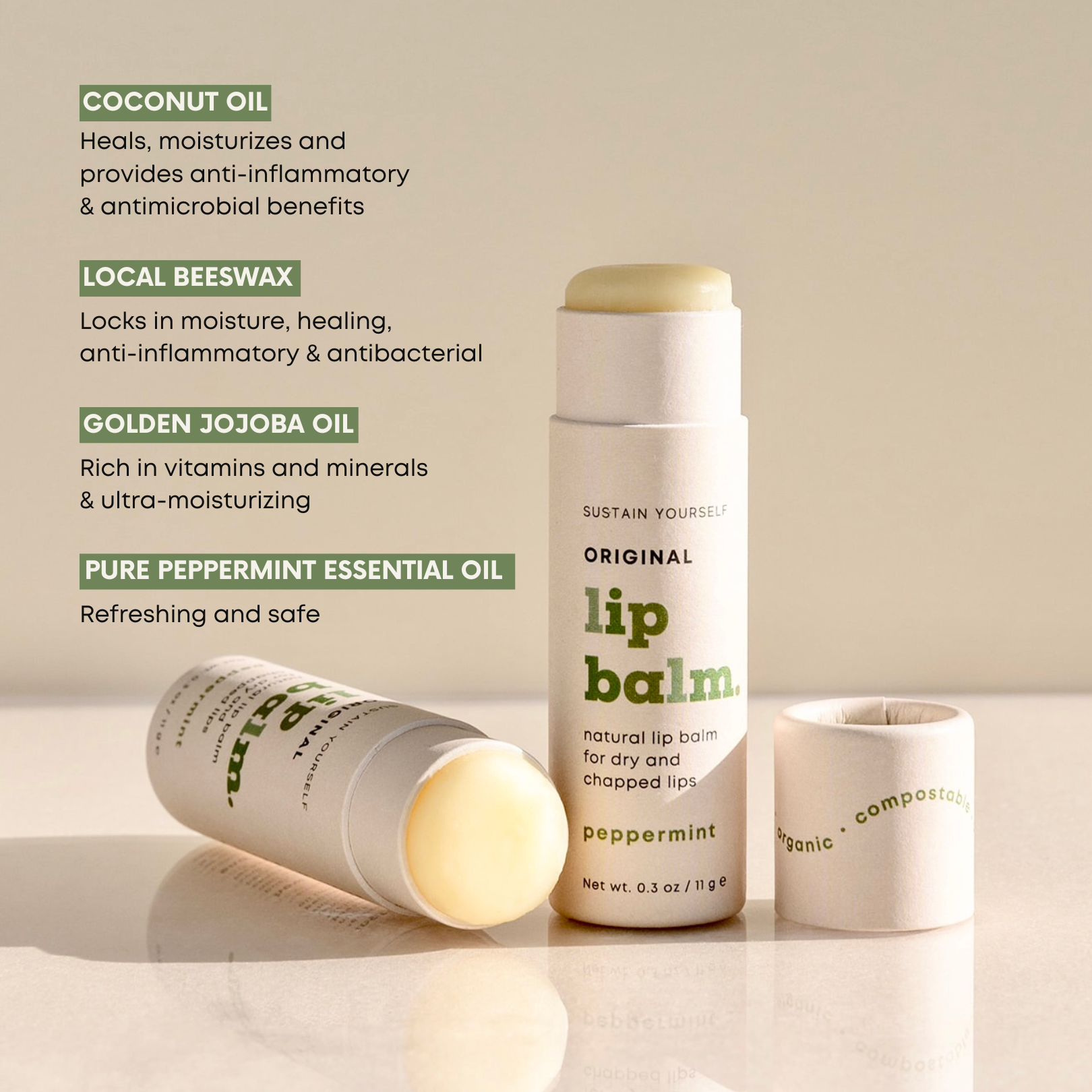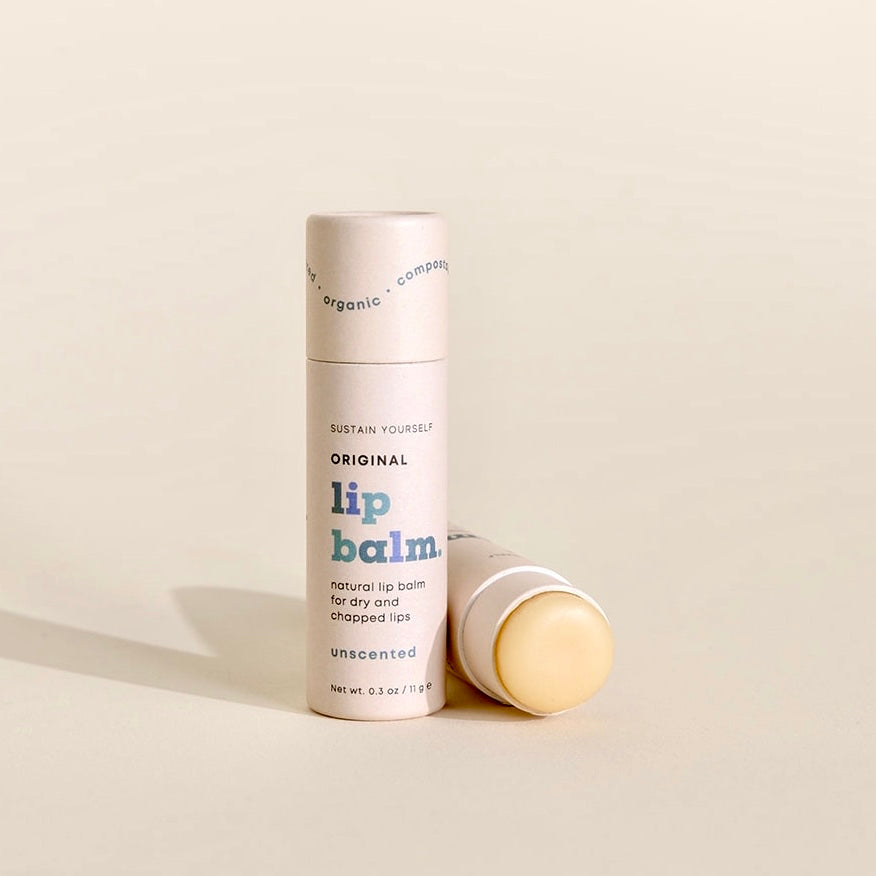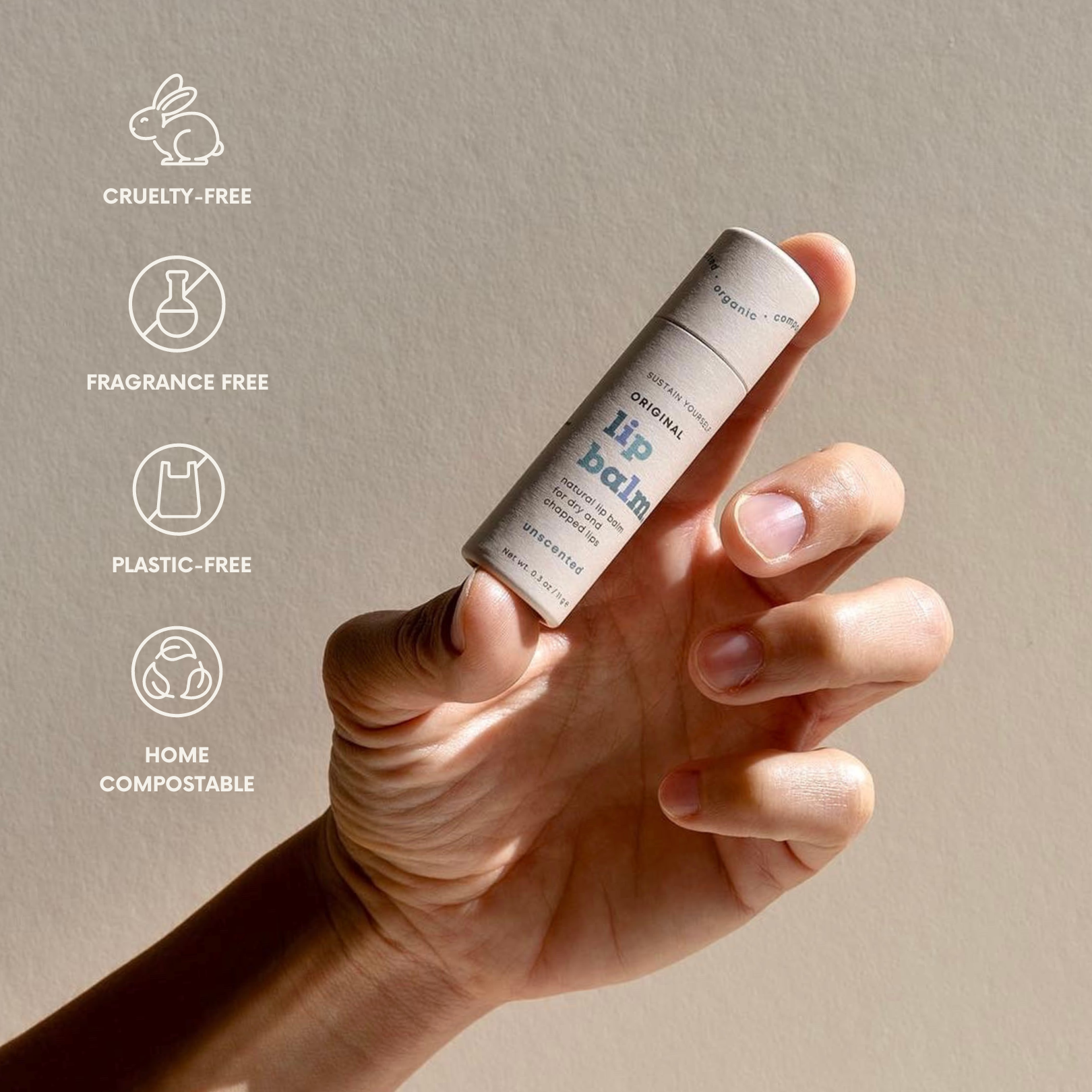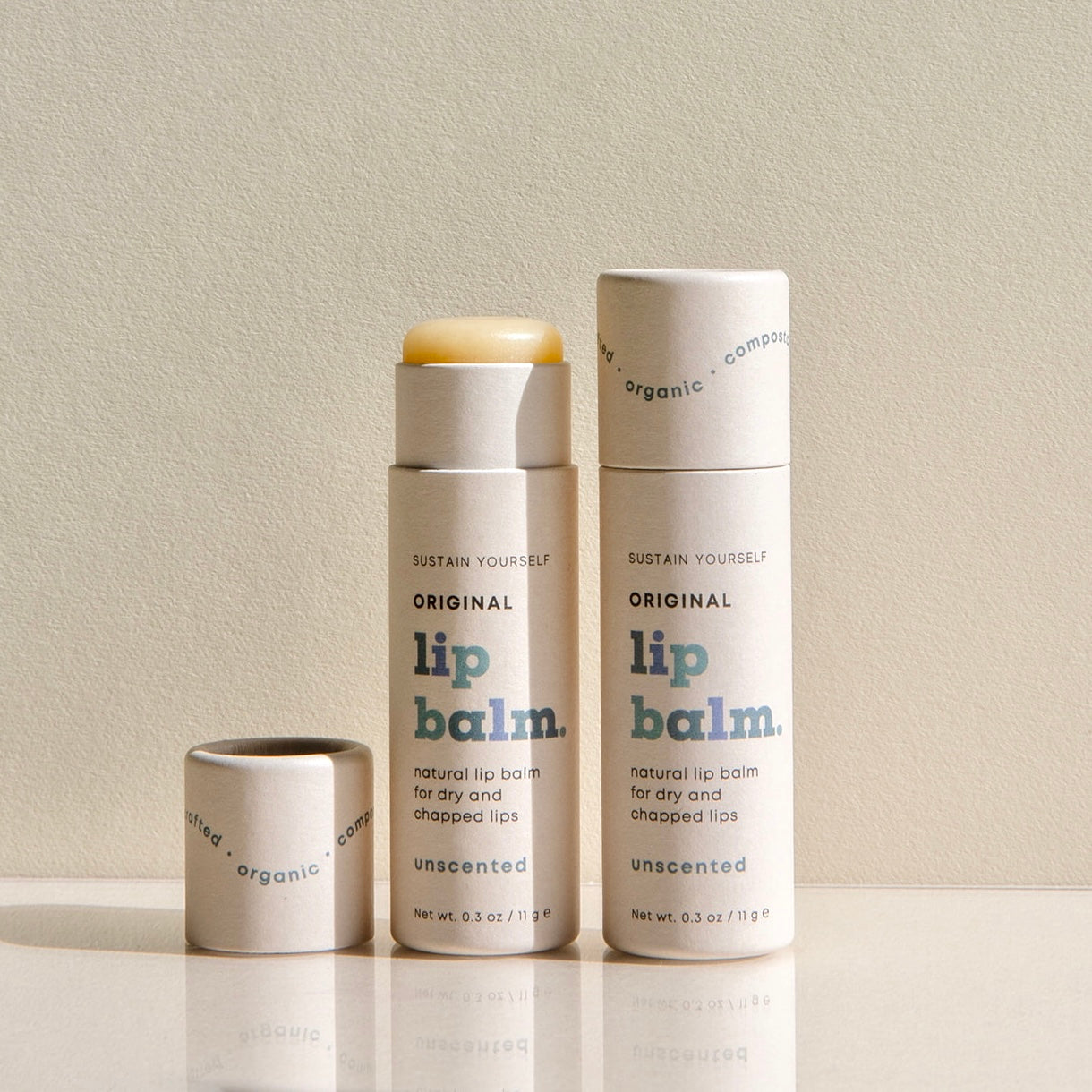 A plastic-free alternative to conventional lip balm, housed in a completely biodegradable and FSC certified cardboard tube. Meaning that the paper came from responsibly managed forests and will return to nature at the end of its long life (1-2 years). Compost in your backyard or curbside bin.
Geevie, our lip balm maker, delicately handcrafts our Lip Balm with pure, organic, and high quality ingredients and fills each tube by hand. Our creamy formula is simple, yet coats your lips with a protective layer of instant, healing, and lasting moisture. 
Our formula is made with just 3 key ingredients (4 for peppermint) that effectively heal and nourish dry, chapped lips. All of our ingredients are 100% natural and are sustainably and ethically sourced. 
We demonstrate sustainability in our products by choosing responsible packaging, and formulating them to be multifunctional and long lasting. Our original lip balm is twice the size of conventional chapstick- our tubes hold 0.3oz of balm and standard balm is just 0.15oz. That makes our lip balm $5 when compared to the equal amount of a conventional brand. That's a dollar price difference from Burt's Bee's! And that dollar is going toward better packaging, ingredients, and ethical manufacturing practices.
Ingredients
Peppermint: *+coconut oil (cocos nucifera), local beeswax (cera alba), *golden jojoba oil (simmondsia xhinesis), *pure peppermint essential oil (mentha piperita)

Unscented: *+coconut oil (cocos nucifera), local beeswax (cera alba), *golden jojoba oil (simmondsia xhinesis)
*certified organic 
+certified fair trade
Ingredient benefits
Beeswax: natural emulsifier, locks in moisture, healing, anti-inflammatory, anti-bacterial, soothes eczema and rosacea

Coconut oil: moisturizing, anti-inflammatory, healing, antimicrobial

Golden jojoba oil: anti-inflammatory, rich in vitamins and minerals, ultra-moisturizing, gentle on sensitive skin, soothes eczema and rosacea

Peppermint essential oil: plant derived scent and anti-bacterial


How to use
Push up from the bottom of the tube, using your finger. 
How to store
Store in a cool, dry place away from direct sunlight. Avoid contact with water. And don't forget it in a pocket when you do laundry!
Shelf Life
24+ months if kept in ideal conditions.
Packaging
Biodegradable paper tube.
End of life
Compost in your backyard or city curbside bin! 
Why Beeswax

Our beeswax comes from a local and ethical bee farm that refrains from fumigating and demonstrates a true symbiotic relationship with bees. Bees are an essential part of our ecosystem and are responsible for pollinating 1/3 of all crops we consume today. True sustainable and ethical bee farming is possible, as farmers remove and prevent pests from raiding colonies and help maintain healthy hives by removing only the excess honey combs, so the bees can flourish.

My Favorite Lip Balm Ever!
This has been my favorite lip balm ever! It's a BIG tube, so it's much harder to lose (if ya know, ya know). One tube lasts so long, even with applying multiple times a day. I believe my first one lasted me a whole year, and I was using it exclusively. I love know it was made with so much love, and the best of ingredients. 10/10. I just bought a 3-pack to give my 3 besties... Sharing is caring!
Fabulous!
The peppermint isn't too strong, I love it. Also the new packaging is beautiful :)
Love it
I really like this lip balm It keeps my lips soft and moisture. I'll be buying them as a gift for friends and family.
Simple Product
Great simple product! The balm moisturizes and hydrates my limps and smells good. I love that the packaging is plastic free!
Great
Nice feel, not sticky and hydrates real well.
So good
Love this lip balm! I got the unscented and now have 3 tubes scattered around so I always have one on hand. Feels so good on the lips and I love the size of the tube—other natural lip balms I've used are massive but this is perfect. Will definitely be buying again.