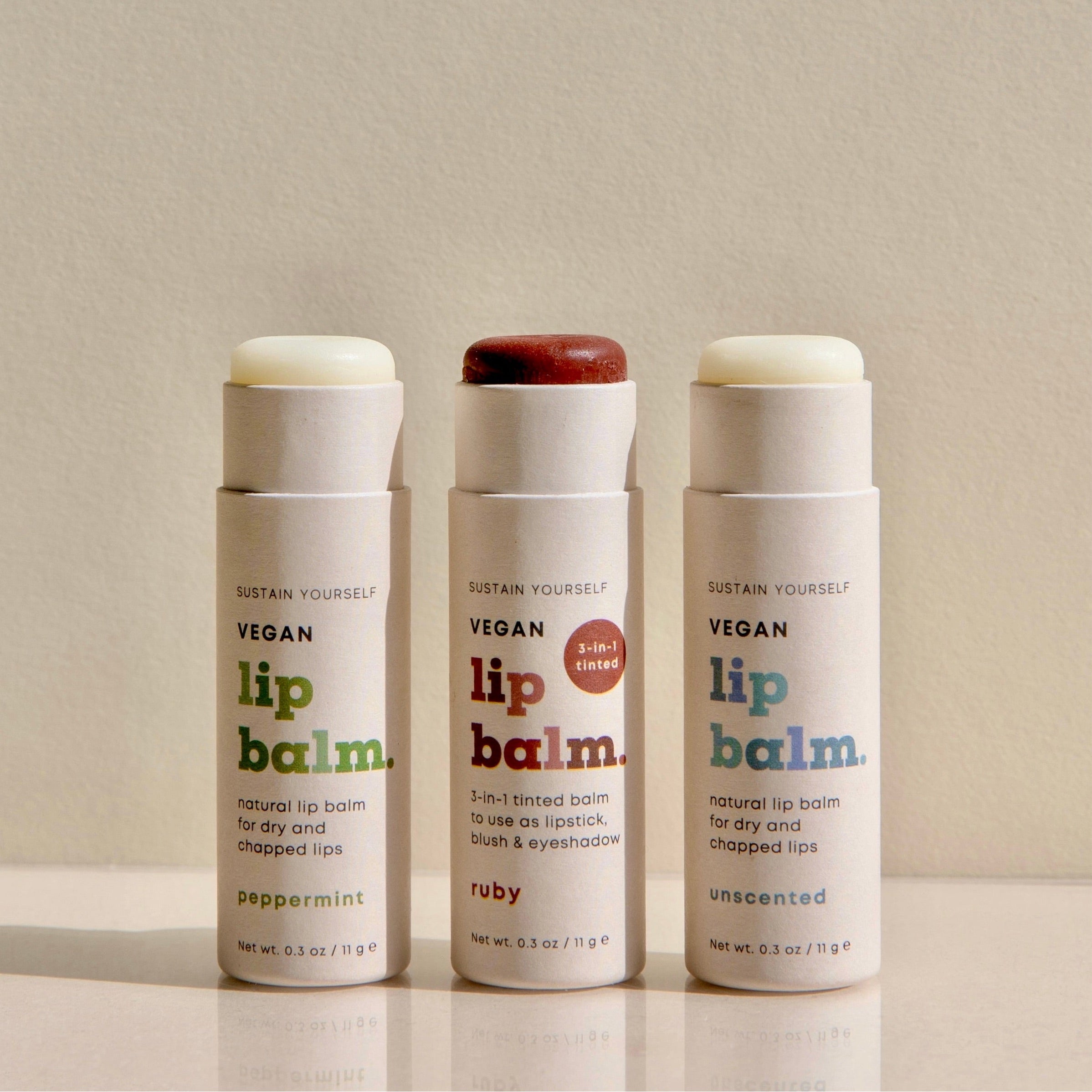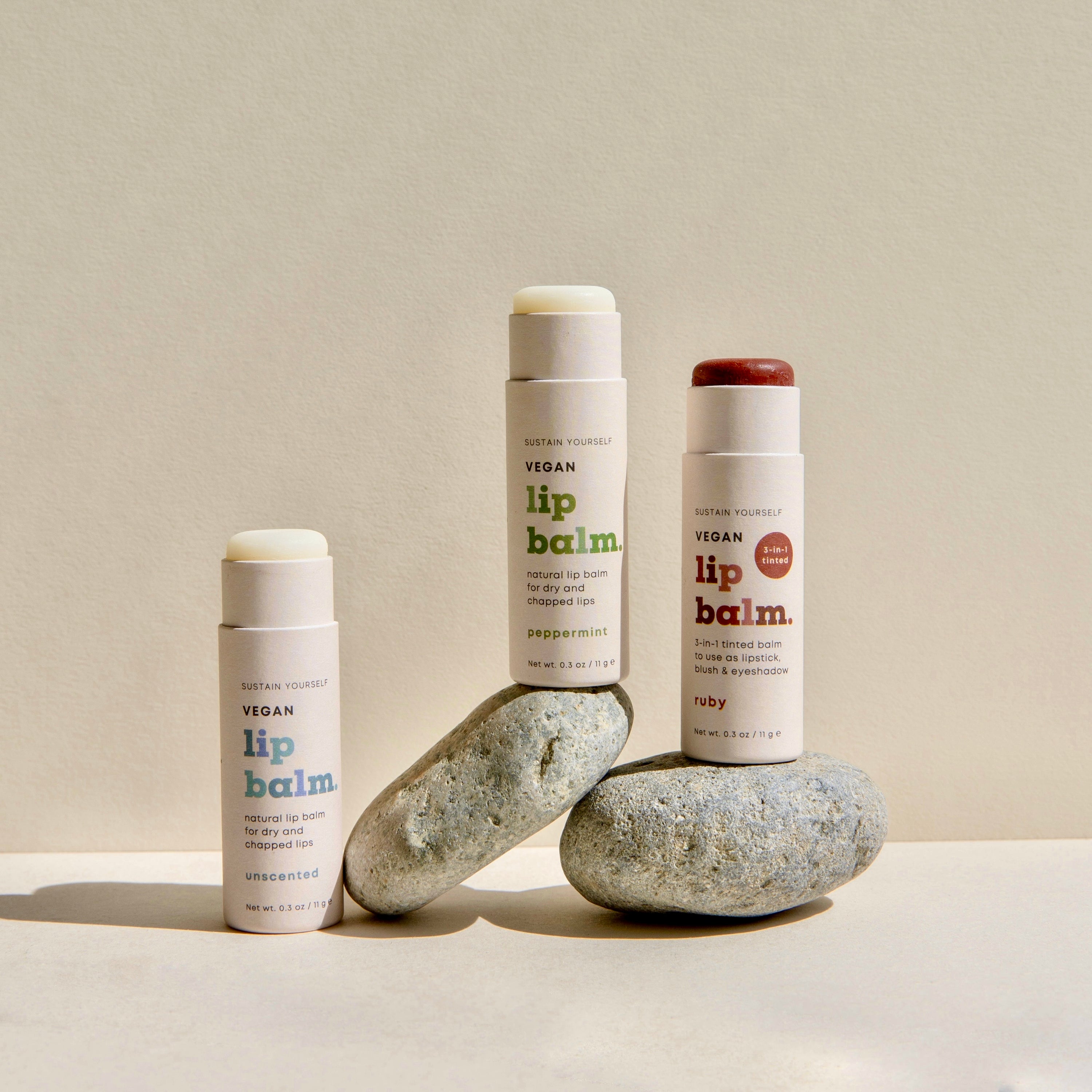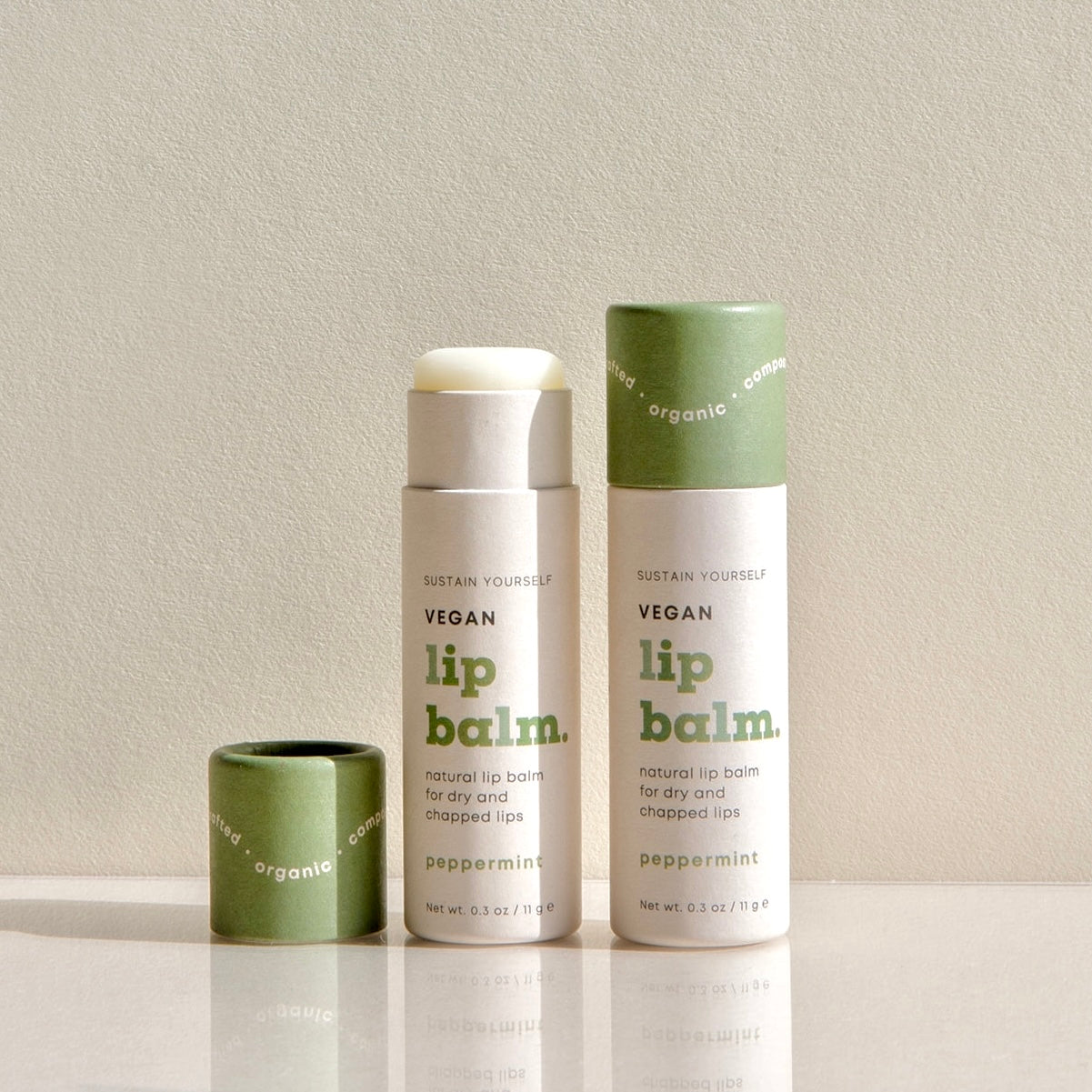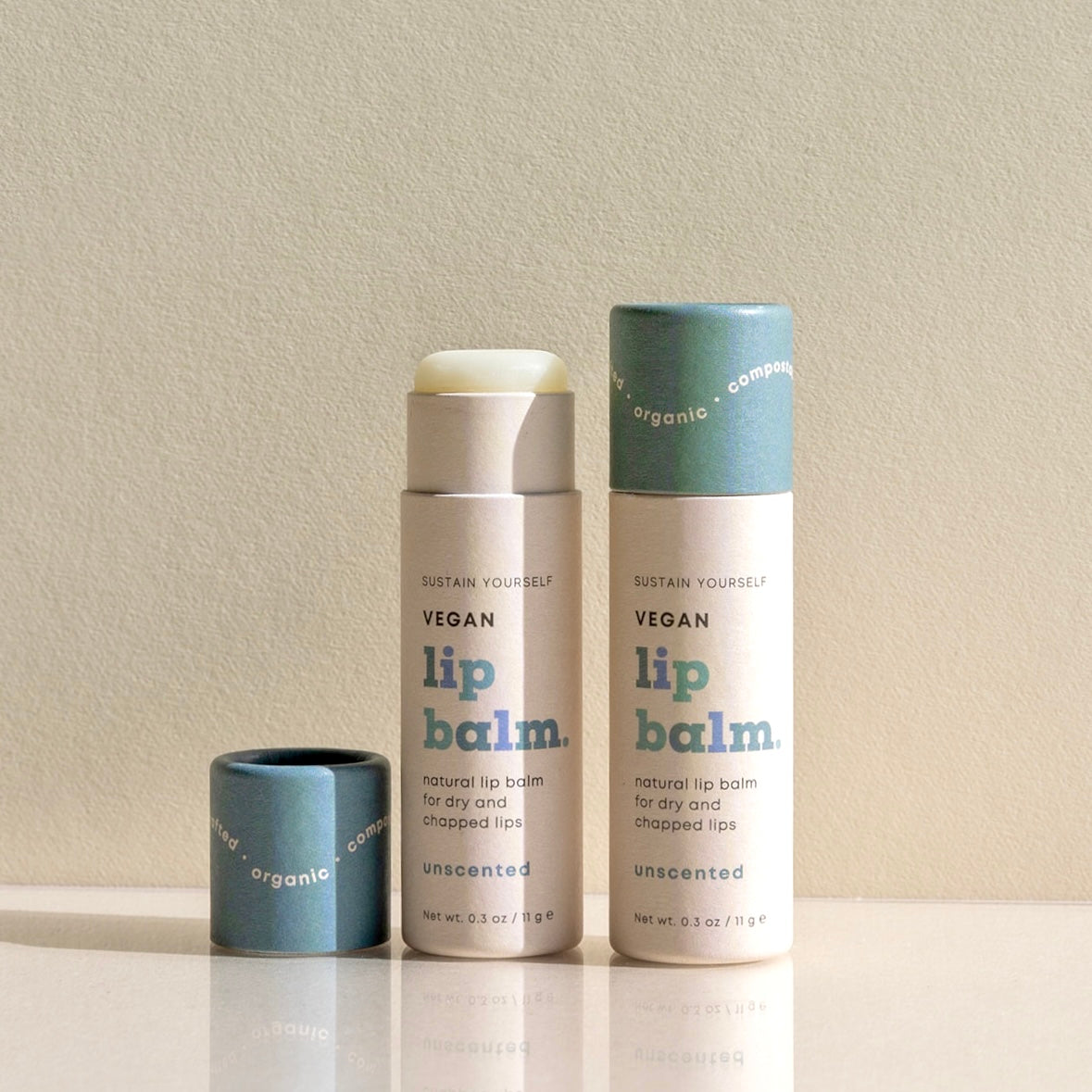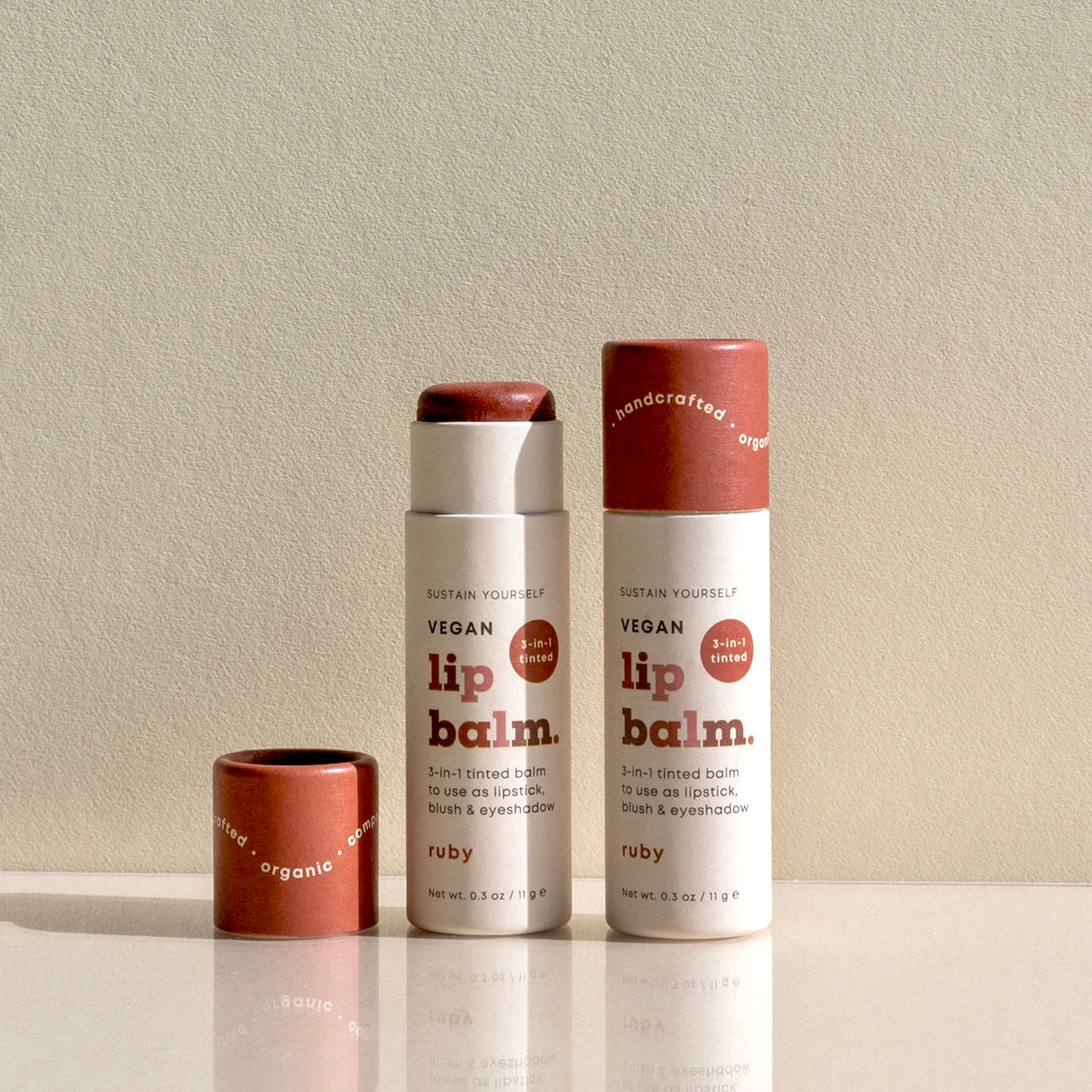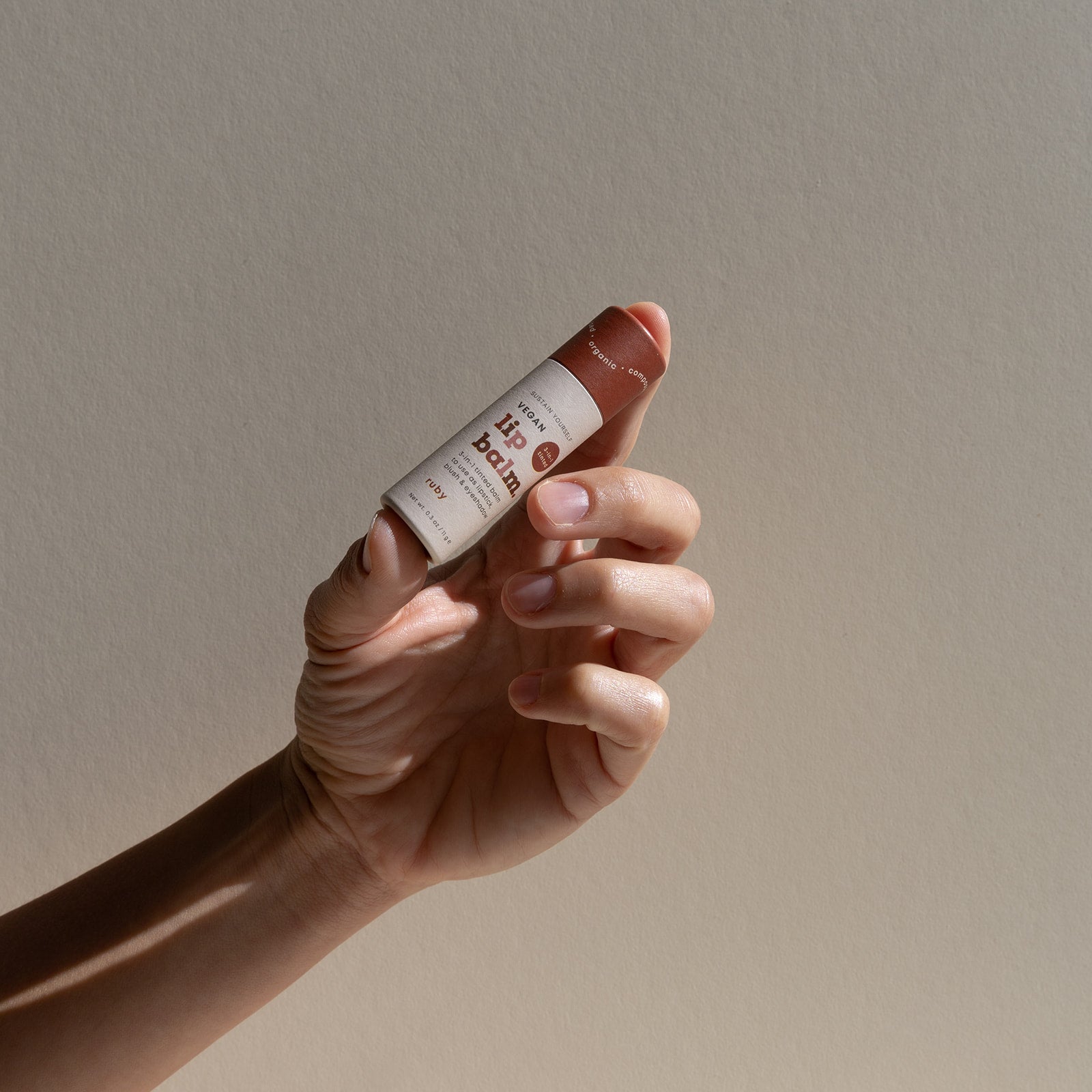 vegan lip balm multi-pack
NEW! 
A 3 pack of our new vegan lip balm line! Our lip balms are delicately handcrafted with natural and high quality ingredients that repair and hydrate chapped lips. All of our ingredients are 100% natural and are sustainably and ethically sourced.


Ingredients
Peppermint: *shea butter (butyrospermum parkii), *sunflower seed oil (helianthus annuus), sunflower seed wax (helianthus annuus cera), *pure peppermint essential oil (mentha piperita)
Unscented: *shea butter (butyrospermum parkii), *sunflower seed oil (helianthus annuus), sunflower seed wax (helianthus annuus cera)
Tinted: *golden jojoba oil (simmondsia xhinensis), *mango butter (mangifera indica), sunflower seed wax (helianthus annuus cera), *+shea butter (butyrospermum parkii), iron oxide (ci 77491, ci 77499, ci 77492)
*certified organic 
*certified fair trade
Ingredients benefits
Sunflower oil: moisturizing, antioxidant, healing
Shea butter: moisturizing, anti-inflammatory, healing
Sunflower wax: healing, moisturizing, calming, nourishing and antibacterial properties
Peppermint essential oil: anti-bacterial, antimicrobial, cool and refreshing aroma
Iron oxide: a naturally occurring mineral, but synthetically processed to remove heavy metals. Provides superior color purity, saturation, and outstanding dispersibility. FDA approved and certified for cosmetic-use (natural iron oxides are not approved by the FDA for cosmetic-use due to heavy metal content)
Cocoa powder: natural color
(no essential oil for unscented option)
How to use
Push up from the bottom of the tube, using your finger. 
How to store
Store in a cool, dry place away from direct sunlight. Avoid contact with water. And don't forget it in a pocket when you do laundry!
Shelf Life
24+ months if kept in ideal conditions.
Packaging
Biodegradable paper tube.
End of life
Compost in your backyard or city curbside bin! 


love
just purchased this trio and love them! i had previously bought the tinted chapstick back in 2020 and didn't love the pigment of the red. This new version has the perfect color for my lip and skin color, perfect amount of pigment that looks natural. Also the texture of all three are way smoother. I also love that it's now vegan! great job improving your product, love supporting all you do!
Multipack lip balms
I just wanted to update my review and say that the only balm that worked great was the unscented. I felt that it actually moisturized my lips. The second 2 were a pain. The peppermint one fell apart everytime I took the cap off to use it and the tinted one became flaky and dry very quickly. These were kept in my bathroom except for my unscented one. I stored that in my car. I hope this helps!
Multipack lip balms
I enjoy the size of the balms and how well it moisturizes my lips, but the downfall would have to be when you're ready to push the bottom to get more. I'll be as gentle and slow as I can be and it will still come out too much.
Vegan lip balm!
I have absolutely been loving the peppermint one. it has the best texture!! The unscented one seems a bit firmer, but it may just be because I havent been keeping it in the warmest of spaces. The tinted one will definitely make an appearance during the holidays.
Nice lip balms
Have been happy with these so far. Like having one of each to choose from. Goes on smoothly & feels moisturized for quite a while.
Amazing
Love this set and having the three options on hand. The only lip balm and color I use on my lips now.