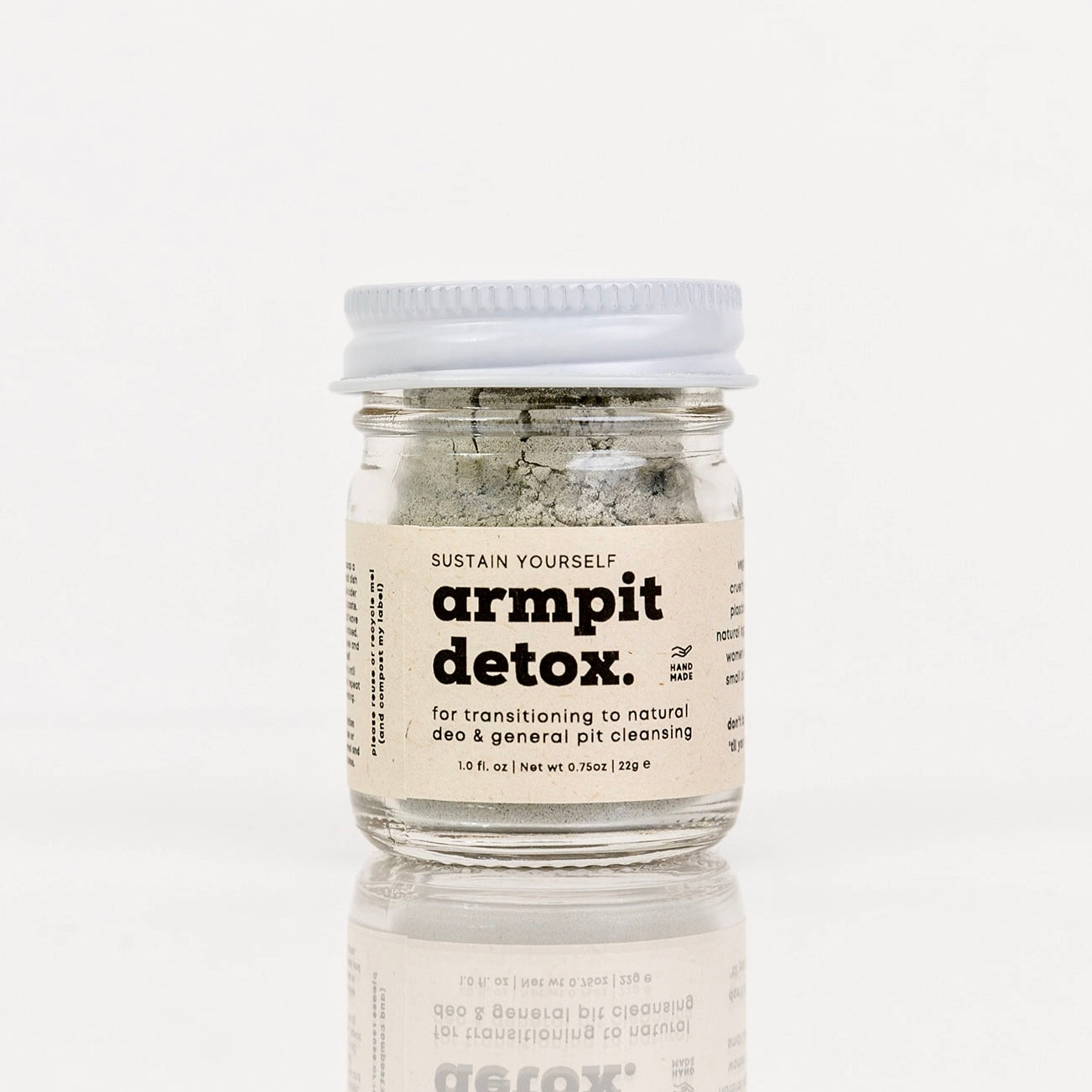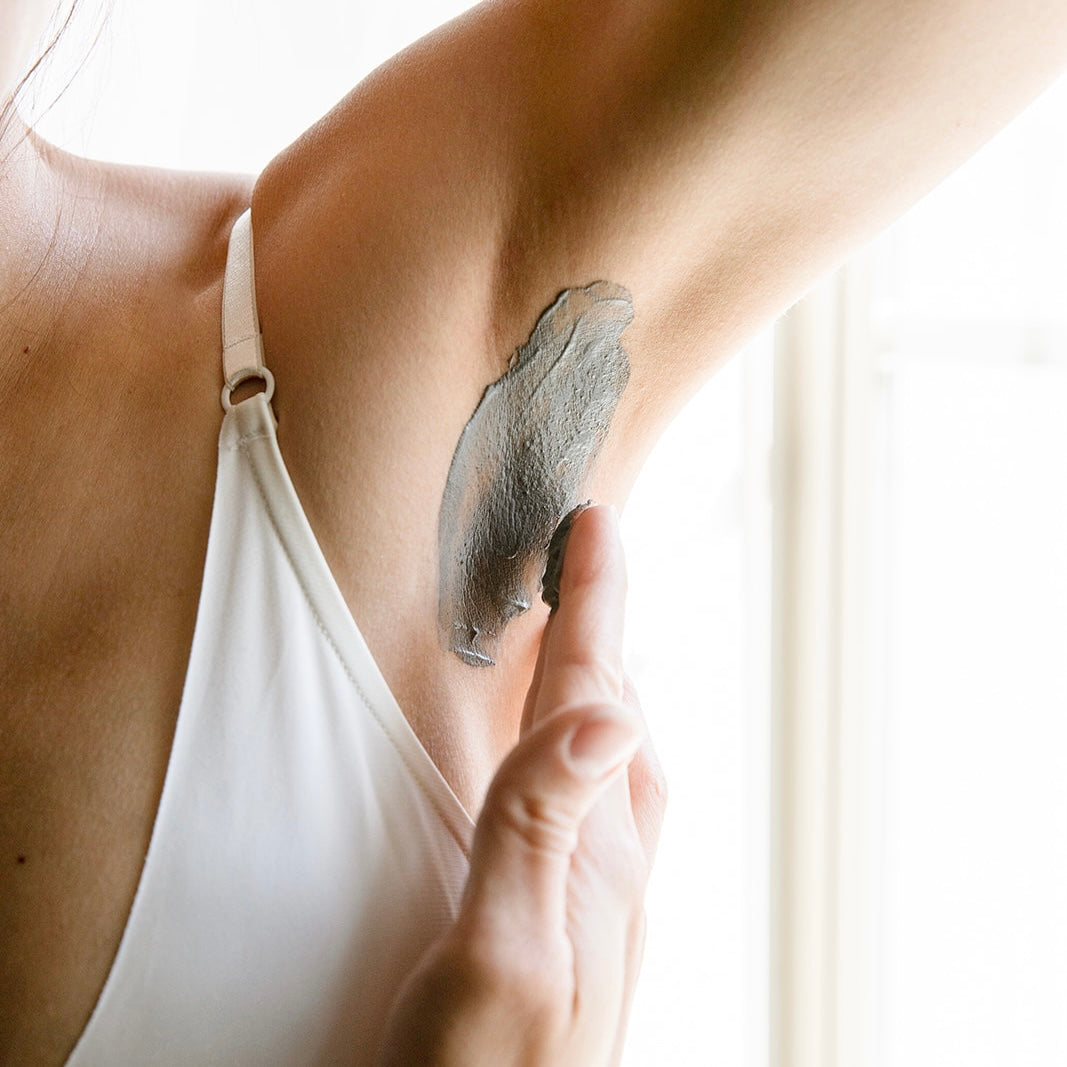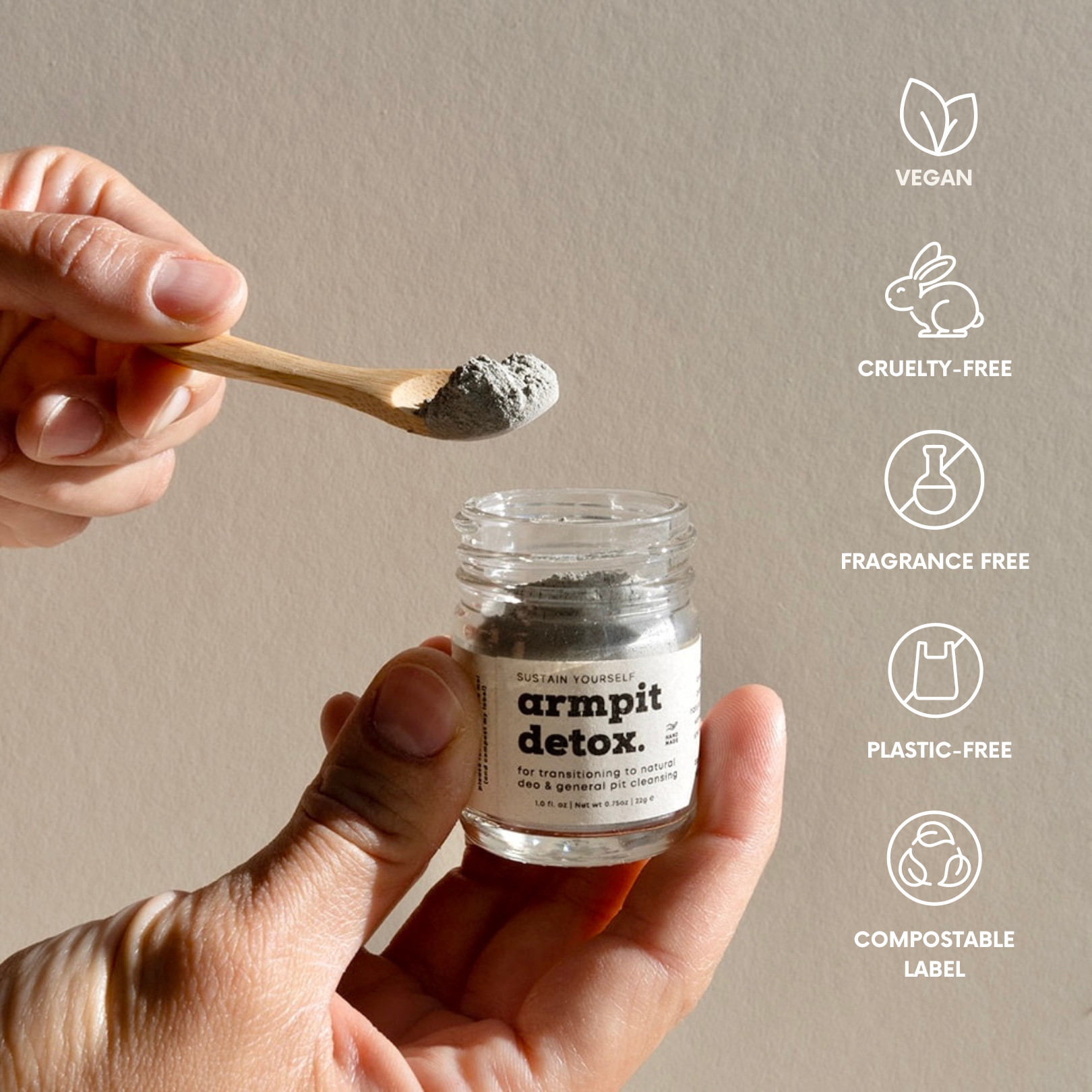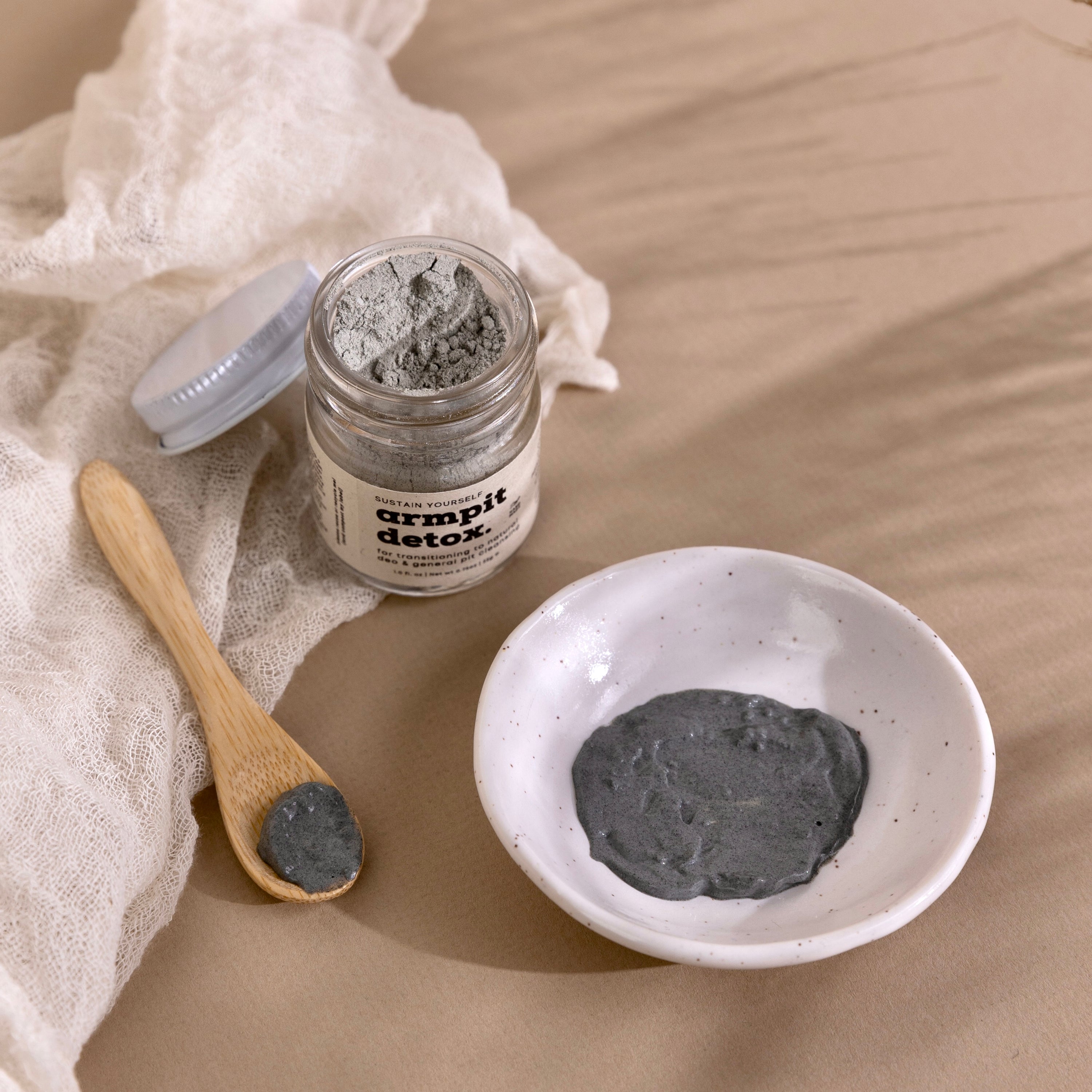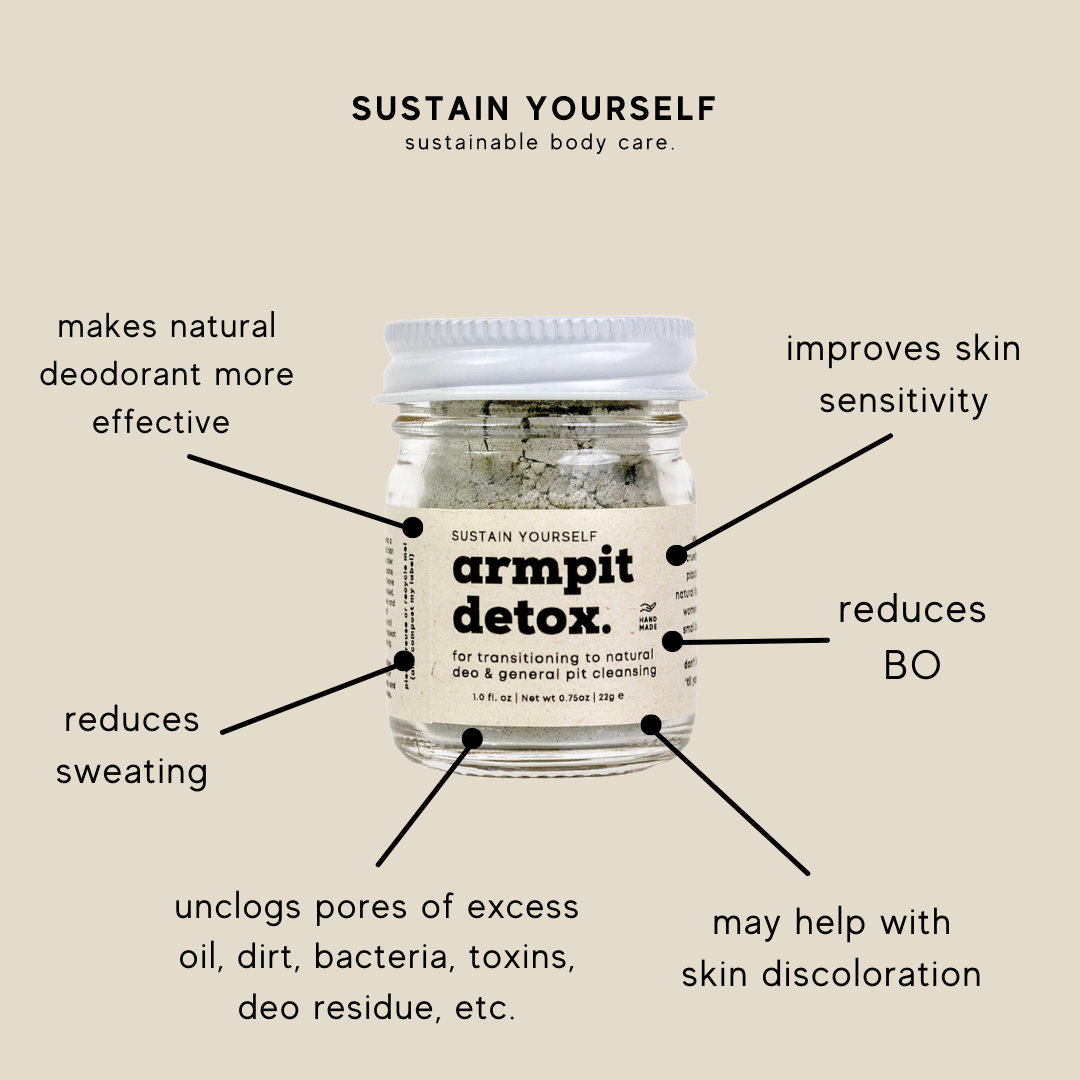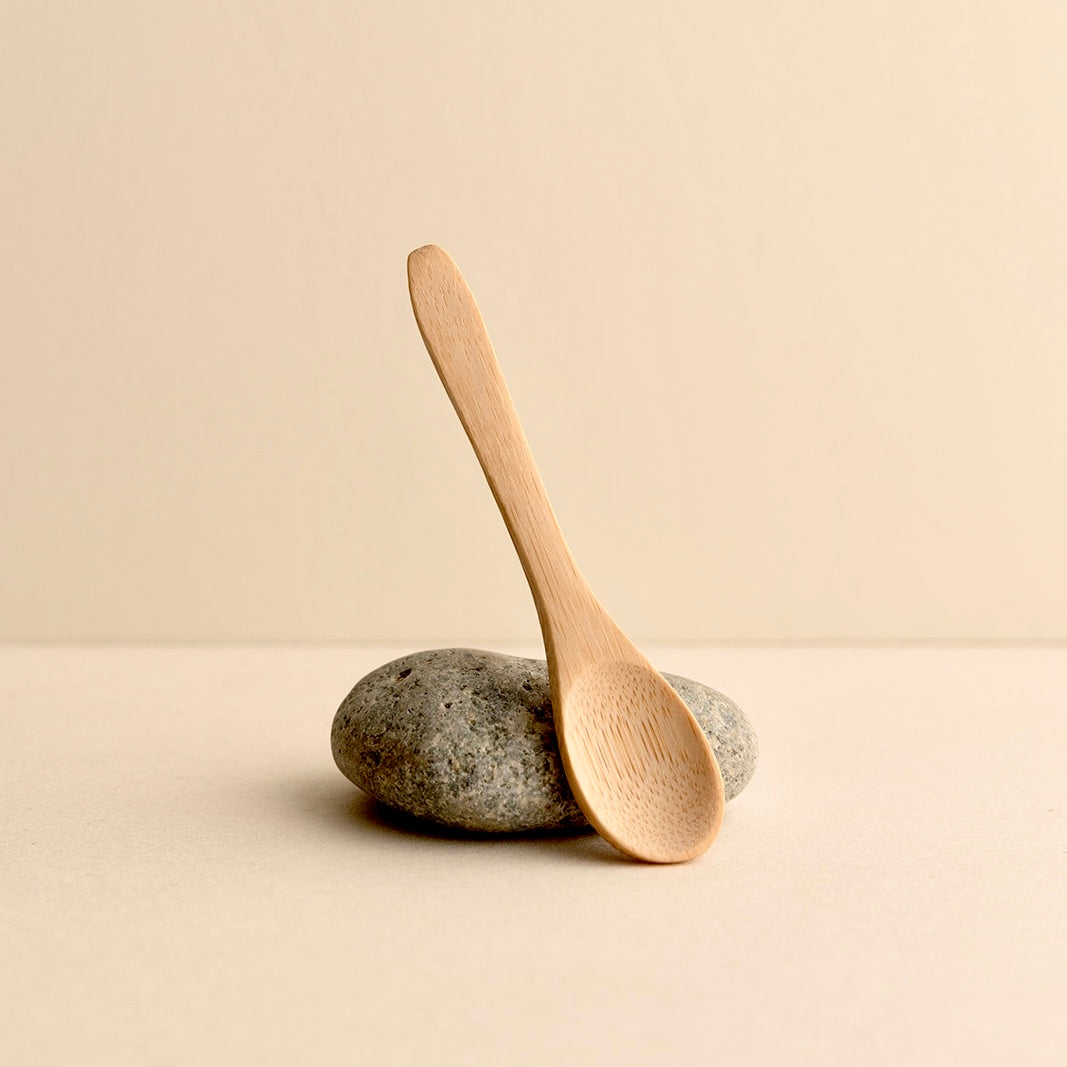 Have you ever tried natural deodorant and it just didn't work? This may help.
Our Armpit Detox comes in powder form and is most effective when mixed with apple cider vinegar to create a mask, but water works too. Metal will deactivate the properties that make our armpit detox beneficial and effective, so use a non-metal dish and spoon to make your mask.
This is for those who need the extra help when transitioning to a natural deodorant from the toxic conventional stuff, but it also packs a kick for the average pit. Use daily, weekly, or monthly to keep smelling fresh for longer.
Bentonite clay and charcoal absorb impurities from the skin, like dirt, dead skin cells, oil, toxins, bacteria, and even deodorant residue, clearing the way for natural deodorant to work effectively, and reduce BO significantly.
Conventional deodorants (antiperspirants) block our pores to prevent sweating. If you switch to a natural deodorant and it doesn't work, it probably means your ex-deodorant is still doing its thing and causing withdrawal. Your pits need time to adjust to natural ingredients, and this can speed up the process!

Keep in mind that not all natural deodorant is created equal. We're confident in the strength of our formula, so we recommend trying our deodorant before doing an armpit detox if your concern is deodorant efficacy. But if our deo doesn't work for you right away, we highly recommend detoxing, even if you've been using natural deodorant for a while. Your pits need a good cleanse every so often too and you'll be shocked by the results.
Use our Armpit Detox daily or every other day if you're transitioning to natural deo and continue until it lasts a whole day without needing to reapply. 
If our deo works perfectly for you, but you just want to cleanse the pits, we recommend detoxing once a week to once a month to keep your pit pores fresh and clean, allowing for deo to work its 24+ hour magic.
Our bamboo spoons are sold separately. Please select 'armpit detox + bamboo spoon' to order both together, or add a bamboo spoon to your cart separately.
Fun Fact: our Armpit Detox is multi-purpose and can also be used as a face mask! Let sit for 5 minutes and use once or twice a week, depending on skin sensitivity, and follow with a good moisturizer.
This is a cosmetic product and is meant for external use only. Do not ingest.
Ingredients
bentonite clay (bentonite), *activated charcoal (carbo activatus)

*certified organic
Ingredient benefits
Bentonite clay: antibacterial, anti-inflammatory, healing, calming, detoxifying, absorbs dirt, oil, and sebum
Charcoal: cleansing, unclogs pores, removes deeper impurities, and dead skin cells, resulting in smooth, supple, and even skin tone
Apple cider vinegar: powerful antimicrobial properties, soothes irritation, restores natural pH balance of the skin (Not included. You must add this ingredient yourself to create a mask)
How to use
Scoop a small spoonful of detox powder into a dish/bowl (do not use metal). Add equal parts apple cider vinegar or water (apple cider vinegar works best) to create a paste. Apply an even layer to each armpit and let sit for 5-10 minutes, arms raised. We recommend applying our Armpit Detox after the shower, when your pores are expanded. Remove using a warm and damp towel. Let your pits dry, then apply your natural deodorant.
Remove immediately if irritation occurs. Avoid using directly after shaving your armpits.

Repeat every other day, or bi weekly until your natural deodorant is effective. Repeat as needed if you notice your deo stops working.
Repeat once or twice a month for general pit cleansing. Detoxing regularly helps clear your pores and reduces stress and lifestyle induced BO.
How to store
Store in a cool, dry place away from direct sunlight. 
Shelf Life
24+ months if kept in ideal conditions.
Packaging
Glass jar. Metal lid. Biodegradable label.
End of life
Reuse or recycle jar and lid, compost label. Or you can return your empties.
Frequently Asked Questions
Is an armpit detox necessary?
No. But we recommend it! It's like a face mask for your pits. 
There are many reasons to do an armpit detox. We highly recommend doing an armpit detox if our deodorant doesn't work for you within the first few days, even if you've used other natural deodorants before. Many customers report our deodorant is highly effective, even after detoxing just once. But most customers don't need to detox at all, even after switching directly from an antiperspirant to our deodorant cream. Just depends on the pits!
Another reason to do an armpit detox is if our deodorant suddenly stops working for you. It's important to cleanse your pits regularly just like your face. Our sweat glands can get pretty gunked up! It's also important to note that lifestyle changes can cause fluctuations in BO, like diet, stress, hormones, environmental factors, and especially if you're going back and forth from natural to antiperspirant deodorants.
How long does an armpit detox take?
Depends on the person and why you are detoxing. If you are transitioning to a natural deodorant from a toxic formula, and our deodorant doesn't last 24 hours, it could take a few days to a few weeks to detox. There isn't a set time frame that's the same for everyone. We're all different and there are a lot of different lifestyle factors that play a role.
How often should I detox?
Detoxing regularly is totally optional, but we recommend detoxing your pits once a month. If you're transitioning to natural deo from toxic deo, detox every day, every other day, or twice a week (frequency depends on skin sensitivity) until our deodorant is effective. You will be blown away by the results. A single detox removes a lot of impurities, like bacteria, dirt, dead skin cells, toxins, deodorant residue, etc. If you accidentally skip your deodorant one day, and end up smelling like a high school gym locker, we highly recommend detoxing regularly. Daily deo dependence may be a sign of gunked up pit pores. And detoxing once a month can help keep you BO free for over 24-hours. But don't take it from us ;) Try it for yourself!
Do I need to do an armpit detox before using your deodorant?
No. We recommend detoxing if our deodorant doesn't last 24 hours for you, even if you've been using natural deodorant for years. Our formula is very effective, most of our customers report not needing to detox at all, even those who just made the switch from an antiperspirant to our deodorant. But our armpits are very porous and when these pores get clogged up with excess oil, dead skin cells, dirt, bacteria, and years deodorant residue (there's only so much a sponge can do), deodorant may not be as effective because your skin can't absorb it. Clear your pores and watch our deodorant magically work for you!
How much powder and liquid do I need to make the Armpit Detox?
One spoonful of our detox powder (using one of our mini bamboo spoons) and 2 spoonfuls of apple cider vinegar should be enough to make a spreadable paste for both of your armpits, for a single use. This is about 1:2 detox to apple cider vinegar.
Can I use water instead of ACV?
Water may still do the trick, but to get the best results we highly recommend using apple cider vinegar.
Does it help with armpit hyperpigmentation?
Our Armpit Detox is not intended to lighten your skin, but we have gotten several customer reports that it does. We cannot guarantee it will, because it is not intended to do so, but if you want to give it a try, we recommend using ACV instead of water to create the mask. Apple cider vinegar contains acetic acid, which research shows may lighten skin pigmentation.
Do you have a refill/jar return program?
We do! We will accept all of our containers and packaging to be responsibly reused or recycled. Anything from we give you, from containers, boxes, peanuts, tape, and more can be returned to us. Learn more about our program on our Jar Returns page to see if you're eligible for store credit.
Featured post
Have you ever tried a natural deodorant and it just didn't work? This may help.
Amazing detox but deodorant subpar
The detox is amazing but the deodorant does not stay smelling well while wearing it.
Hi Sadea! Thank you for your feedback! So happy to hear the detox worked well for you ❤️ There is sometimes a transition period with natural deodorant but regular detoxing will help a ton! We recommend doing it every other day to start out until you notice the deodorant becomes more effective. Something we also highly recommend doing is washing armpits in the shower for 30+ seconds each with a loofah or sponge to make sure yesterday's deodorant, dirt, bacteria, and excess oil are removed from the pores. This will help our deodorant absorb better into your skin. Hope these tips help!
xSustain Yourself team
Irritation
Sadly I got irritation right under my armpit, so had to remove it and stop using it. Have you heard anyone else get that? Strange that it wasn't even on the spot where I put the detox, just right under it
Love it!
So happy I gave the armpit detox a try. I kept seeing it on your instagram stories and I finally decided to just buy it. I love the refresh it gives me and has really helped your deodorant work better. So happy to support a small, local business!
Love
It's so hard to find natural deodorant that doesn't leave a film on your pits or allow you to smell fresh all day. I absolutely love this deodorant and I'm so grateful to have stumbled upon this brand!!
Very needed for summer heat
I started using natural deodorant ages ago and thought I didn't need the detox, but I noticed I was sweating a lot this summer, so I gave it a shot and it worked!! I'm back to only applying deo once per day. So happy I tried it :)
It really worked!
My armpit finally feeling freshed, cleaned and not smelling!