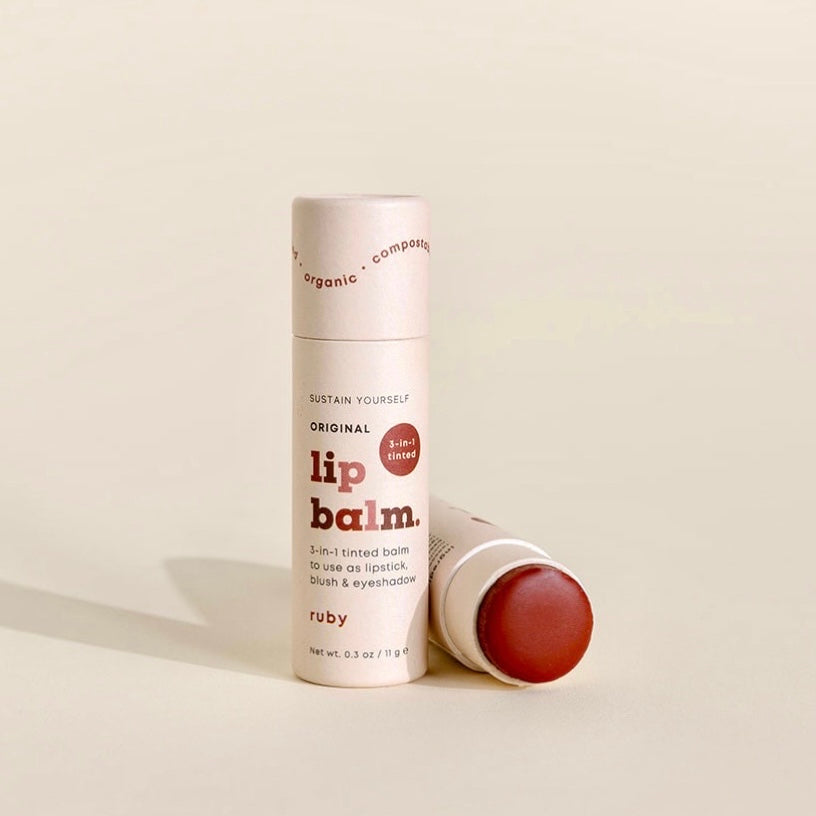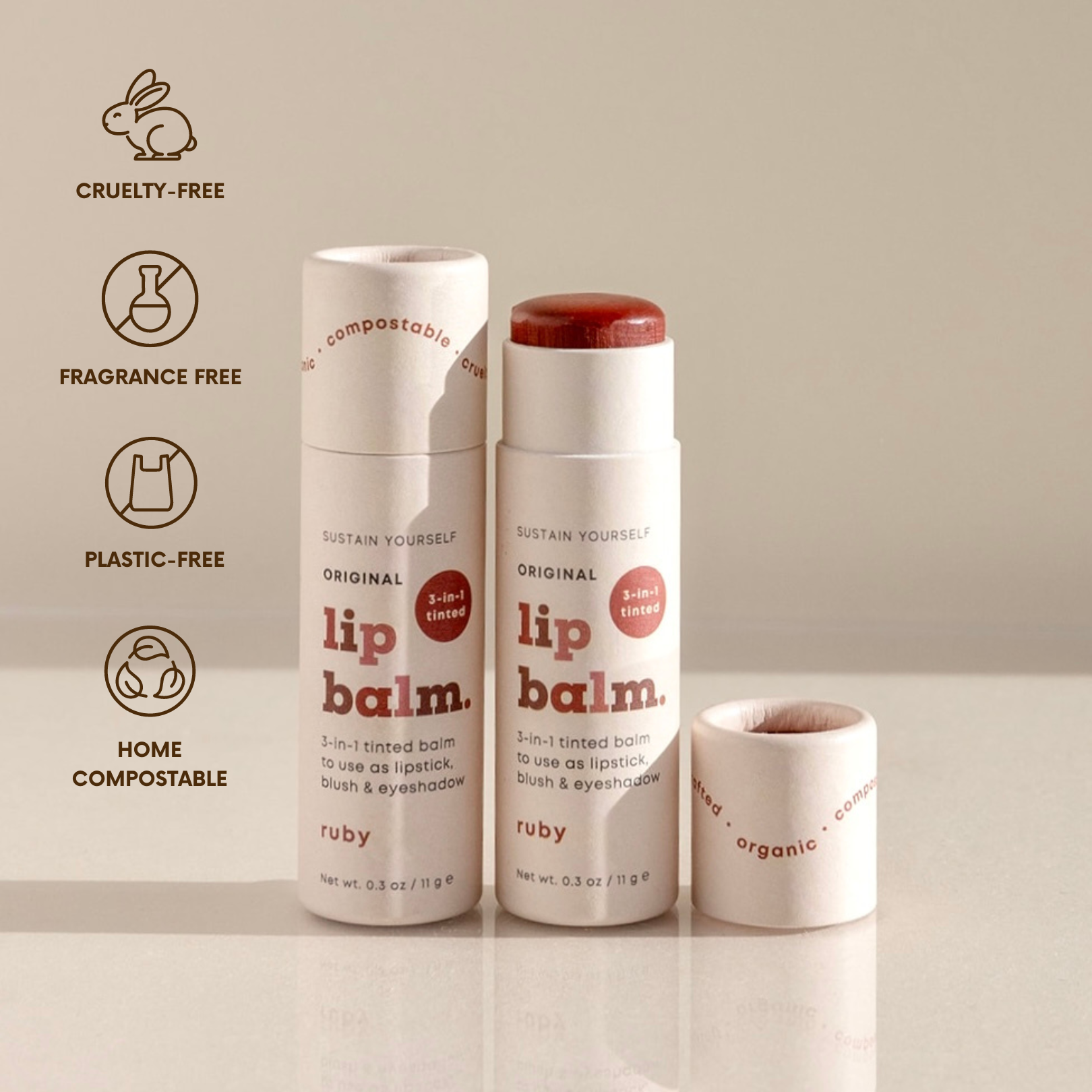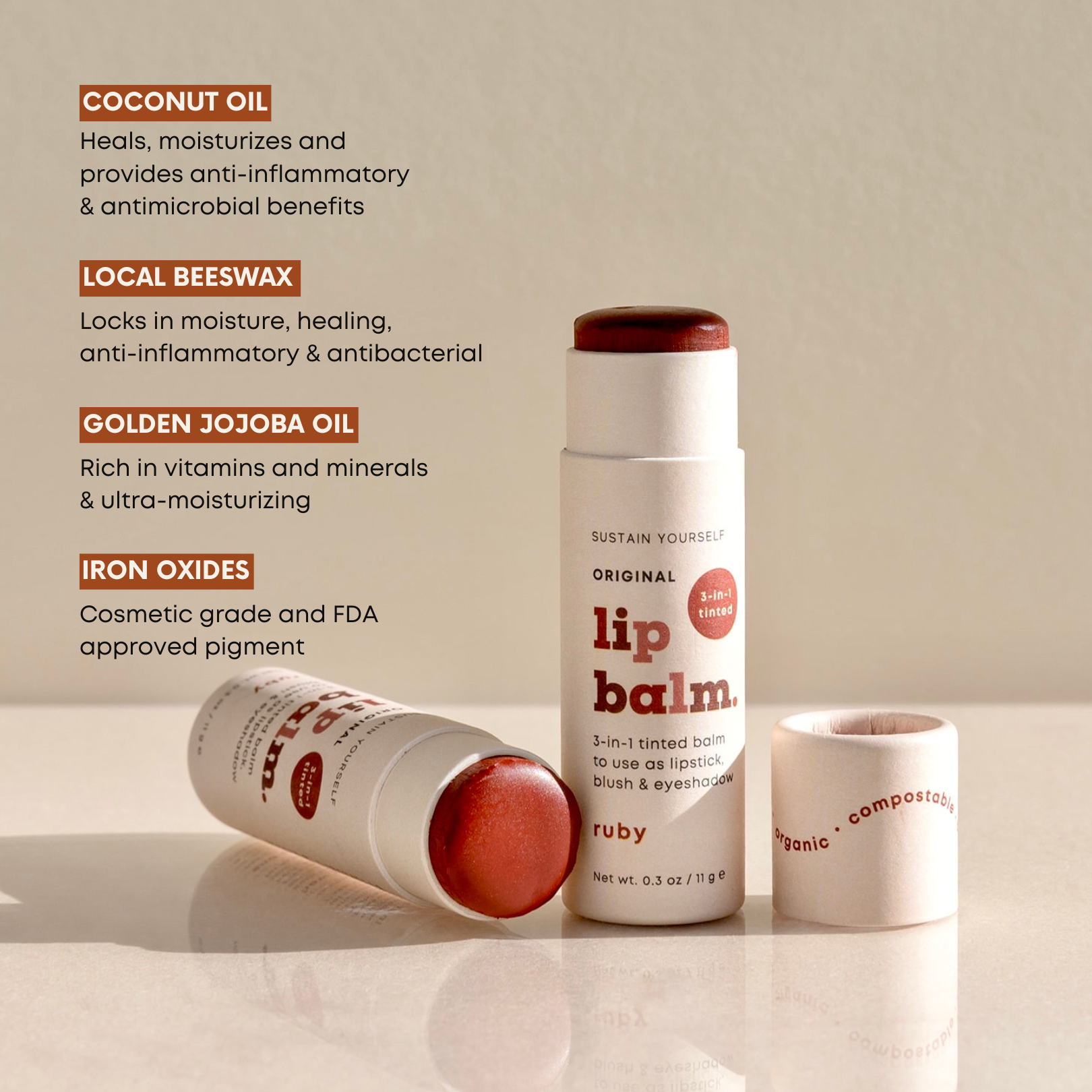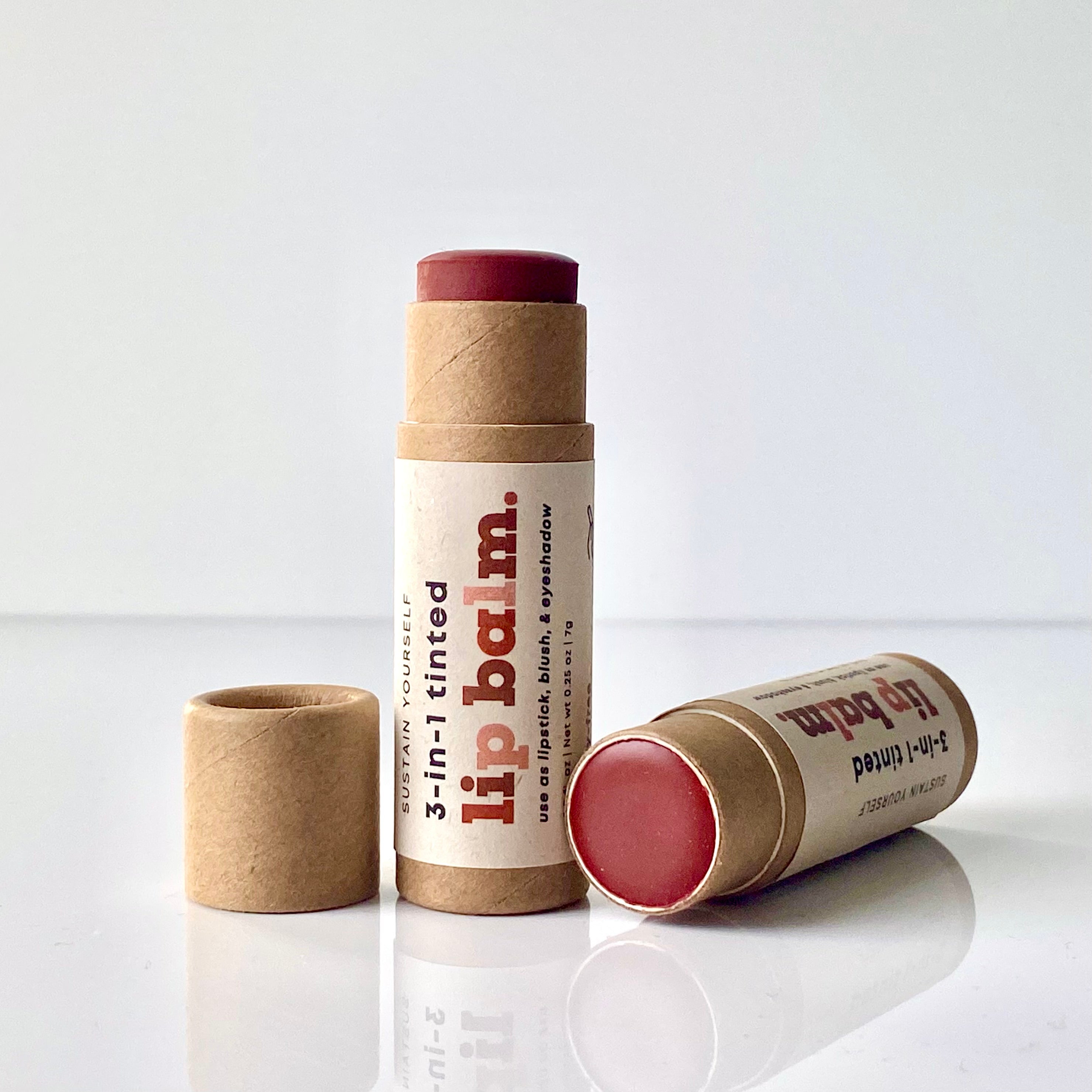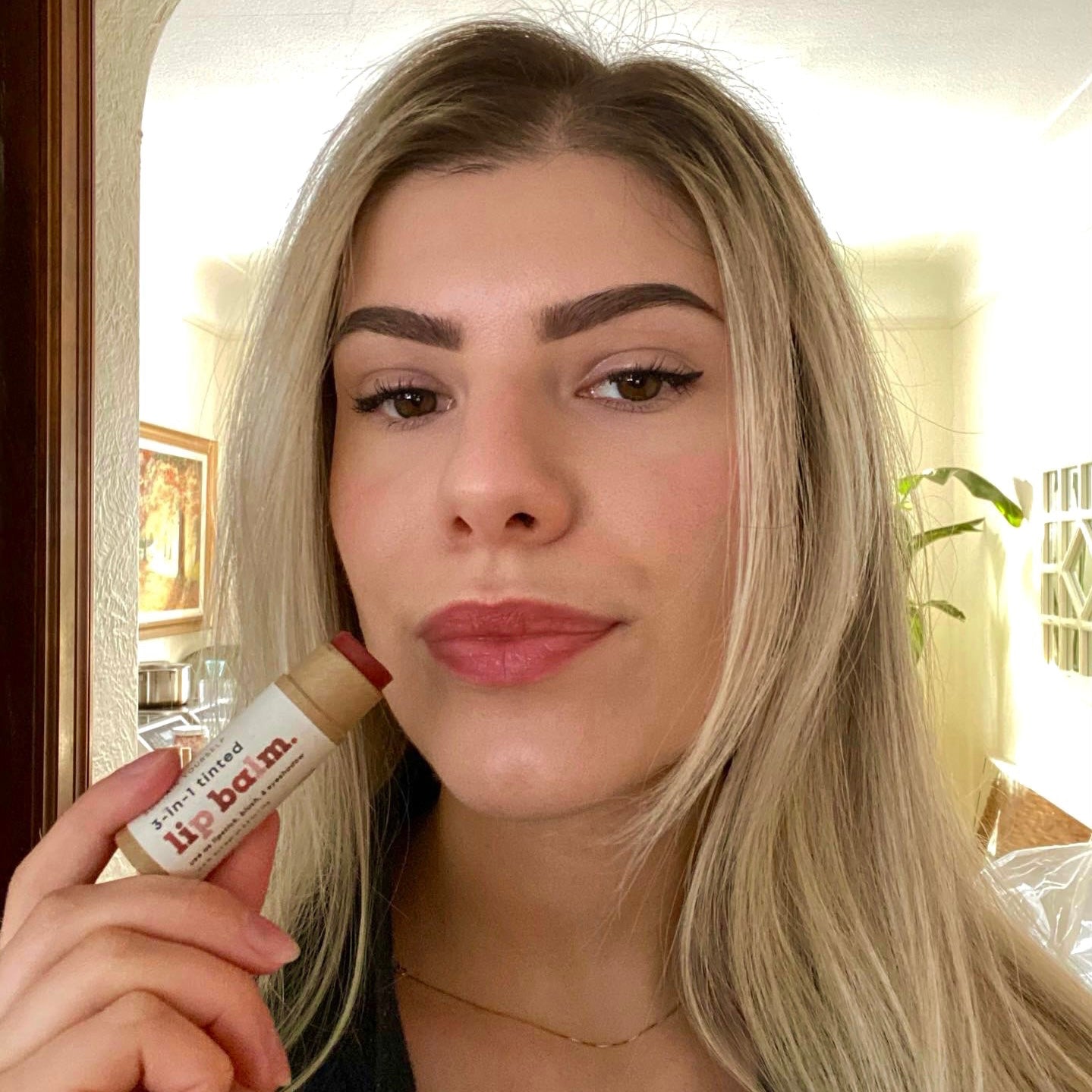 A plastic-free alternative to disposable tinted balms. 
Our 3-in-1 moisture locking tinted lip balm is unscented and completely biodegradable. It is delicately handcrafted in small batches with simple, pure, and high quality ingredients that heal and hydrate chapped lips, while also offering beautiful, buildable color. Achieve a natural blushed look with one swipe, and more intensity for a night out with just a few swipes.
Our incredible balm can also be used on your cheeks, eyelids, and even your nose, allowing you to create an effortless look that enhances your features.
We take pride in our commitment to sustainability, and our tinted lip balm is a testament to that. Not only is it completely biodegradable and multifunctional, but it's also designed to be long-lasting. Our generous 0.3oz tube holds three times the amount of product compared to conventional lipsticks, which means you get more value for your money. In fact, when you consider the equal amount of product, our tinted lip balm is just $4, making it an affordable and sustainable choice for conscious beauty enthusiasts.
Experience the magic of our 3-in-1 moisture-locking Tinted Lip Balm and embrace a world where simplicity, versatility, and sustainability collide.
Note: This is a handmade product and is made small batches. Each batch may vary slightly in intensity, but we try our best to match them.
Ingredients
*+coconut oil (cocos nucifera), local beeswax (cera alba), *golden jojoba oil (simmondsia xhinesis), iron oxide (ci 77491, ci 77499, ci 77492)


*certified organic
+certified fair trade
Ingredient benefits
Beeswax: natural emulsifier, locks in moisture, healing, anti-inflammatory, anti-bacterial, soothes eczema and rosacea

Coconut oil: moisturizing, anti-inflammatory, healing, antimicrobial

Golden jojoba oil: anti-inflammatory, rich in vitamins and minerals, ultra-moisturizing, gentle on sensitive skin, soothes eczema and rosacea

Iron oxide: a naturally occurring mineral, but synthetically processed to remove heavy metals. Provides superior color purity, saturation, and outstanding dispersibility. FDA approved and certified for cosmetic-use (natural iron oxides are not approved by the FDA for cosmetic-use due to heavy metal content)
How to use
Push up from the bottom of the tube, using your finger. Apply on your lips, cheeks, lids, and nose. Apply more for more intensity.
How to store
Store in a cool, dry place away from direct sunlight. Avoid contact with water. And don't forget it in a pocket when you do laundry!
Shelf life
24+ months if kept in ideal conditions.
Packaging
Biodegradable paper tube.
End of life
Compost in your backyard or city curbside bin! 
Wonderful product that aligns with my core values!
Love the packaging (everything is recyclable or compostable), product quality, and company values. Lots of sustainable products aren't as effective as mainstream products. This one is! Love the moisturizing effects and color. Wish the color was a tad brighter and had longer staying power, but love the product overall. I will never go back to department store lipsticks with all the chemicals, perfumes and beautiful, but wasteful packaging. I am encouraging my daughter to use beauty products that will keep her and the planet beautiful. I bought 10 to share with friends and family, but need to buy more! People love these 3 in 1 lip balm!
3 in 1 tinted lip balm
I ABSOLUTELY LOVE IT!! I feel my lips very hydrated after using it and I love the blush effect in my checks. This is by far my favourite all day use beauty product
Perfectly smooth pop of color!
I've dealt with angular chelitis on my lips every fall season for the last few years, okeefes was all I could use (but it's not low tox) - I bought this to layer over my okeefes but have ditched it altogether!
I'm shocked how long this lasts on my lips and how it makes my lips feel smooth and hydrated for hours!! I love the subtle color and I feel like it's actually buildable. It glides on well, though there is sometimes a little speck that I have to dab in with my finger.
1000% worth the money & such a staple for me now! I used the unscented balm back in the day, and will definitely be getting that soon & adding it to my shop!
Great Product!
I love the different color variations that I can achieve by simply applying more or less of the balm. The balm last a few hours, which is great. I have also used the balm for my cheeks and it brightens ups my face.
Love this!
Beautiful product! I use for cheeks, eyes, and lips. Love the color!