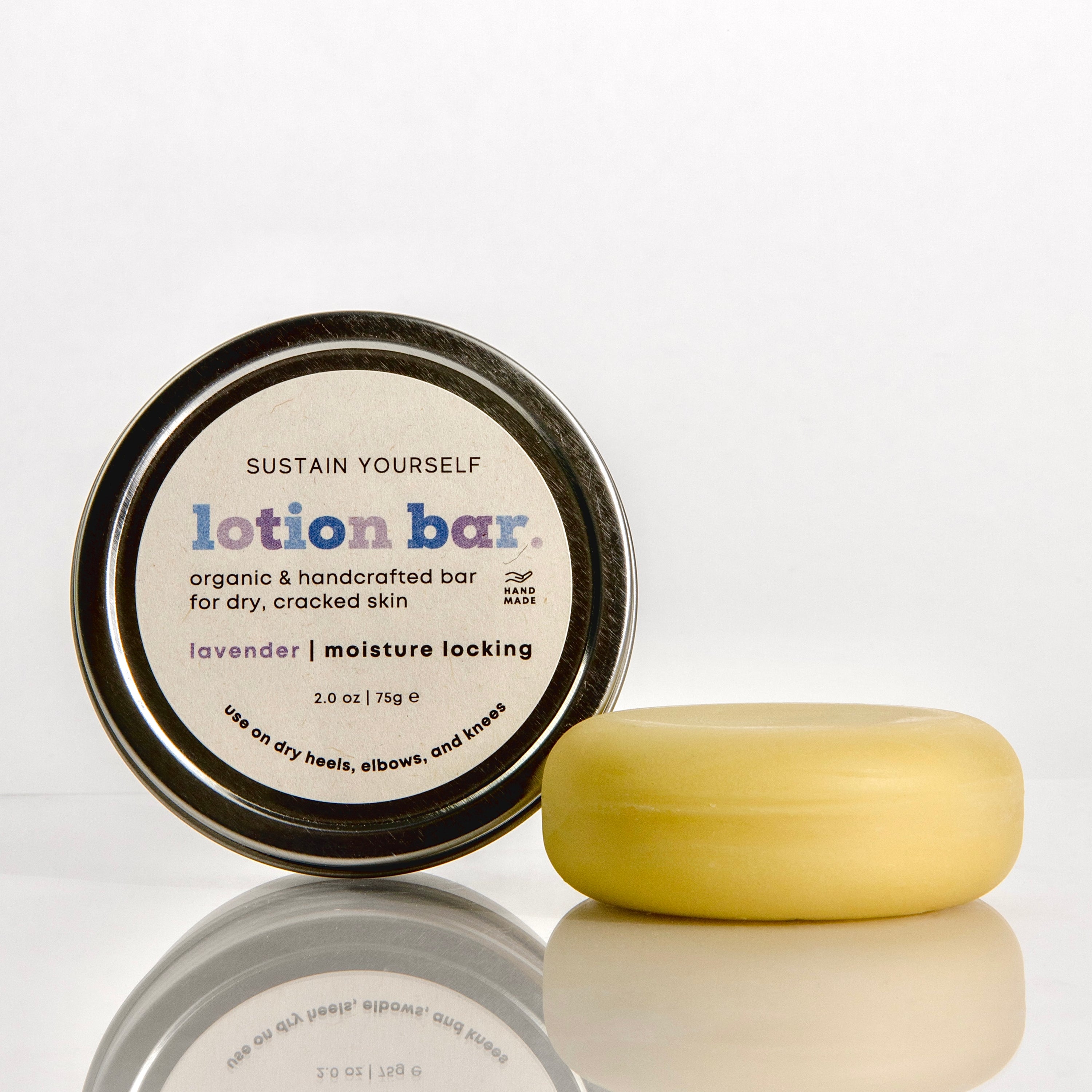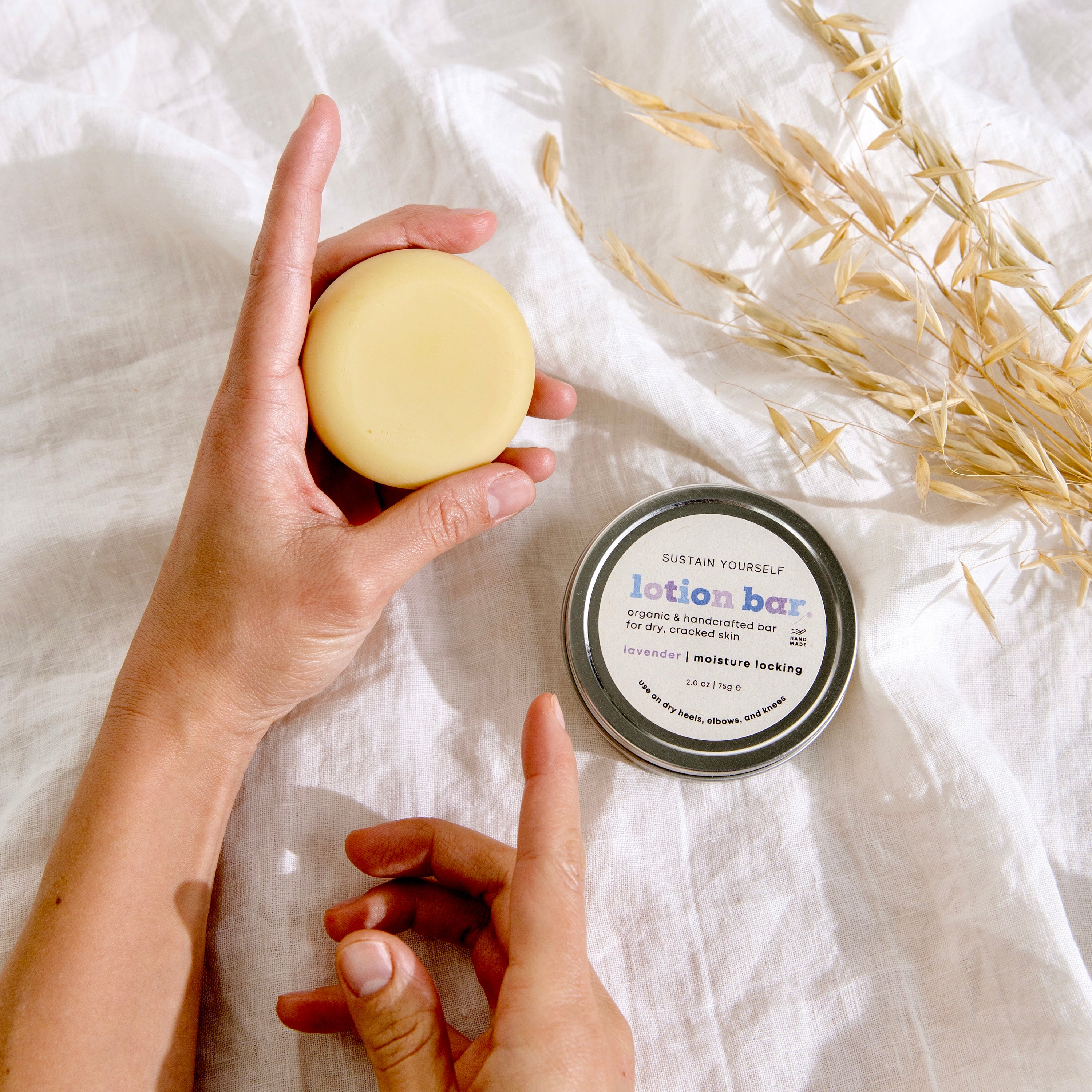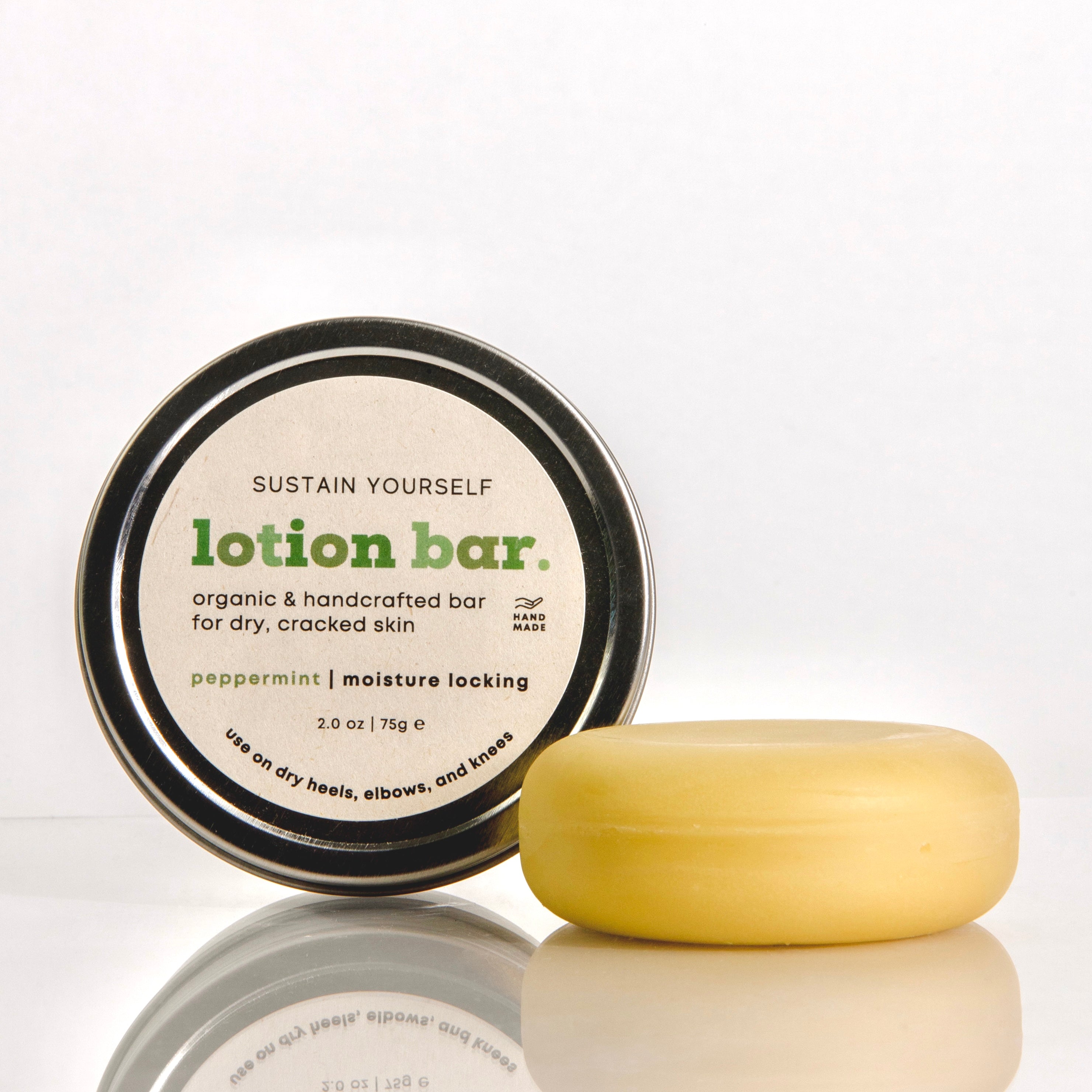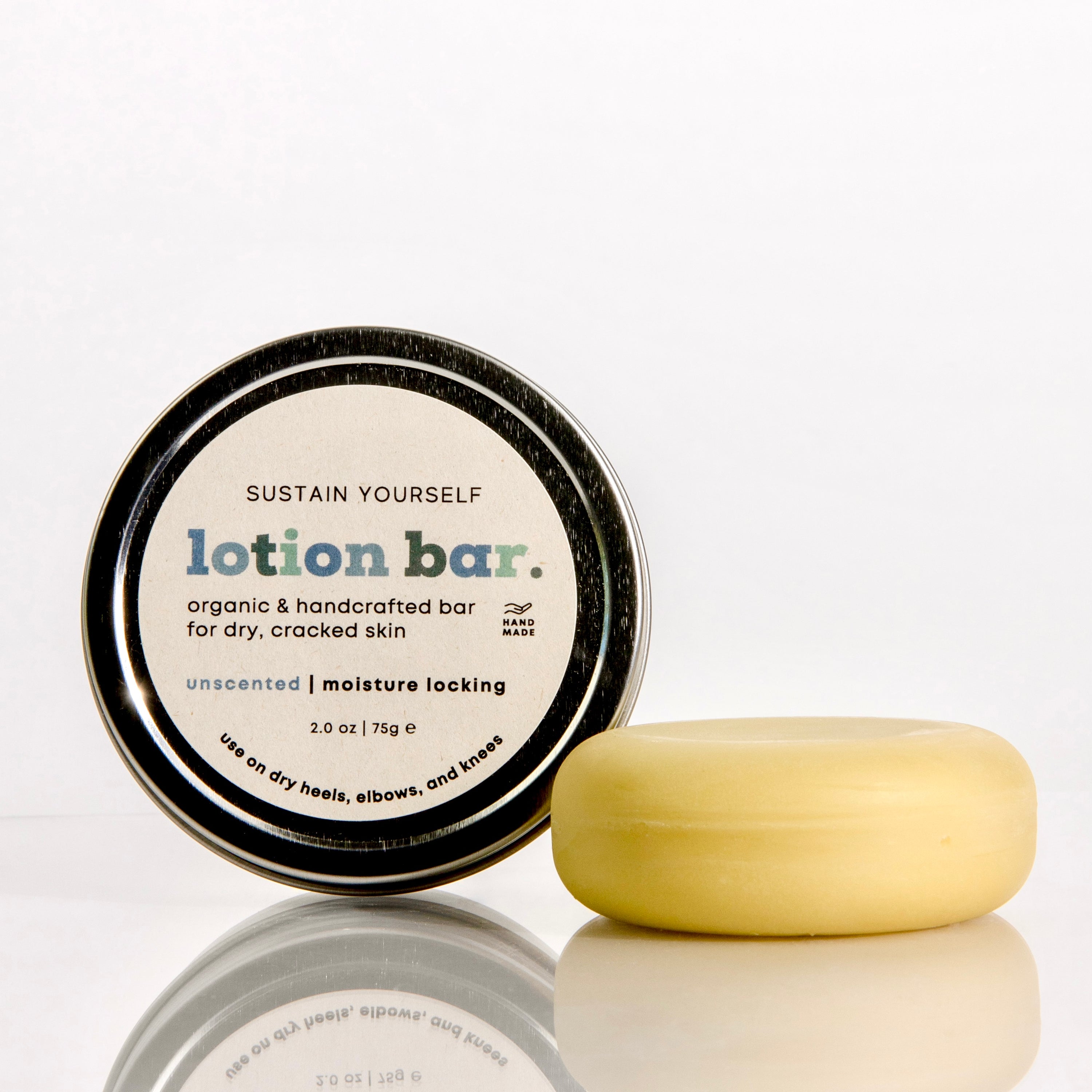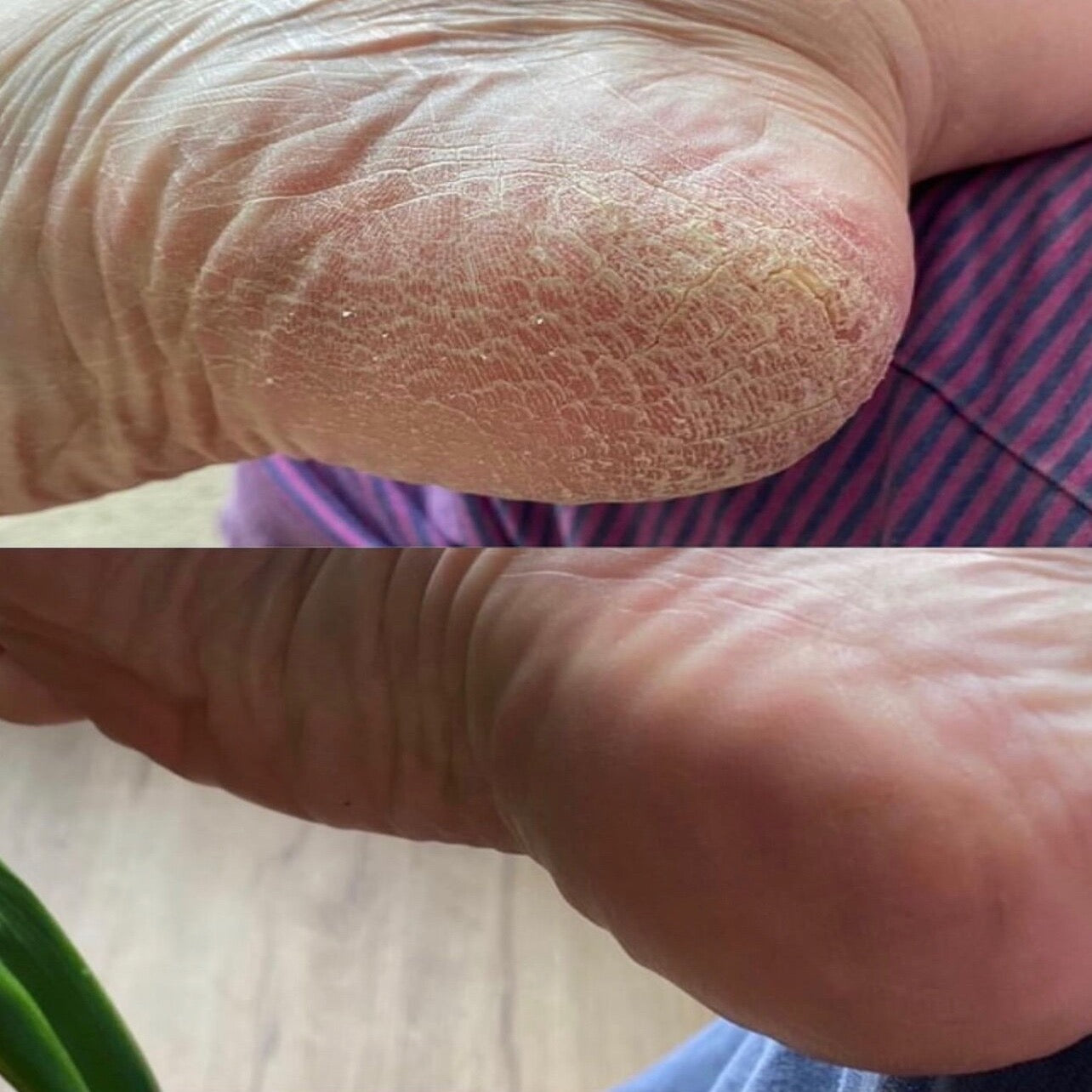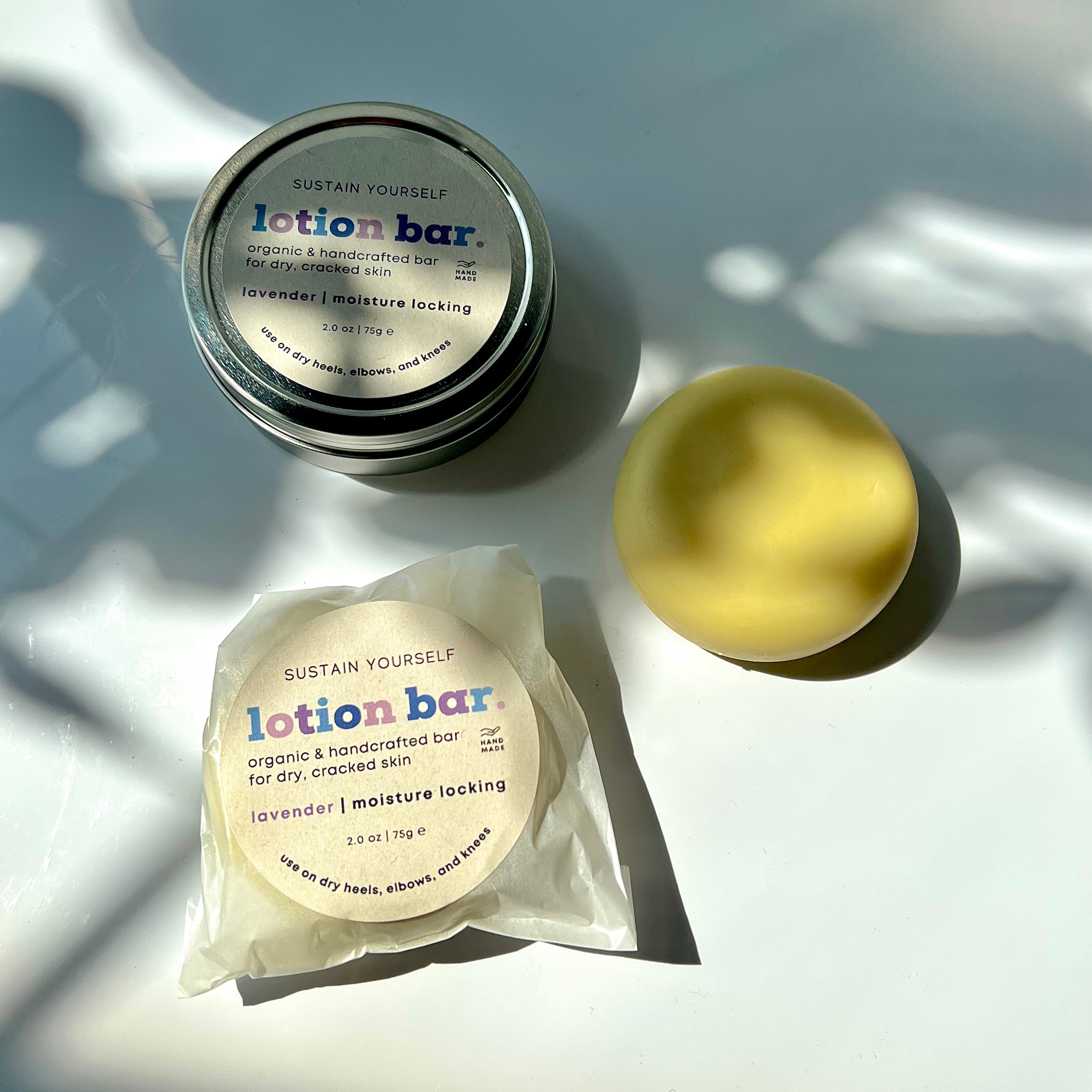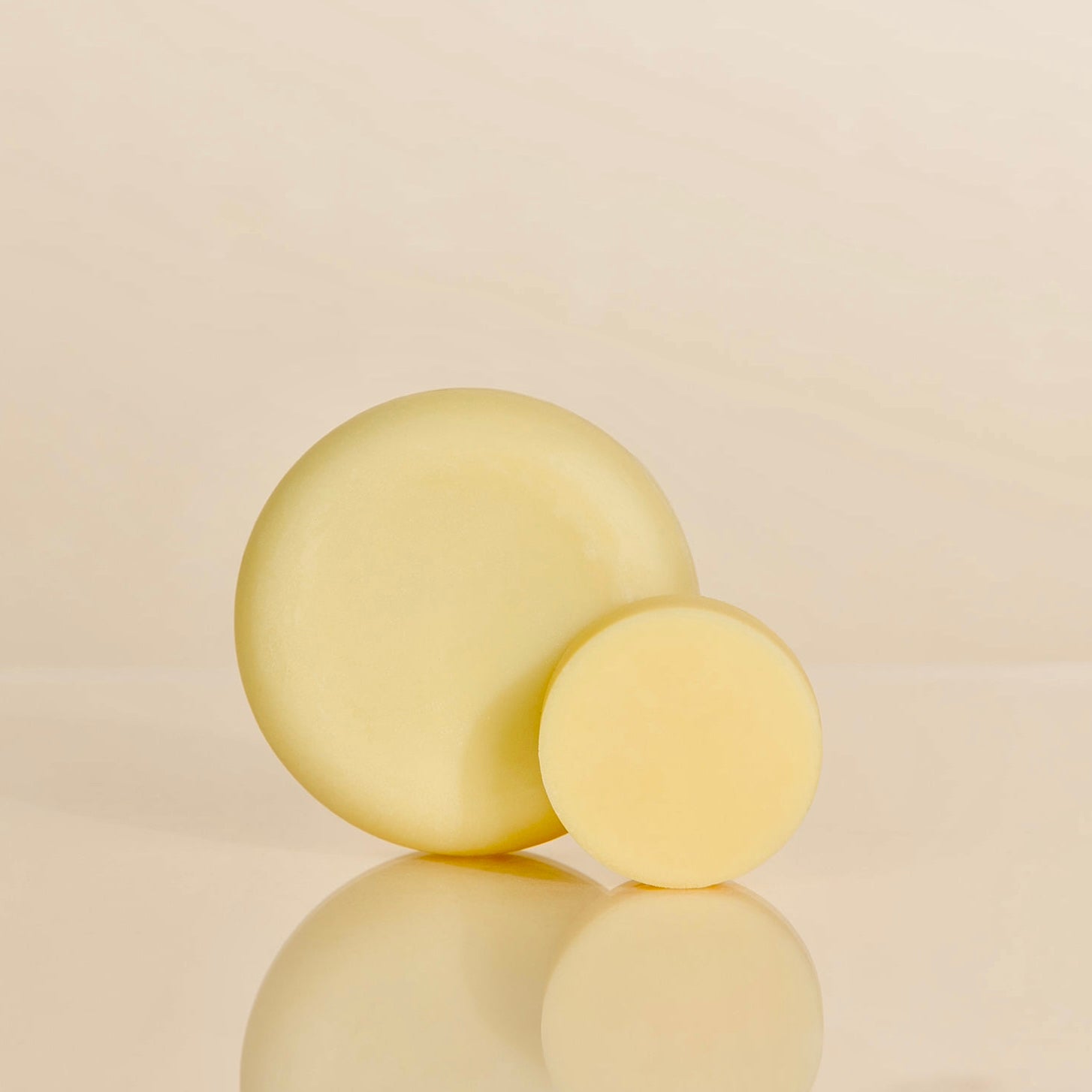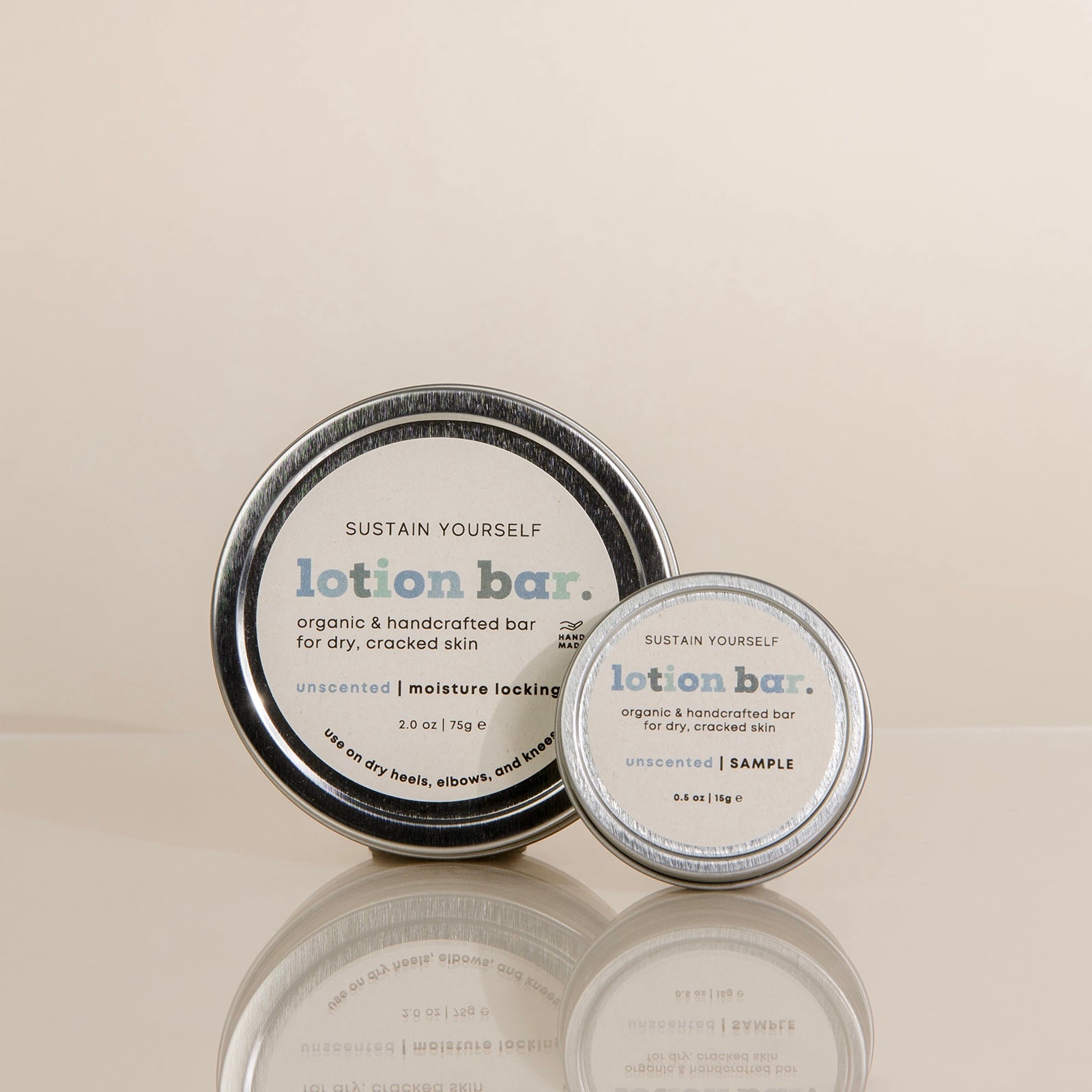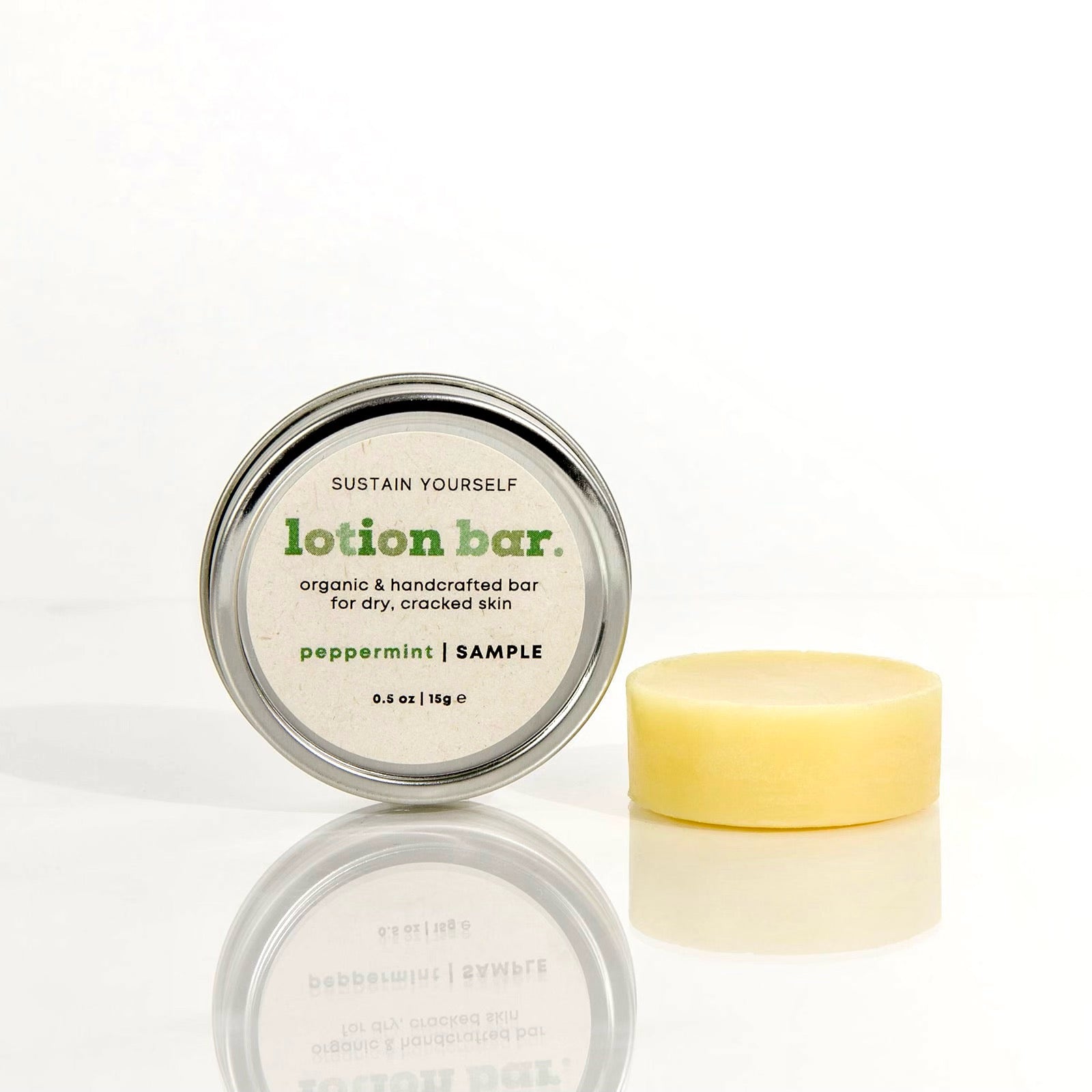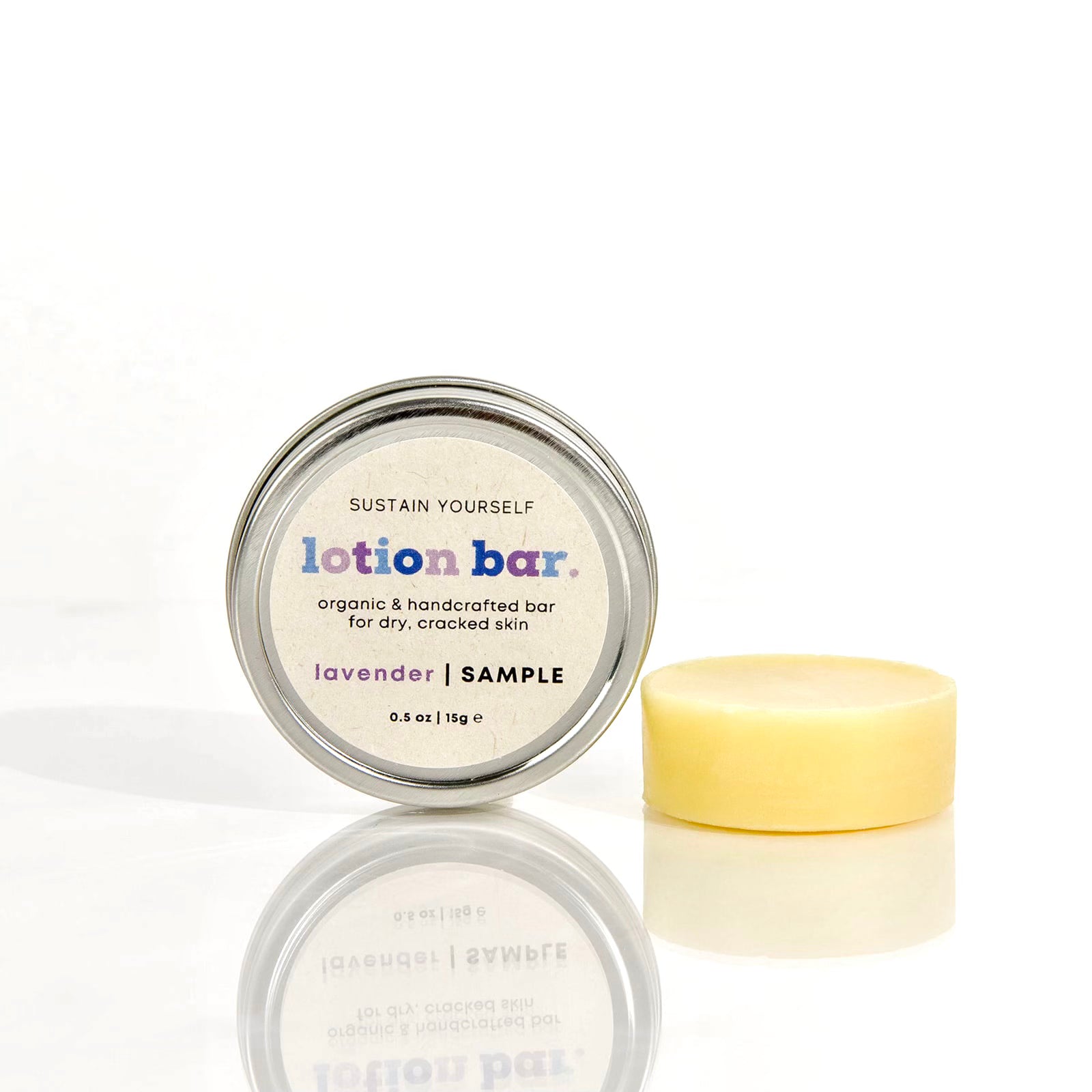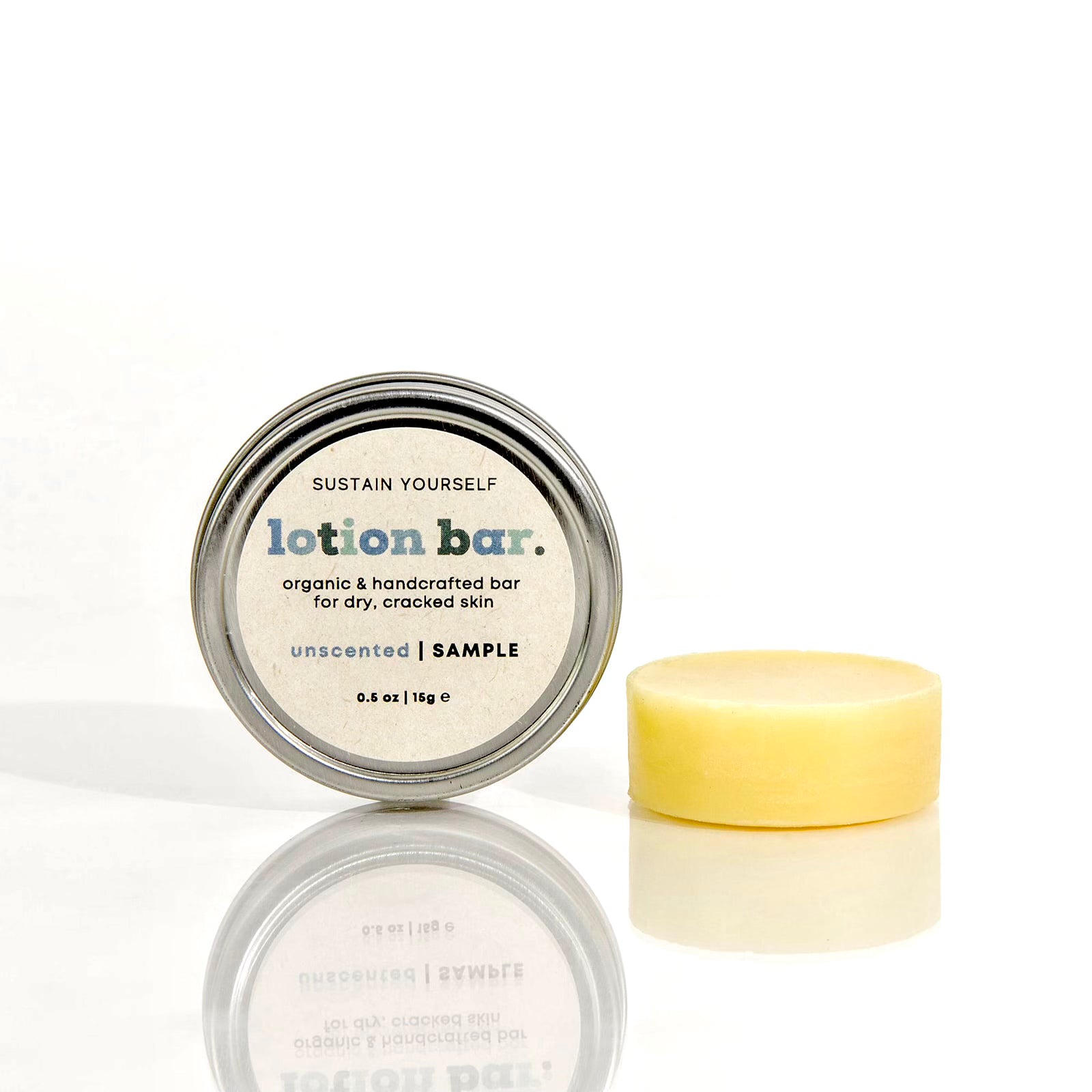 A solid, luxurious block made from natural butters and oils that heal and soothe dry, cracked skin. Free from plastic packaging, our lotion bars are travel friendly and last far longer than liquid lotions or salves, and are handcrafted with organic and high quality ingredients.
We are now offering a package free option! Select 'refill' for a lotion bar wrapped in biodegradable parchment and a compostable sticker, and reuse the tin you already have again and again!
Tip: Warm your lotion bar with a blow dryer if you're in a hurry!
Ingredients
Lavender: local beeswax, *+unrefined shea butter, *+extra virgin olive oil, *pure lavender essential oil
Peppermint: local beeswax, *+unrefined shea butter, *+extra virgin olive oil, *pure peppermint essential oil
Unscented: local beeswax, *+unrefined shea butter, *+extra virgin olive oil
*certified organic 
+certified fair trade
Ingredient benefits
Beeswax: natural emulsifier, locks in moisture, healing, anti-inflammatory, anti-bacterial, soothes eczema and rosacea

Shea butter: moisturizing, anti-inflammatory, healing

Extra virgin olive oil: protects and hydrates, healing, nourishing, antioxidant properties, anti-aging, anti-bacterial

Lavender essential oil: soothes eczema and dry skin, antibacterial, antioxidant, anti-inflammatory, anti-fungal
Peppermint essential oil: anti-bacterial, antimicrobial, cool and refreshing aroma
How to use
Warm bar in between hands and spread over desired area. This bar is extremely moisturizing. Great for calluses, dry patches, eczema, and peeling sunburns.
How to store
Store in a cool, dry place away from direct sunlight. 
Shelf Life
24+ months if kept in ideal conditions.
Packaging
Metal tin. Biodegradable label. Biodegradable glassine bag (refill)
End of life
Reuse or recycle metal tin, compost label. Or you can return your empties for store credit.
end
Please note: Our products are handcrafted in small batches. Due to the nature of natural and organic ingredients, changes in color, consistency and scent are expected. This does not impact the quality or efficacy of our products.
Perfect
Tbh, I didn't really need to buy this... I already have a full size lotion bar from this shop and I'm not even close to finishing it yet. But I had to try the lavender, and I love the mini size :)
Great for localized dry skin
I love using this bar for my hands and cuticles as they tend to get really dry. I'll definitely be keeping these on hand in the winter months! Perfect for small areas like hands, elbows, or heels. Smells great and is very moisturizing!
I love the lotion bar!
It makes my skin feel soft and smell so good!
lotion bar
I love the convenience of the mini lotion bar! The scent is amazing. I can't wait to try the full size.
Moisture without grease!
My hand absorbed the lotion bar so fast and yet it feels moisture without leftover grease on my hand. I'm also happy that my keyboard doesn't look greasy anymore.... Office and programmer friendly product! (Compared it to Burt bee's hand salve.....) 🥲
Love the lavender
I have to wash/sanitize my hands a lot for work and I've always struggled with the feel of other lotions. These bars took some getting used to at first but now I use them all the time at work and it's been such a relief to not want to throw up at the texture feel of my hands after washing them!!!! I have the mini for work and the big one for home. It's been so so helpful and I hope they never stop making them.