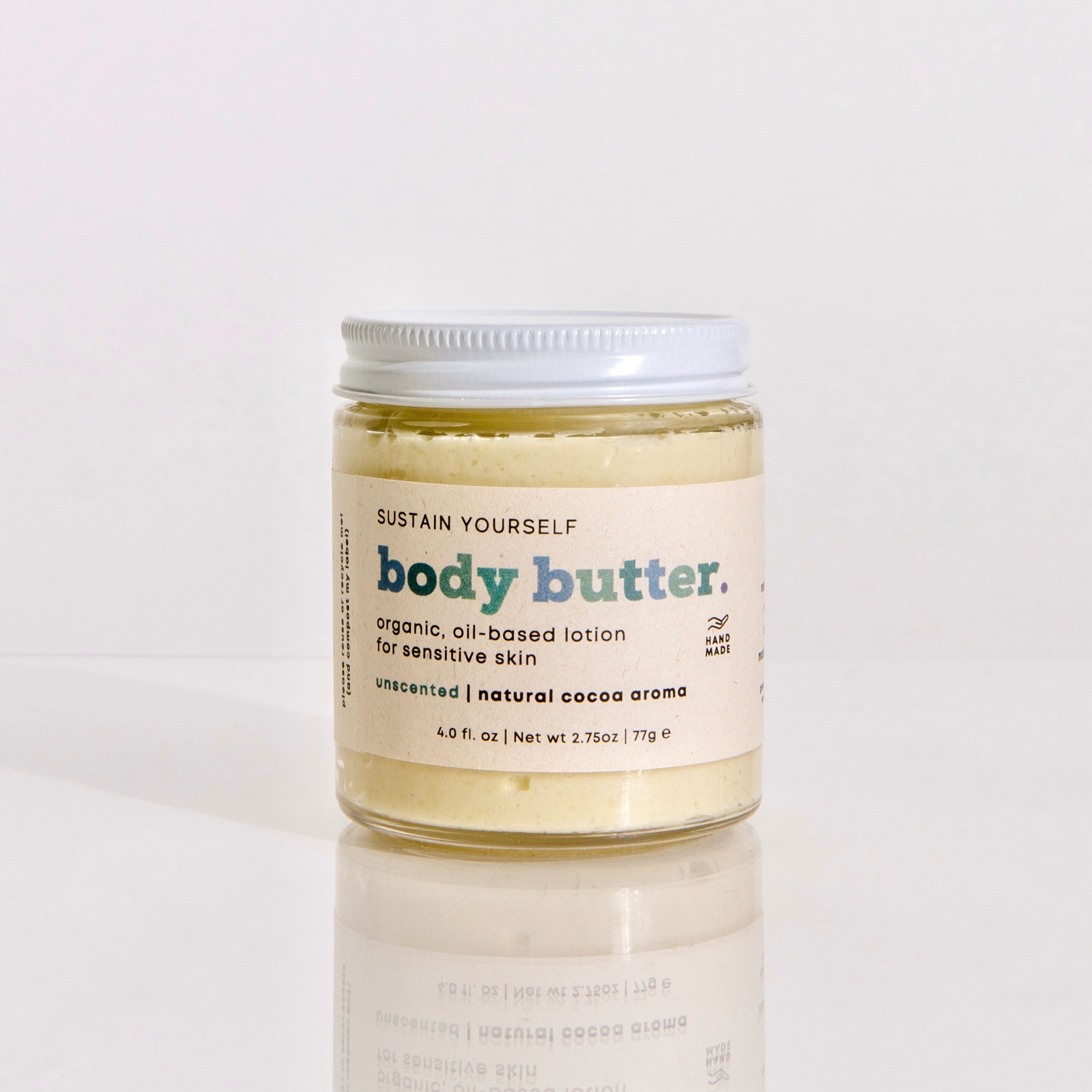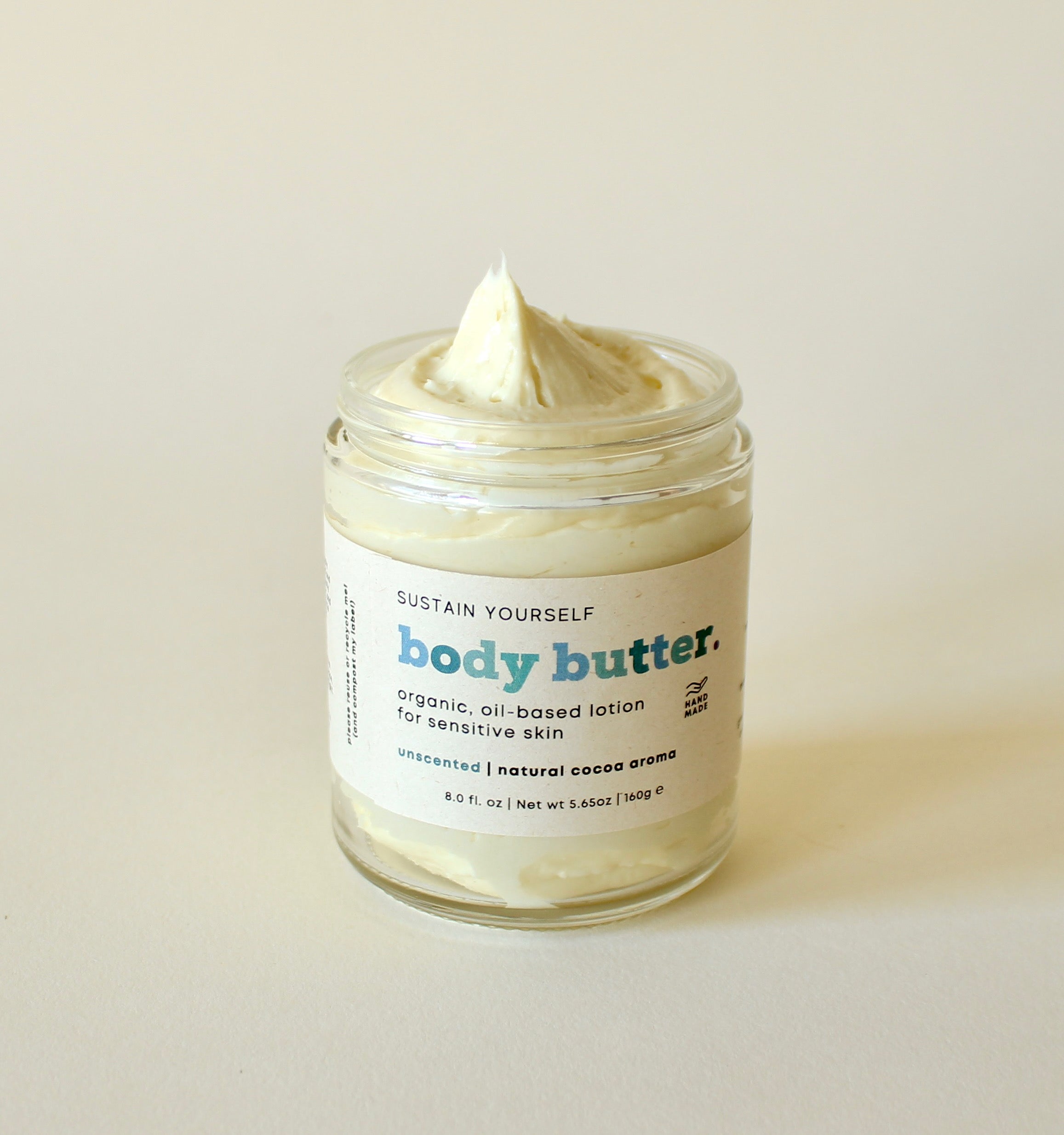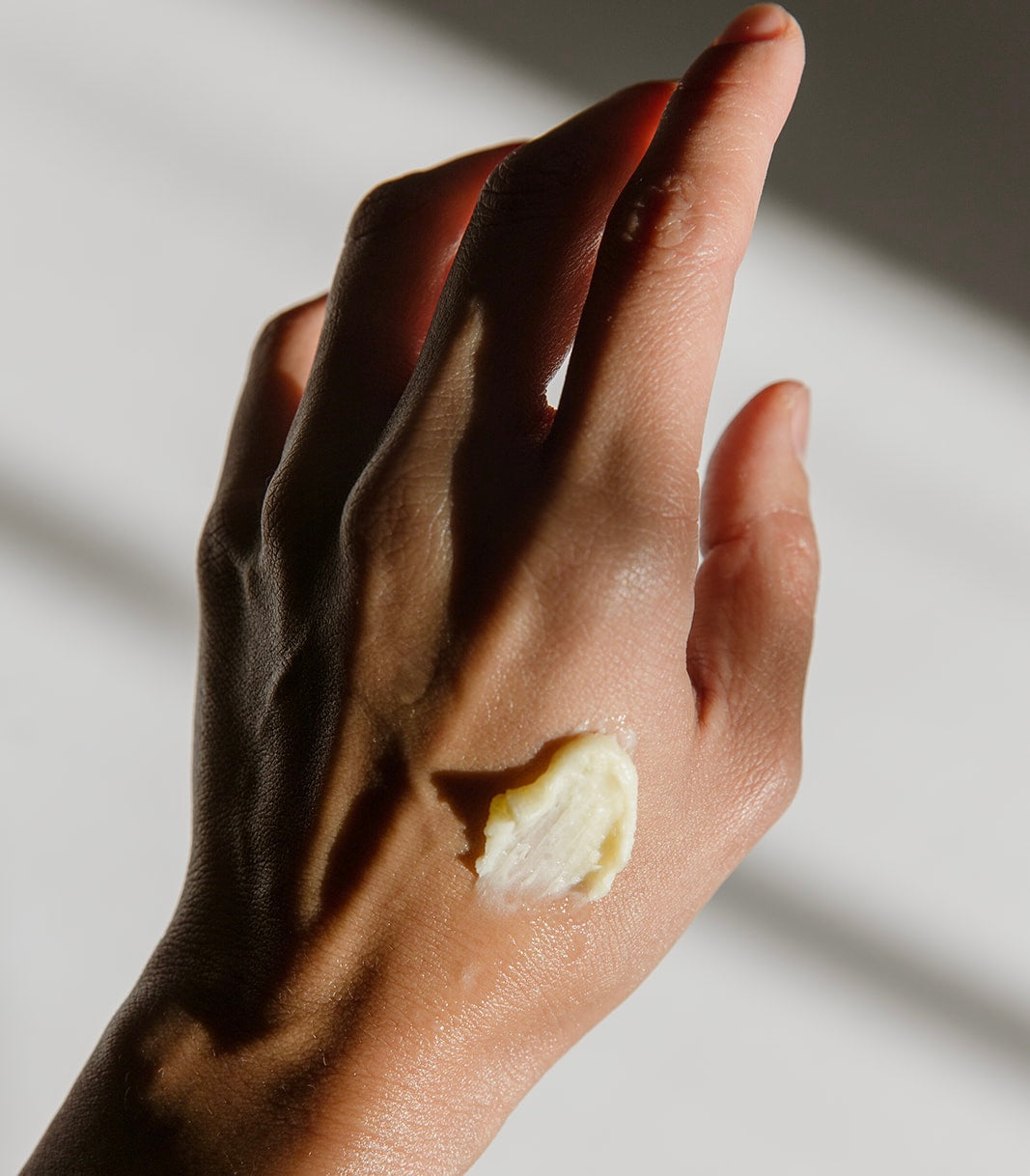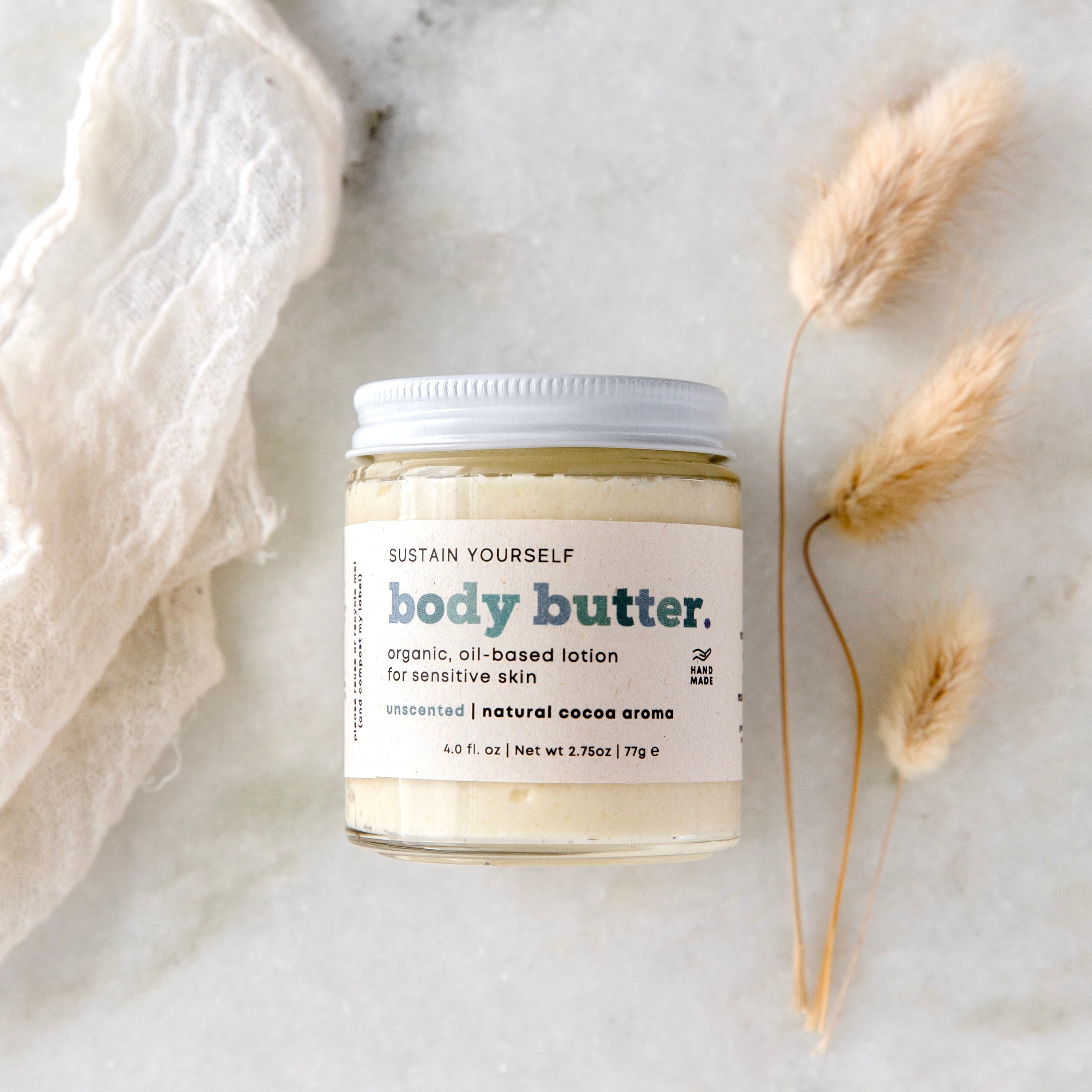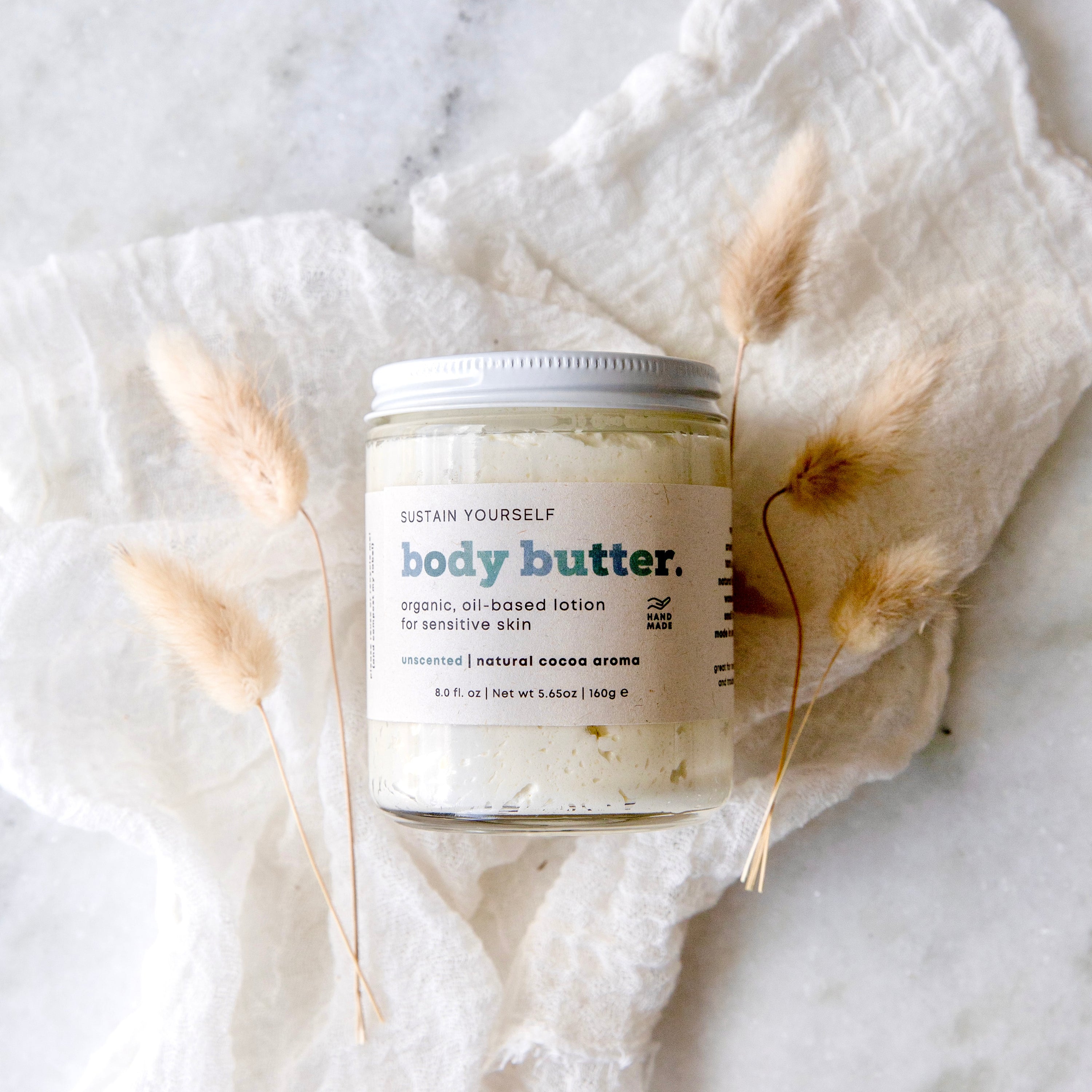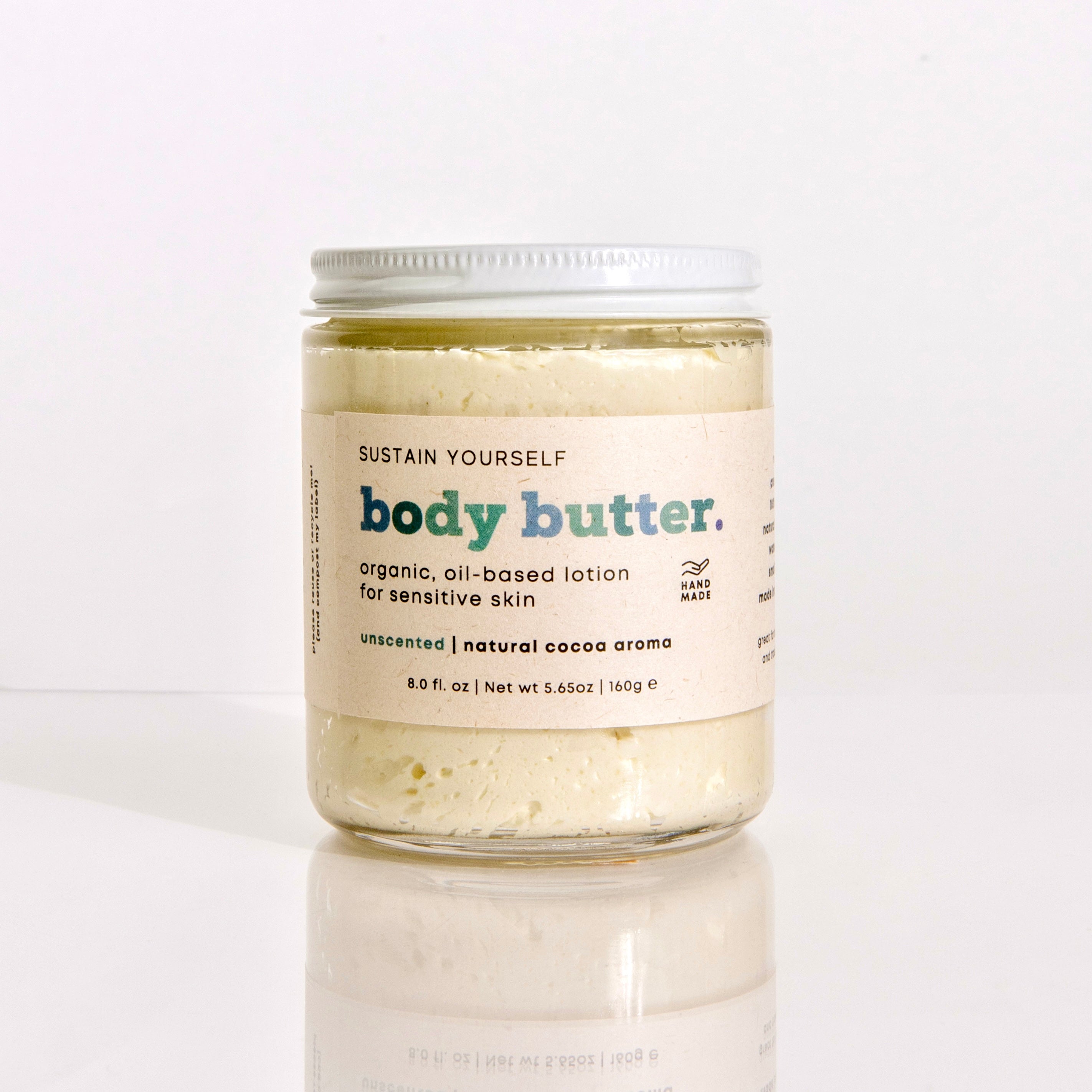 organic unscented body butter
A plastic-free alternative to plastic packaged lotion. Our whipped Organic Body Butter is an oil-based, potent, plant-powered potion for dry skin. You'll notice how it melts right onto the surface of your skin at the first touch. Sooo dreamy.
Our formula is made with four rich and nutrient-dense ingredients that nourish, replenish and hydrate the skin, leaving it soft and silky. May improve/soothe skin suffering from psoriasis and eczema.
Great for massages and for application after shaving. We recommend applying immediately after a warm shower, onto exfoliated and slightly damp skin for best results!
Ingredients
*extra virgin olive oil, *+raw shea butter, *+coconut oil, *+cocoa butter
*certified organic
+certified fair trade
Ingredient benefits
Olive oil: protects and hydrates, healing, nourishing, antioxidant properties, anti-aging, anti-bacterial

Shea butter: moisturizing, anti-inflammatory, anti-aging, healing, restores skin elasticity, calming

Coconut oil: hydrating, anti-inflammatory, healing, calming, antimicrobial

Cocoa butter: moisturizing, high in antioxidants, nourishing, improves skin elasticity, soothes eczema


How to use
Use your fingers to scoop a small amount of BB, a little goes a long way! Best if applied after a shower over damp, exfoliated skin for better absorption.
How to store
Store in a cool, dry place away from direct sunlight. 
Shelf Life
12-18 months if kept in ideal conditions.
Packaging
Glass jar. Metal lid. Biodegradable label.
End of life
Reuse or recycle jar and lid, compost label. Or you can return your empties for store credit.
end
Please note: This product is sensitive to heat. We recommend tracking your order to make arrangements for quick receipt and storing in a cool, dry place away from light to maintain quality. Due to its temperature sensitivity, this product is seasonal and not available during the summer. If you live in a warm climate, order at your own risk. If it melts in transit, you can revive it. Email us for instructions or find our "melted?" highlight on our instagram page @sustainyourselfshop.
Frequently Asked Questions
When is the best time to apply Body Butter?
Body Butter will absorb the fastest when applied to slightly damp and warm skin, after taking a shower. The water and humidity allow for faster absorption.
Can this be used as a face cream?
Yes and no. We only recommend using our Body Butter as a face cream if you have mature skin or don't react poorly to coconut oil on your face. Coconut oil is comedogenic (clogs pores) and can cause irritation and acne. Not everyone breaks out from coconut oil but if you know you are prone to acne we do not recommend using our Body Butter on your face. However, it is an amazing moisturizer for mature and non-acne-prone skin.
How long does one jar last?
This really depends on person to person- how much you apply, if you use it every day, or several times a day. But with customer feedback and personal experience, we estimate:
2 oz: 1 week
4 oz: 2 weeks
8 oz: 4-5 weeks
Is this effective at preventing stretch marks?
Our Body Butter is great for moisturizing growing bellies. Keeping skin moisturized may help eliminate or reduce the occurrence of stretch marks. Coconut oil, cocoa butter, olive oil, and shea butter can help keep skin hydrated and supple. Along with making proactive choices, such as drinking lots of water, our key ingredients may be helpful for preventing stretch marks.
Why does the unscented option smell like chocolate?
All of our Body Butter scents have an undertone scent of cocoa. This is due to the use of pure, organic, unrefined cocoa butter.
Does it still work if it melted?
Yes! Our Body Butter is extremely temperature sensitive and can melt in transit during warmer months, which is why we discontinue it in the summer. However, if you receive melted Body Butter, you can still use it melted. Or you can revive it. Simply melt it down completely in 10 second intervals in the microwave, mix, refrigerate until completely solid and then whisk with a handmixer until fluffy. Keep in a cool place.
Do you have a refill/jar return program?
We do! We will accept all of our containers and packaging to be responsibly reused or recycled. Anything from we give you, from containers, boxes, peanuts, tape, and more can be returned to us. Learn more about our program on our Jar Returns page to see if you're eligible for store credit.
Not bad, but not my favorite
I want to love this. I like the smell, I generally like the feel of it on my skin. It is a little greasy. I have also noticed my hand eczema flares after the few times I have used it, but I'm honestly not sure this was the cause or if it was coincidence.
Butter for the skin!
Love it. I have stress induced eczema and it instantly helps the itching! I wish I could sit in a tub of this stuff forever. But a little does truly go a long way.
organic unscented body butter
The body butter of your dreams
This body butter melts into your skin. Beyond hydrating and smells amazing, other products do not compare. This product has improved my self care immensely, I look forward to showers just so I can use this body butter to repair my dry skin. I feel more confident in my skin knowing that I won't have to worry about dry, cracked or flaky skin.
New fav
I looooove the light cocoa smell. Hydrates my skin really well. I use it all over my body and it's especially nice with a fresh shave. Definitely my forever body butter.
My fav body butter ever!
Been using it for years and absolutely love it!