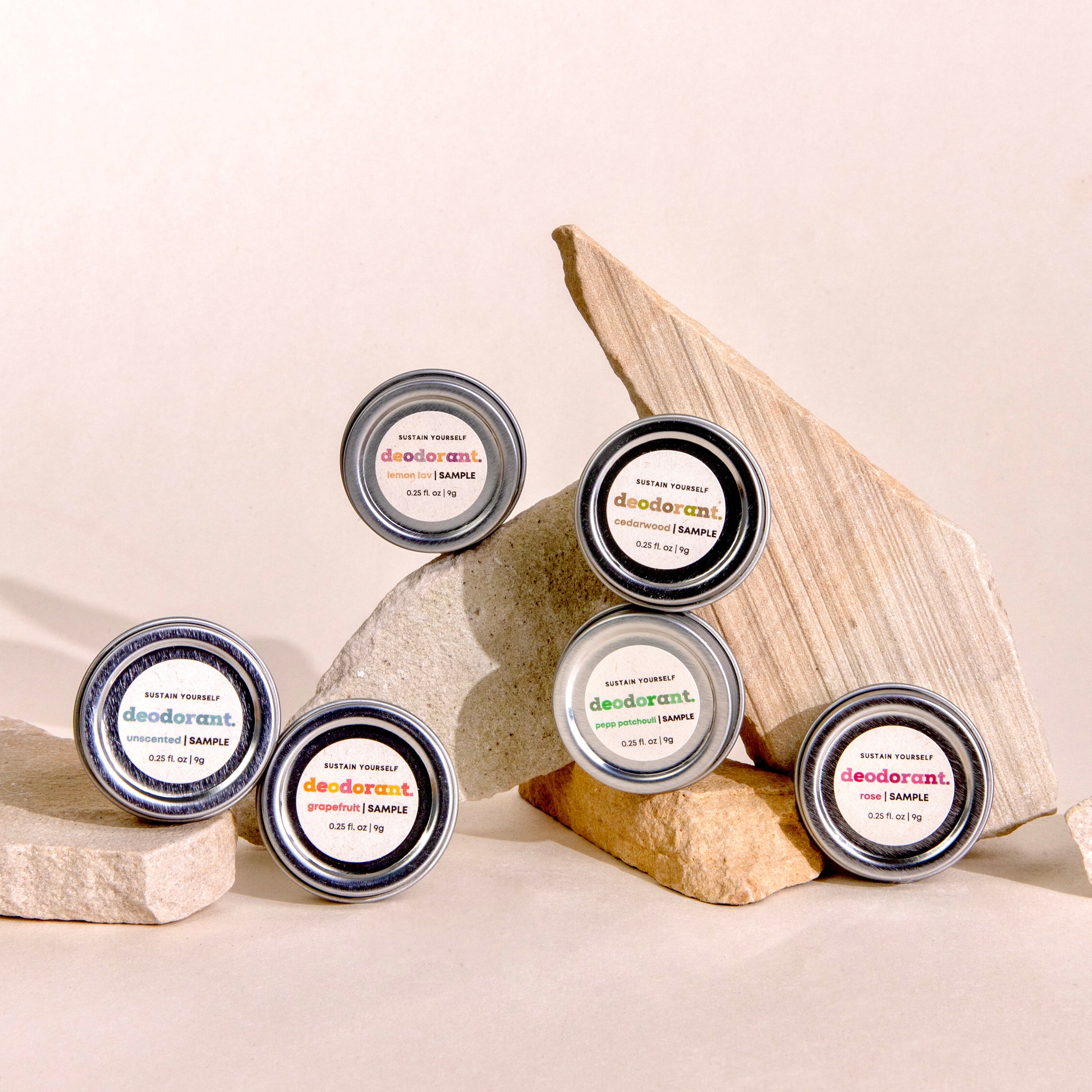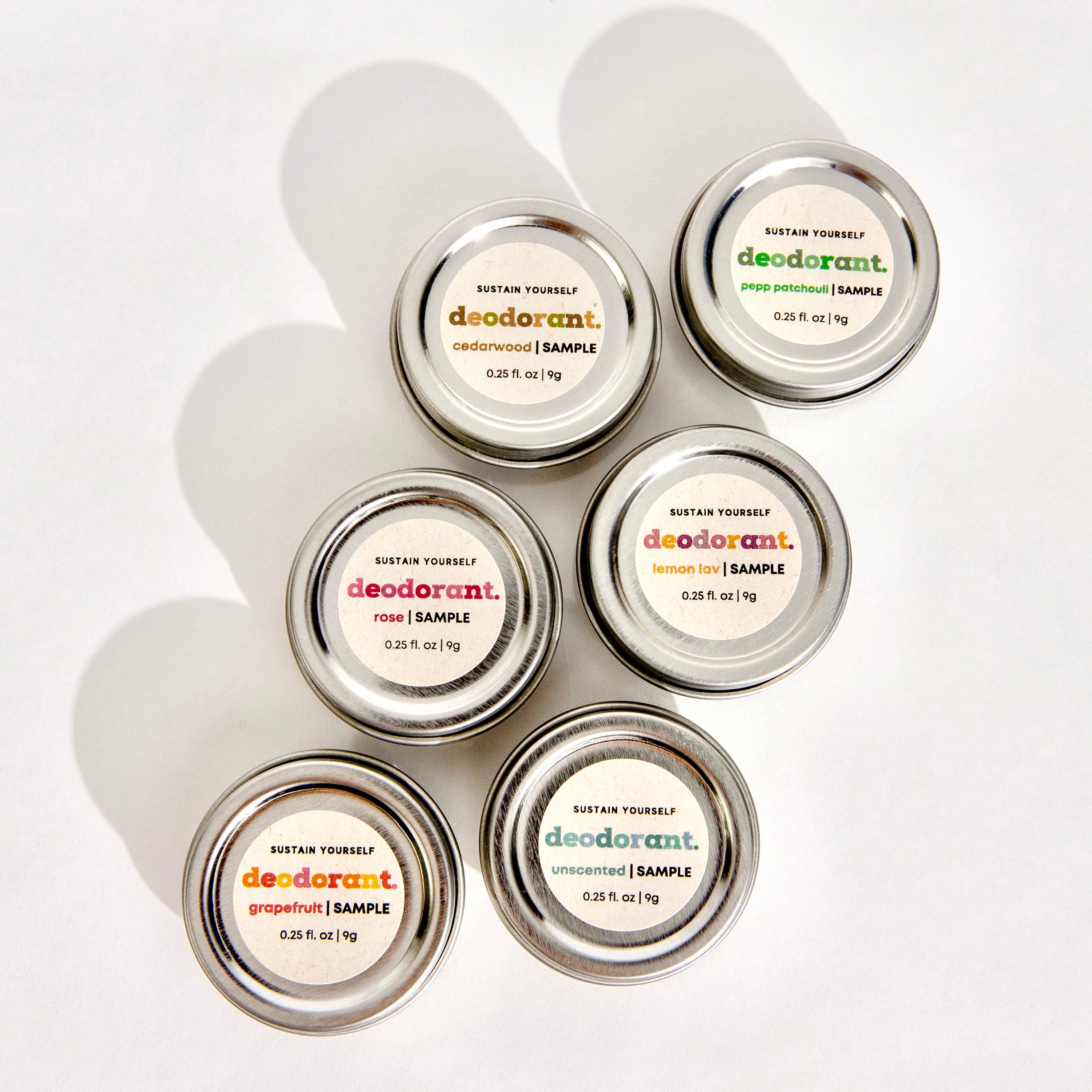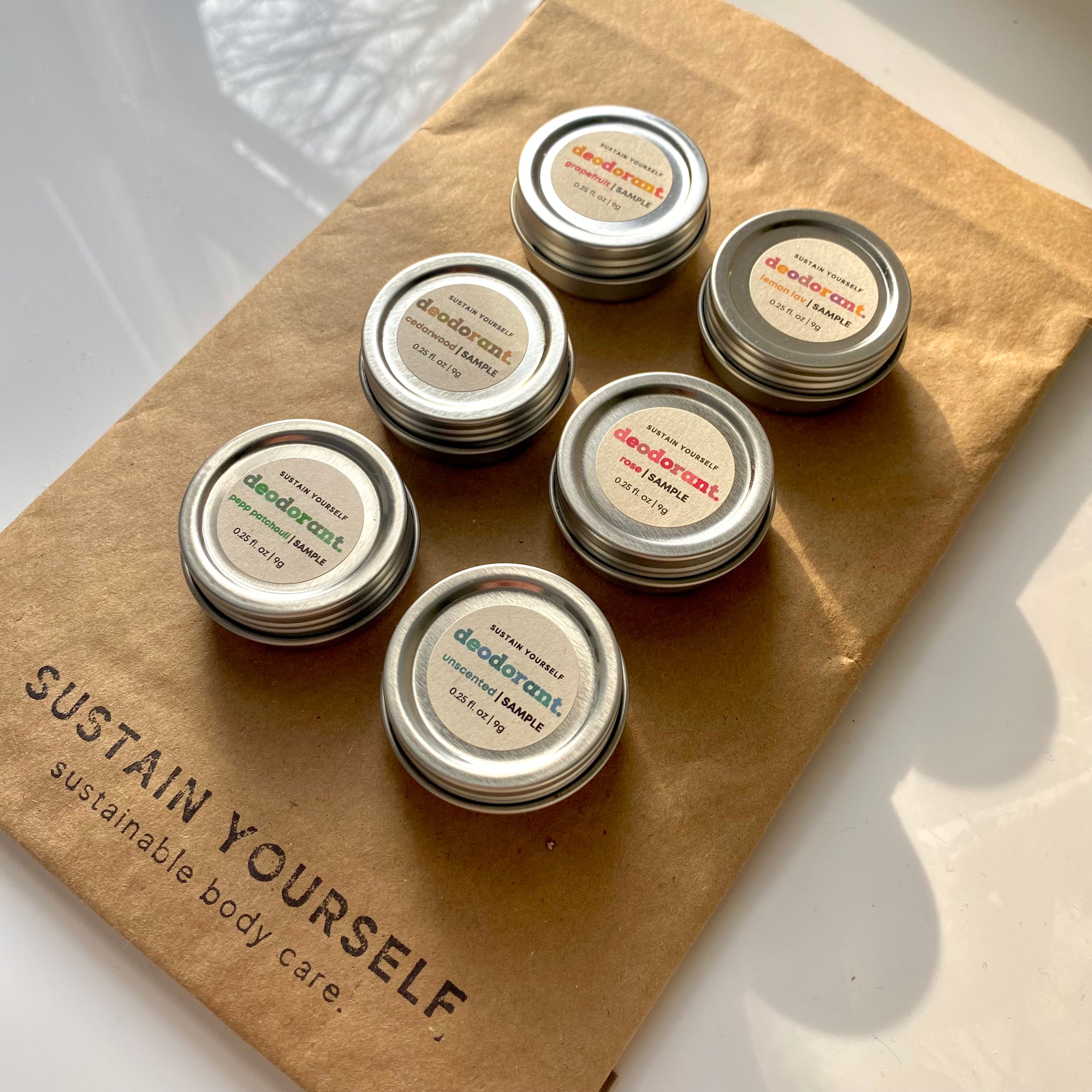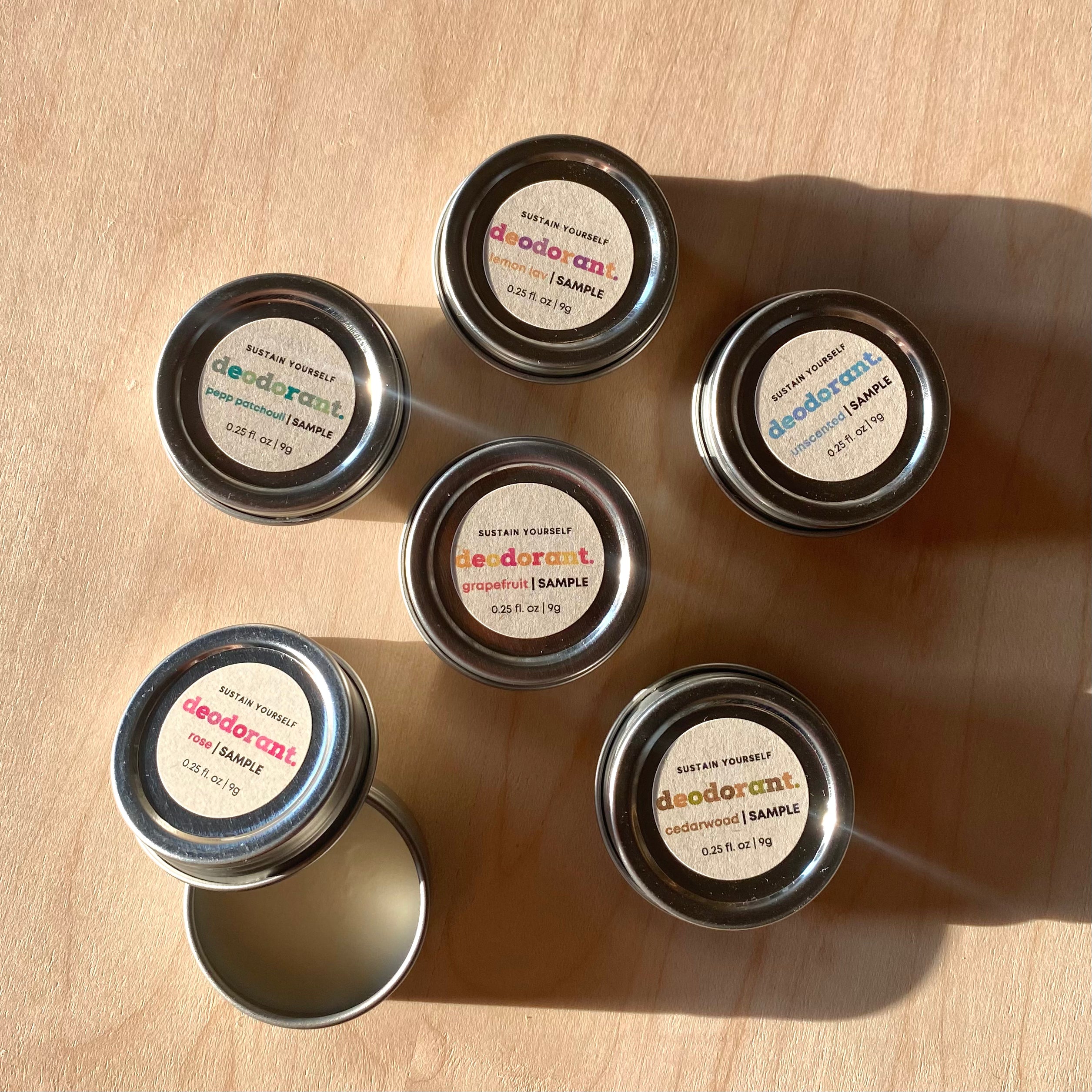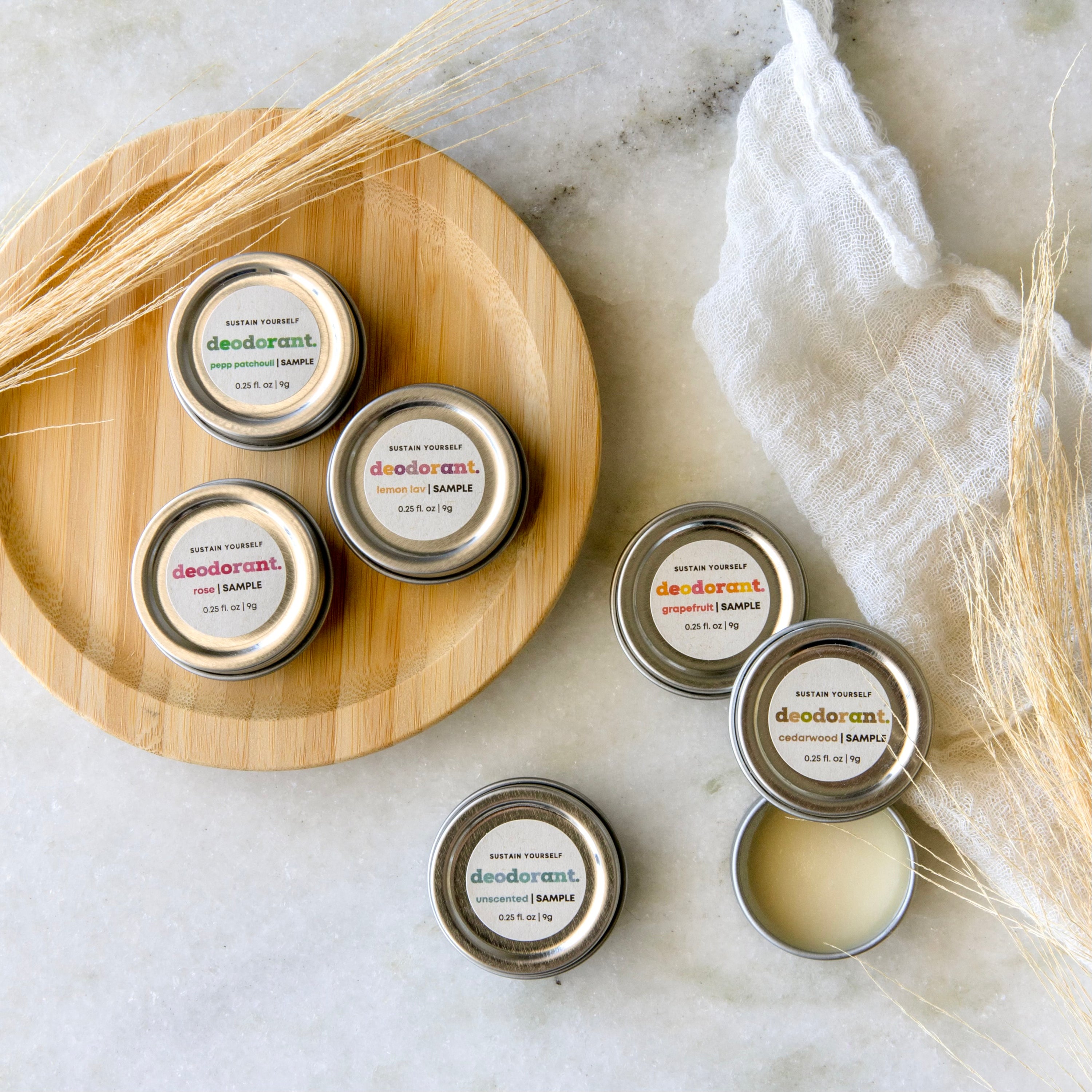 deodorant cream sample pack
Add a FREE Deodorant Cream Sample Pack to your cart when you spend $100+ 
Finally, a natural deodorant that actually works. Keep your pits fresh and odor free all day with our best-selling sensitive skin natural deodorant cream. Goes on like a lotion and once absorbed leaves a barely-there powdery finish.
Geevie, our deodorant maker, crafts our deodorant cream in small batches and pours each jar by hand. Our formula is vegan, cruelty-free, and baking soda free. Although it is gentle enough for sensitive skin, it effectively neutralizes odor while keeping your underarms soft, dry, and rash-free.
Not a fan of scooping deodorant cream with your finger? Try our new bamboo spatula for a hassle-free application.
Our Deodorant Cream Sample Pack includes 7 small tins featuring each scent we offer: 
Grapefruit
Lemon Lavender
Rose Geranium
Cedarwood
Peppermint Patchouli
Patchouli Tonka Bean (NEW! Not pictured)
Unscented
Each sample is contained in a 1/2 oz screw-top metal tin and contains 1/4 oz (about 9g) of deodorant cream. It's a very small amount, but each tin contains enough deo to last a few days. Labels are 100% biodegradable.
The point of this pack is to sample all of the scents we offer. If you would like to only try one or two of our deodorant scents, we offer a 1oz Travel Mini size of each deodorant, that can be purchased individually. Sample sizes of our deodorant cream cannot be purchased individually.
We source our ingredients sustainably and ethically, and focus on supporting small and local businesses.
Ingredients
*arrowroot powder (maranta arundinacea), *+shea butter (butyrospermum parkii), *+coconut oil (cocos nucifera), magnesium hydroxide (food grade), *essential oil blend (see individual product pages for essential oils)

*certified organic 
+certified fair trade
Ingredient benefits
Arrowroot powder: absorbs moisture

Shea butter: moisturizing, anti-inflammatory, healing, calming

Coconut oil: moisturizing, anti-inflammatory, healing, antimicrobial

Magnesium hydroxide (food grade): a gentle, toxic-free deodorizer, most commonly used as a dietary supplement
Essential oils: antibacterial properties, natural fragrance
How to use
Scoop a pea size amount of deo using your fingertip, the back of your fingernail, or our bamboo spatula (use a pea size amount per pit, or one for both).
Rub between fingers to smooth, then apply like you would lotion, onto clean and dry pits, and rub until fully absorbed. Applying too much or not rubbing it in all the way may make it transfer onto your clothing.
Reapply as needed, after wiping your pits clean with a damp towel. Applying deodorant onto unclean, damp, or sweaty pits may cause irritation.
How to store
Store in a cool, dry place away from direct sunlight. Avoid storing in a hot car, it will melt and alter the consistency when it resolidifies. Because we don't use stabilizers in our deodorant, only the good stuff, it may get hard in the winter, and melty in the summer. If it gets too hard to scoop in the winter, store somewhere warm like the bathroom or close to a heating vent or radiator. If it gets too melty in the summer, store by your AC unit/vent or consider storing it in the fridge.
Shelf life
12+ months if kept in ideal conditions.
Packaging
Reusable and recyclable metal tin. Biodegradable label.
End of life
Reuse or recycle tins, compost label. You can also return your empties.
end
Please note: Our products are handcrafted in small batches. Due to the nature of natural and organic ingredients, changes in color, consistency and scent are expected. This does not impact the quality or efficacy of our products. Since we like to keep it natural, and don't add any harmful additives or stabilizers in our products, our deo can get a little melty in the summer. When it melts, it can turn grainy if it cools too slowly, but don't fret! The texture won't get in the way of its effectiveness and will melt right into your skin upon contact. And if melty deo isn't for you, just stick it in the fridge for an hour or two to help it resolidify.
Frequently Asked Questions
I have tried so many natural deodorants, how can I trust that this one will actually work?
We hear you. And we've tried basically all of them too before we created our own formula. We tested different recipes for about 2 years before finding one that actually worked! We can confidently say that our deodorant is one of the most effective formulas on the market. Just read our reviews! In the unlikely event that it doesn't work for you right away, we highly recommend doing an armpit detox and trying again. You won't regret it ;)
I have really sensitive skin, is this gentle enough for me?
Yes! Our deodorant cream doesn't contain any common irritants. We use magnesium hydroxide instead of baking soda because it is super gentle and non-abrasive. All of our other ingredients are gentle on sensitive skin as well. If you experience irritation, you may have an allergy or sensitivity to essential oils, in this case we recommend switching to our Unscented Deodorant Cream or trying a different scent. Doing an armpit detox can also reduce skin sensitivity!
Which deodorant scent is the most effective?
We consider all of our deodorant scents equally effective. However, since essential oils have antibacterial and anti-fungal properties, our citrus scented deodorants may be considered "stronger", like our Grapefruit, Lemon Lavender, and Cedarwood. Our scented deodorants may also act like a perfume, leaving a fresh lingering scent. But our formula is effective enough on its own at neutralizing BO, without the help of essential oils, so don't let this effect your scent preference!
Do I need to do an armpit detox before using your deodorant?
No. We recommend detoxing if our deodorant doesn't last 24 hours for you, even if you've been using natural deodorant for years. Our formula is very effective, most of our customers report not needing to detox at all, even those who just made the switch from an antiperspirant to our deodorant. But our armpits are very porous and when these pores get clogged up with excess oil, dead skin cells, dirt, bacteria, and years deodorant residue (there's only so much a sponge can do), deodorant may not be as effective because your skin can't absorb it. Clear your pores and watch our deodorant magically work for you!
Is your deodorant an antiperspirant?
No. Our bodies are designed to sweat! It is an essential function of the human body. Antiperspirants actively block sweat glands in the armpits to prevent sweating. So when you switch from an antiperspirant to natural deodorant, it's possible you'll go through a little transition period and experience more sweating. This transition period depends on person to person. We recommend doing an armpit detox if yours lasts more than a week.
Will your deodorant stain my clothes?
No. Our deodorant won't stain your clothes or leave oil residue behind. Just make sure to rub it in well after a warm shower to prevent white streaks. 
How long does one jar last?
This really depends on person to person- how much you apply, if you use it every day, or several times a day. But with customer feedback and personal experience, we estimate:
1 oz Travel Mini: 1 month
2 oz: 2-3 months 
4 oz: 4-6 months
8 oz Bulk Refill: 8-12+ months
How often do I have to reapply?
Our formula is strong enough to last an average of 24 hours. But everyone is different! So this can depend on person to person, especially when looking at lifestyle, stress, and diet. Most of our customers report being odor-free for 24+ hours with one application, especially those who have done an armpit detox at least once.
Does it work for men?
This is one of the most frequent questions we receive. The answer is YES. Our deodorant works for everyone, regardless of gender. It is strong enough for the sweatiest, stinkiest pits out there.
Does it work if I have armpit hair?
Absolutely! If you have armpit hair, we recommend rubbing the deodorant cream between your fingers to get it all nice and smooth for an easier application, and rubbing the deo well into your skin, through the hair.
Does it still work if it melted?
Yes! Just make sure the ingredients haven't/don't separate. Give it a good mix with a chop stick and put it in the fridge (optional) to resolidify. If you don't have AC and the consistency stays melty at room temp, keep it in the coldest spot possible (cool, dark, and dry) and make sure the ingredients don't separate.
What are the dark specks at the bottom of my jar?
Not to worry! Some products may have sediment from the shea nut through filtration. Since we use pure, unrefined shea butter, specks are normal (and harmless) and only go to show how natural our ingredients are! Yay!
Do you have a refill/jar return program?
We do! We will accept all of our containers and packaging to be responsibly reused or recycled. Anything from we give you, from containers, boxes, peanuts, tape, and more can be returned to us. Learn more about our program on our Jar Returns page to see if you're eligible for store credit.
Still on the fence…
Have previously acclimated to and aluminum free deodorant prior to trying this. Two days of use… both days it barely lasted 8 hours. Definitely did Not stand up to my 12 hour nurse shift. I'm not usually a stinky sweater, but after my 12 hour shift I was starting to smell. Will give it a few more days before I make a decision on it though. Grapefruit / peppermint/ and the tonka scents are nice. Still on fence of whether they will last..,
Great way to try them out
Great way to sample the scents and also have travel sizes!! Great deodorant!!
GREAT Deo: long-lasting and didn't cause my skin disease to flare!
I liked all the scents and the deo actually WORKS! A little goes a long way. I would apply some one day and then, a whole 48 hours later, realize I did not apply a second time and still don't smell! Or, if I did, it was minimal and after being out in the hot hot LA heat for a good while.
I also found that NONE of the deo options irritated my skin. That is SUCH a big deal for me because after I got my skin disease, hidradenitis suppurativa, I basically couldn't use deodorant. A lot of the brands I would use before, even if they were marketed as "natural" would either burn upon applying or irritate the skin after a while and cause a flare up. This deo? No irritation! I'm sold!
I would just say to maybe be careful about the melting of the deo. My deo came melted in the mail due to the LA heat and it basically sealed the containers so I had to mess around with putting it in the fridge and warming it up on the windowsill until I could wiggle it open. Aside from that, everything was so so AWESOME! Just purchased bigger versions.
deodorant cream sample pack
super helpful!
i got this sample pack to test out a) the scents and b) whether the deodorant was worth it or not. it definitely is! im so torn between the grapefruit, lemon lav, and rose scents, and i cant decide which one to size up in. a great investment!
Love!
I really am enjoying the long-lasting scent and effectiveness of this deodorant. Kudos to Geevie and Sophia for formulating this!! Thank you for working so hard. I love the peppermint patchouli deodorant best!