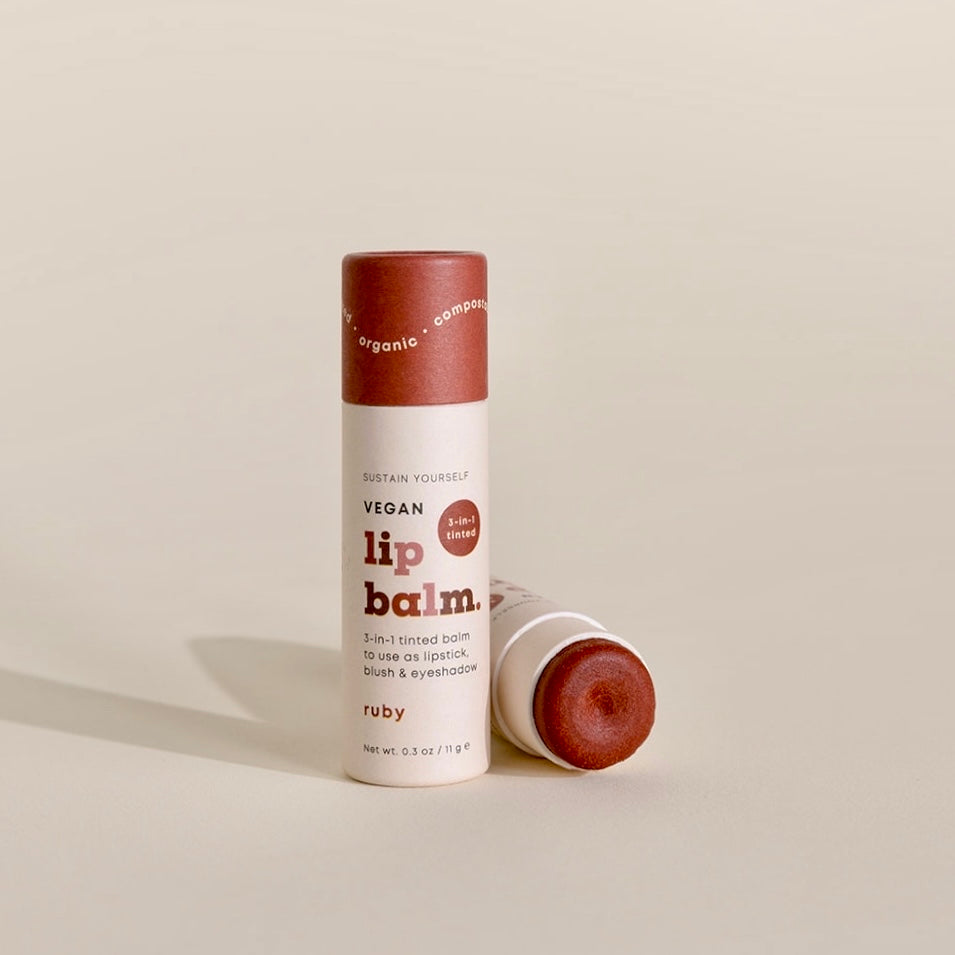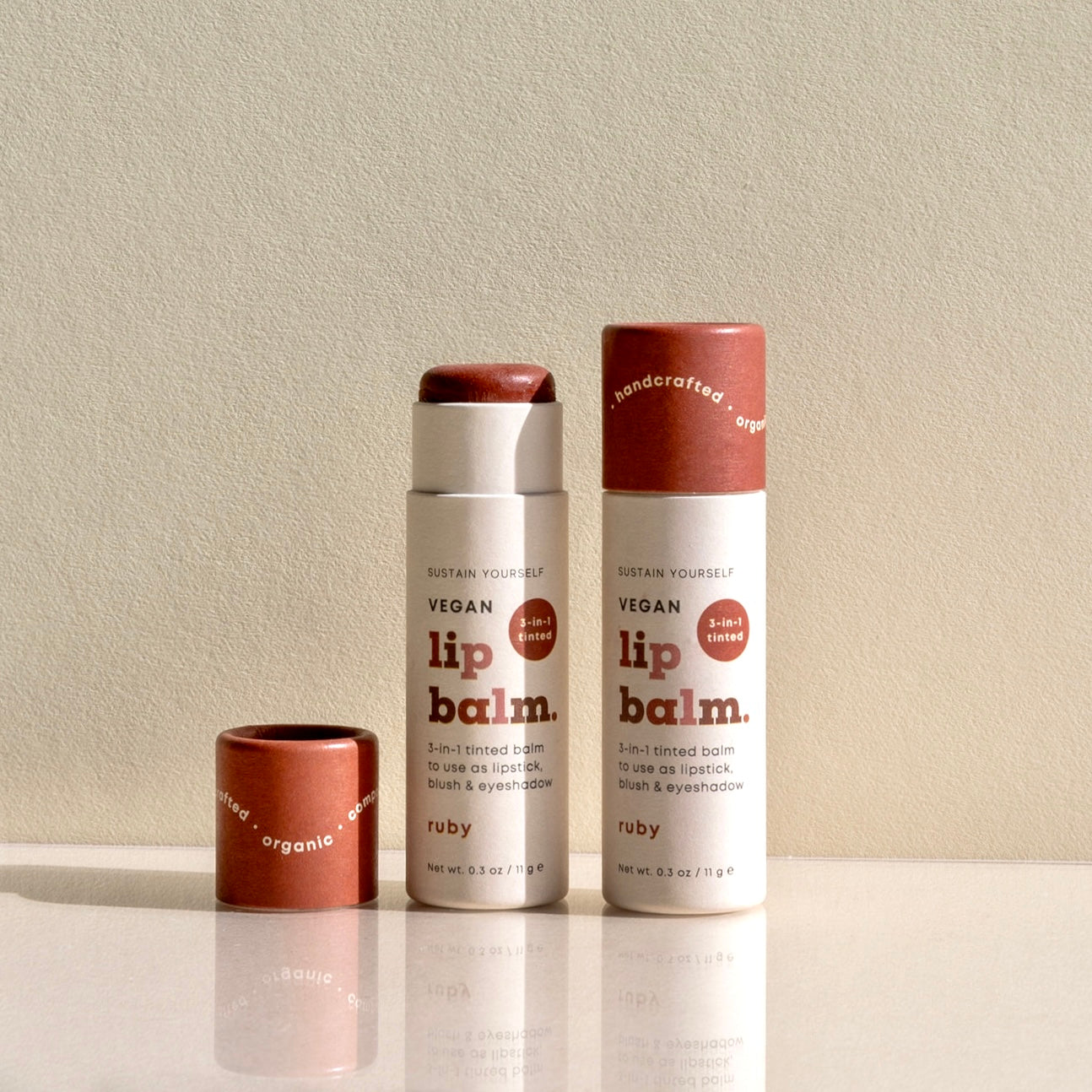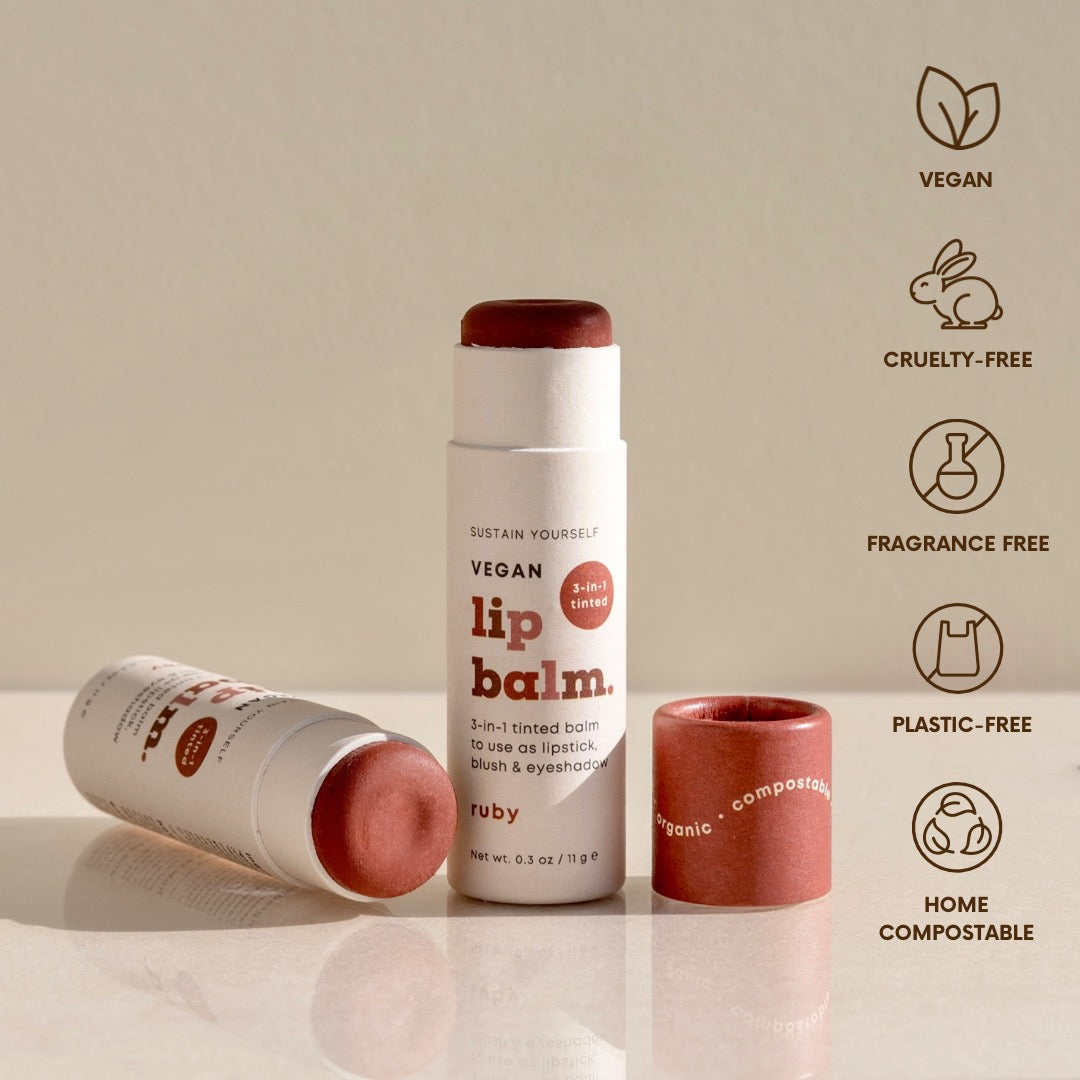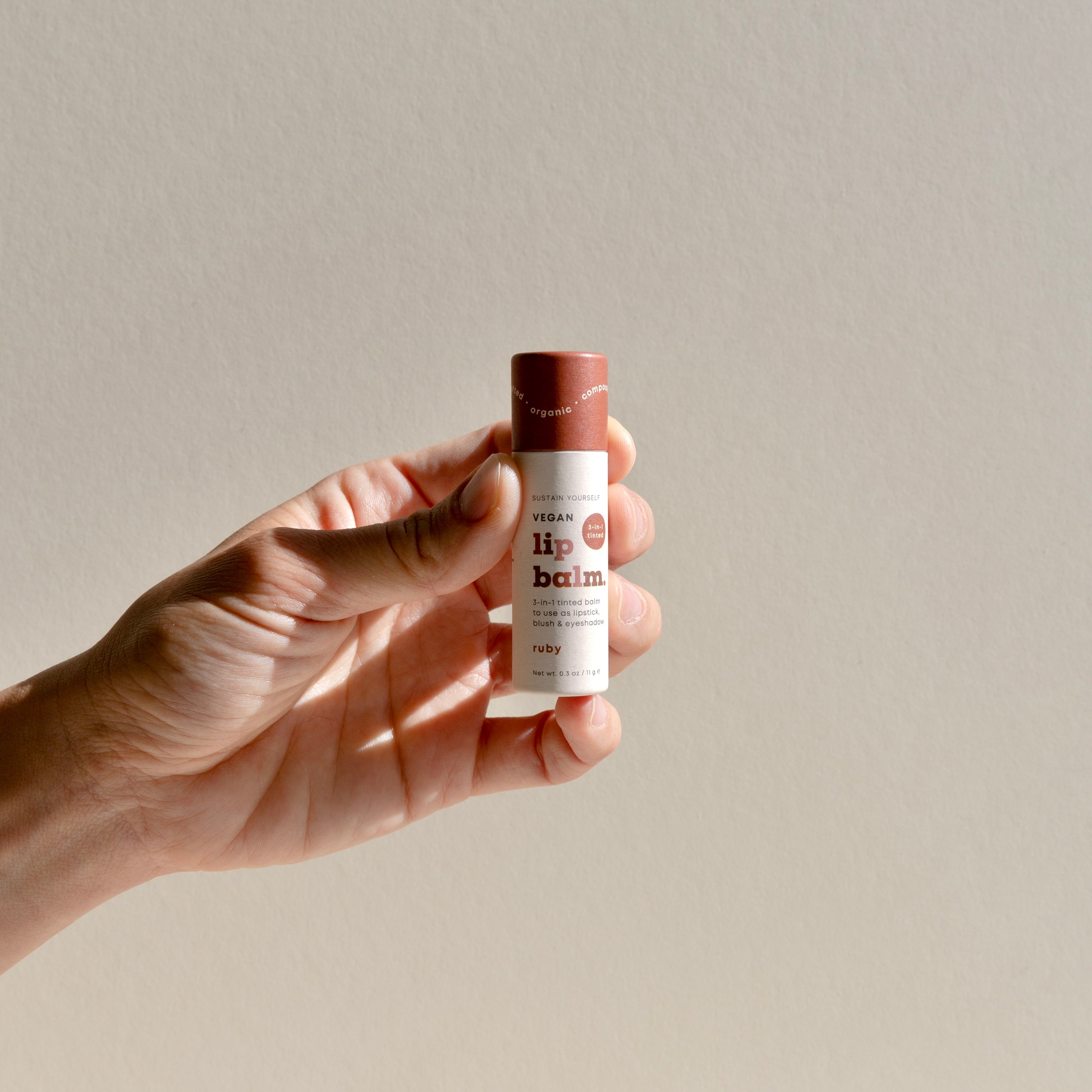 vegan 3-in-1 tinted lip balm
A plastic-free and vegan alternative to disposable lipstick. But more on the sheer side. 
Our new vegan version is silkier than our original tinted lip balm. This vegan and coconut oil-free formula offers subtle, but buildable color, perfect for everyday wear- get naturally rosy cheeks with one swipe! Our original tinted lip balm is closer to a lipstick (creamier and darker) and this one is closer to what you think of when you think "tinted lip bam".  
Another way to describe the difference is our OG tint should probably be applied with a mirror and this one is okay to apply without one (but still be careful not to overdraw).
Our multi-purpose, unscented, and biodegradable tinted lip balm is delicately handcrafted in small batches with nourishing ingredients that repair and hydrate chapped lips, while also offering beautiful, buildable color. The best thing about this lip balm is that it's long lasting and it can be used as blush and eyeshadow. Gotta love multipurpose!
Tip: our vegan lip balm can get a little dry if not being constantly used, due to dry winter air. Press it on your lips for a few seconds to warm if necessary.
Ingredients
*golden jojoba oil (simmondsia xhinensis), *mango butter (mangifera indica), sunflower wax (helianthus annuus cera), *+shea butter (butyrospermum parkii), iron oxide (ci 77491, ci 77499, ci 77492)
*certified organic
+certified fair trade
Ingredient benefits
Golden jojoba oil: anti-inflammatory, rich in vitamins and minerals, ultra-moisturizing, gentle on sensitive skin, soothes eczema and rosacea

Mango butter: retains moisture, anti-inflammatory, anti-aging, soothes irritated skin

Sunflower wax: healing, moisturizing, calming, nourishing and antibacterial properties

Shea butter: moisturizing, anti-inflammatory, healing

Iron oxide: a naturally occurring mineral, but synthetically processed to remove heavy metals. Provides superior color purity, saturation, and outstanding dispersibility. FDA approved and certified for cosmetic-use (natural iron oxides are not approved by the FDA for cosmetic-use due to heavy metal content)

Cocoa powder: natural color
How to use
Push up from the bottom of the tube, using your finger. Apply on your lips, cheeks, lids, and nose. Apply more for more intensity.
How to store
Store in a cool, dry place away from direct sunlight. Avoid contact with water. And don't forget it in a pocket when you do laundry!
Shelf Life
24+ months if kept in ideal conditions.
Packaging
Biodegradable paper tube.
End of life
Compost in your backyard or city curbside bin! 
Perfection
It is very silky without being shiny while still giving substantial color which is almost impossible to find! The fact that is not shiny or too much of a tint makes me feel comfortable putting it in my cheeks and lids, contrary to other products (also without a mirror). In summary this is as close to perfect as you'll ever find; please don't stop making it ever!!!! As one reviewer mentioned, the color is close to brown. I would love it more if it was closer to raspberry so that it could also compliment cooler skin tones like mine.
Good product. More brick red than ruby.
It's a pretty color . More brick red than ruby. Good product. Decently moisturizing.
Love the sheer buildable nature
Love the vegan tinted (over the non-vegan tinted) for how sheer it is. I use it on my lips and cheeks. Silky smooth!
So versatile
I love how the vegan version is a bit more sheer. I love putting a bit on my eyelids and my lips to liven up my look. ♥️
Love the color!
I was so excited to finally find a shop that carries vegan products as well as things that I can actually have with my allergies! I love this tinted lip balm. It is a beautiful color! I also am loving the unscented deodorant since I am allergic to most fragrances including essential oils. Thanks for making these products as well as in beautiful packaging!
Great color!
Love the color and how moisturizing the black is!