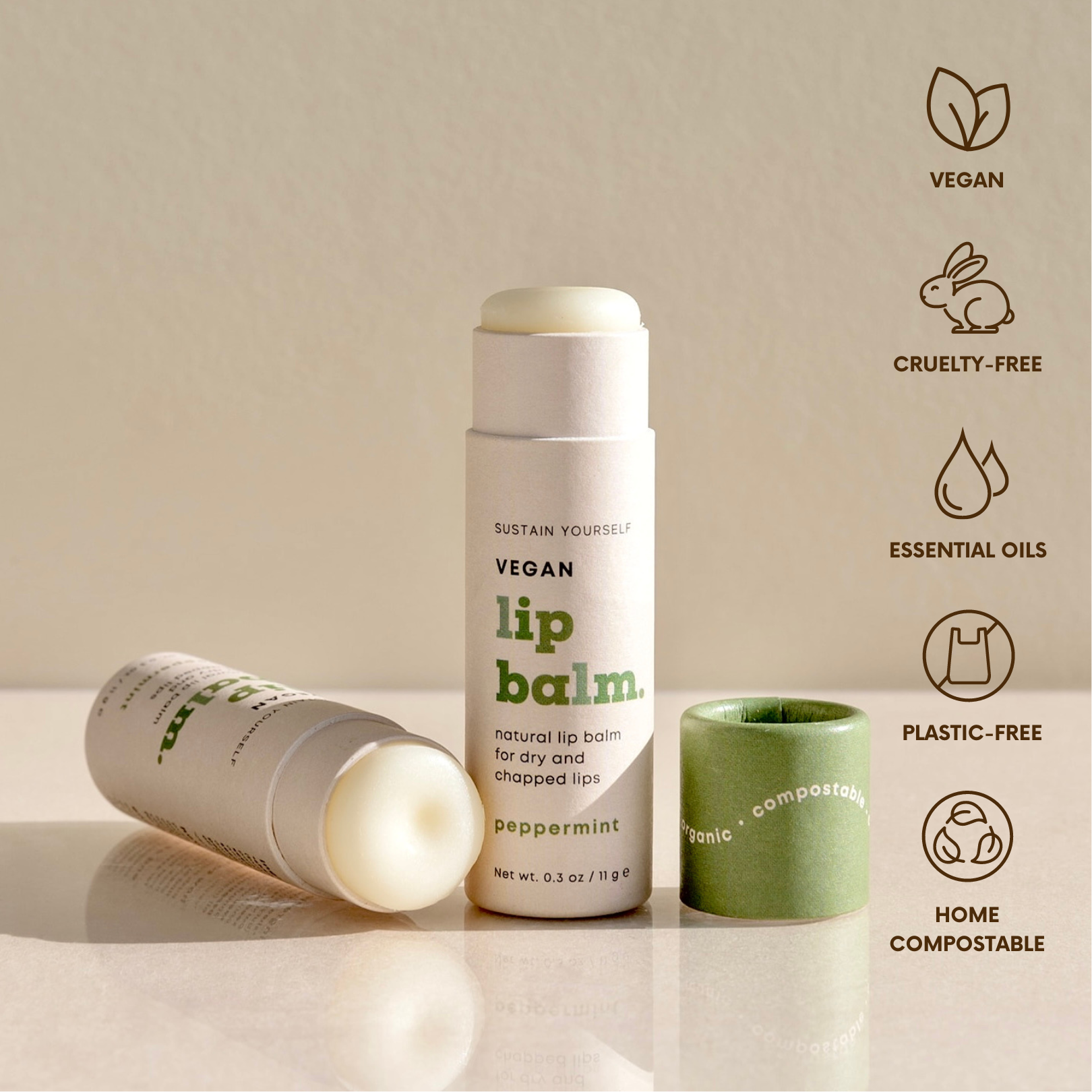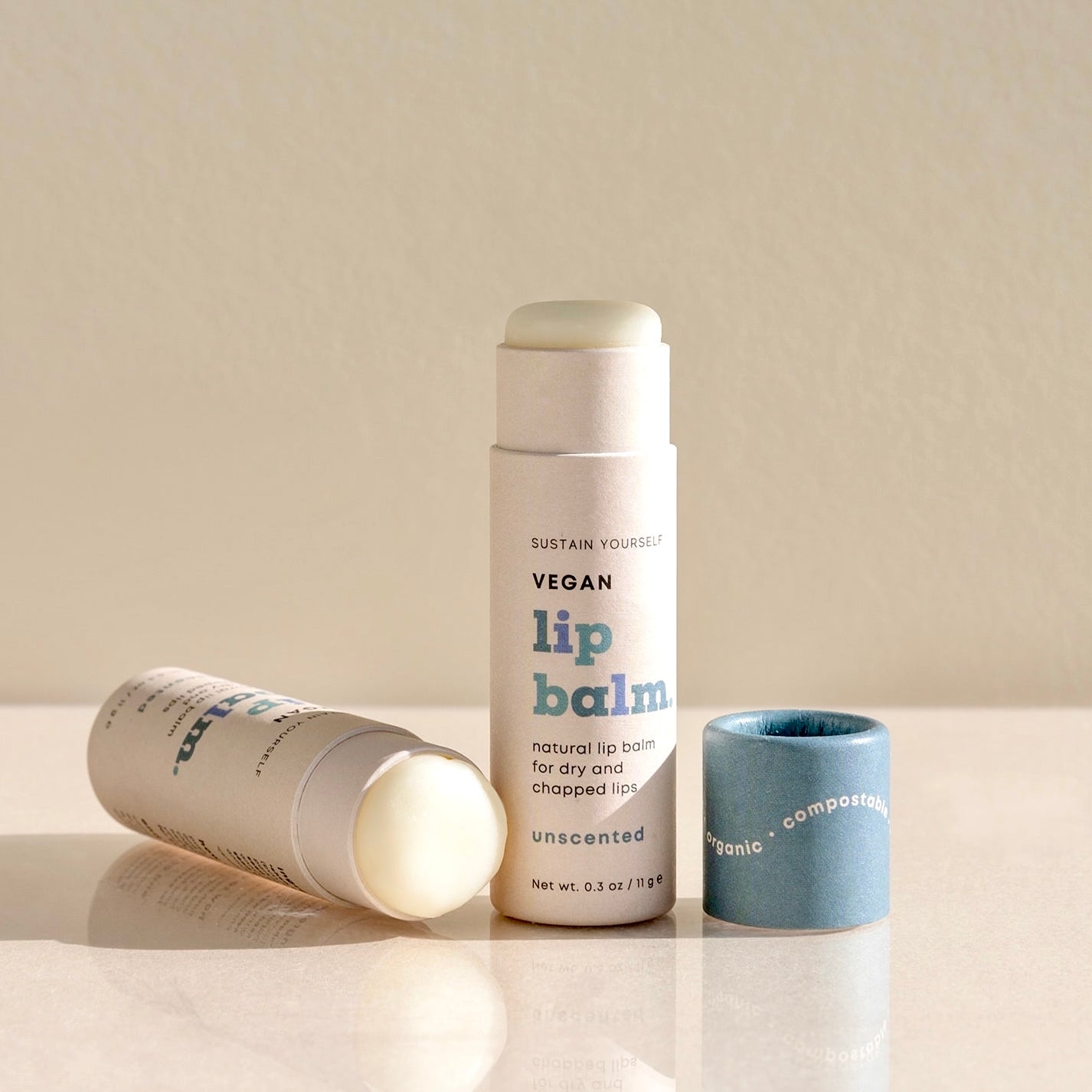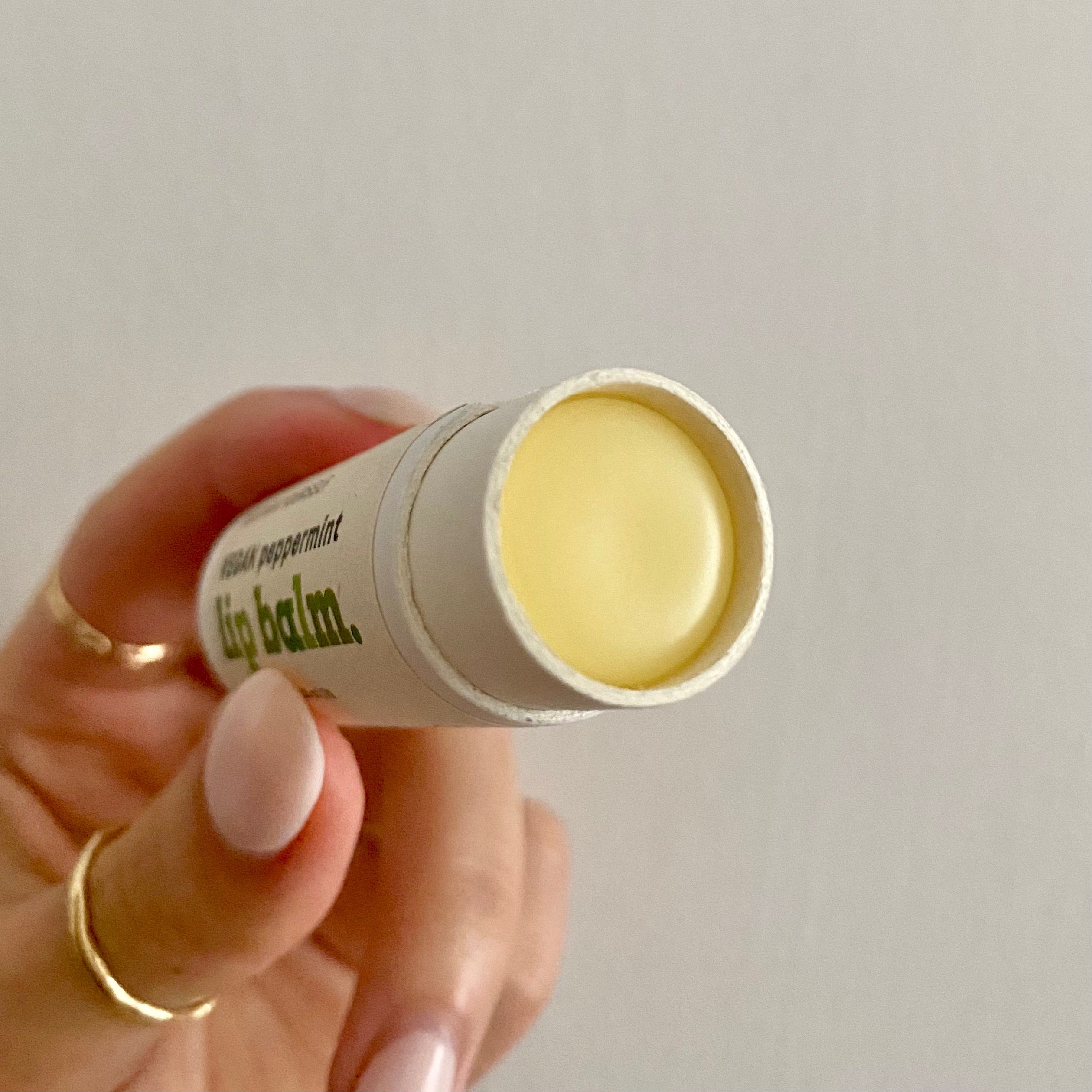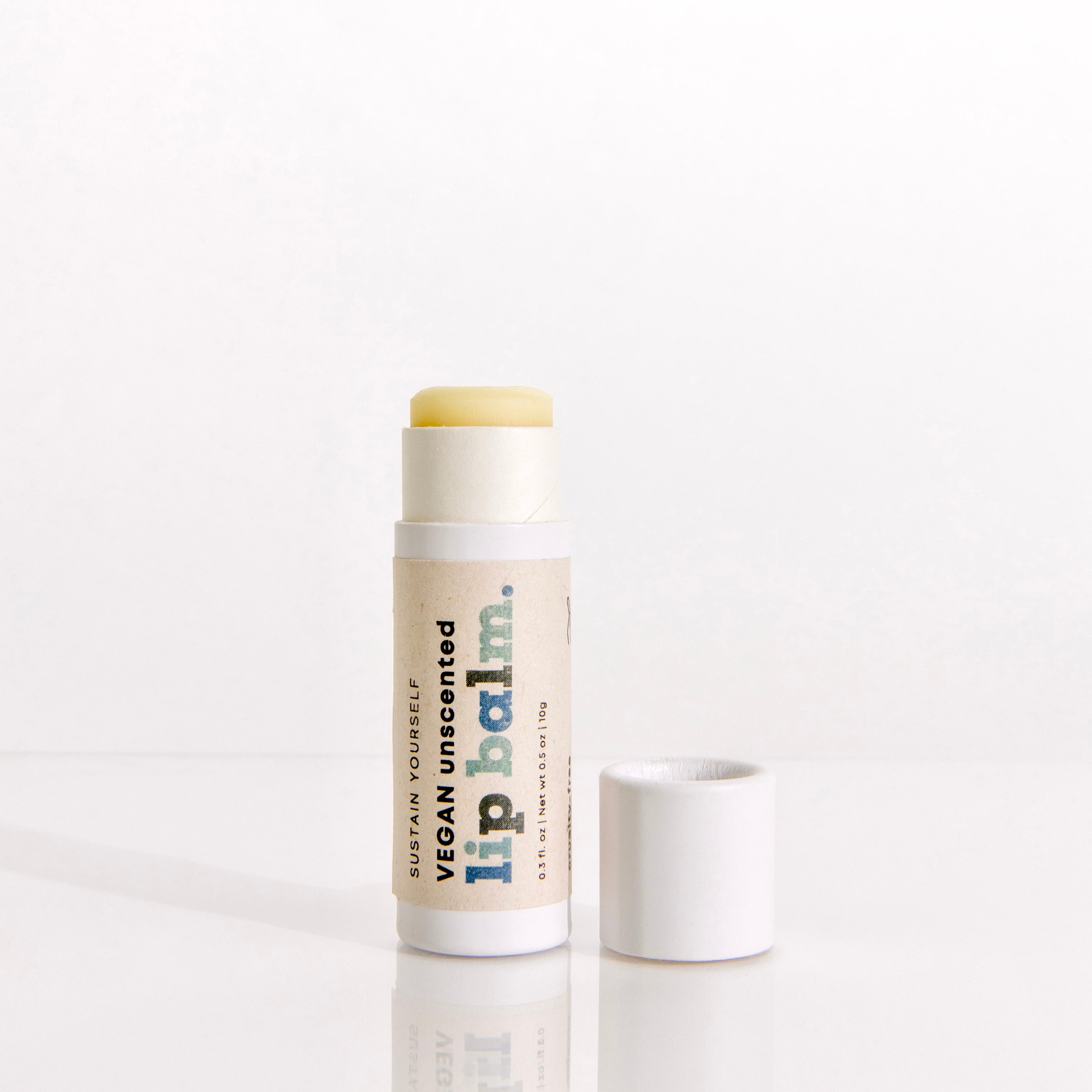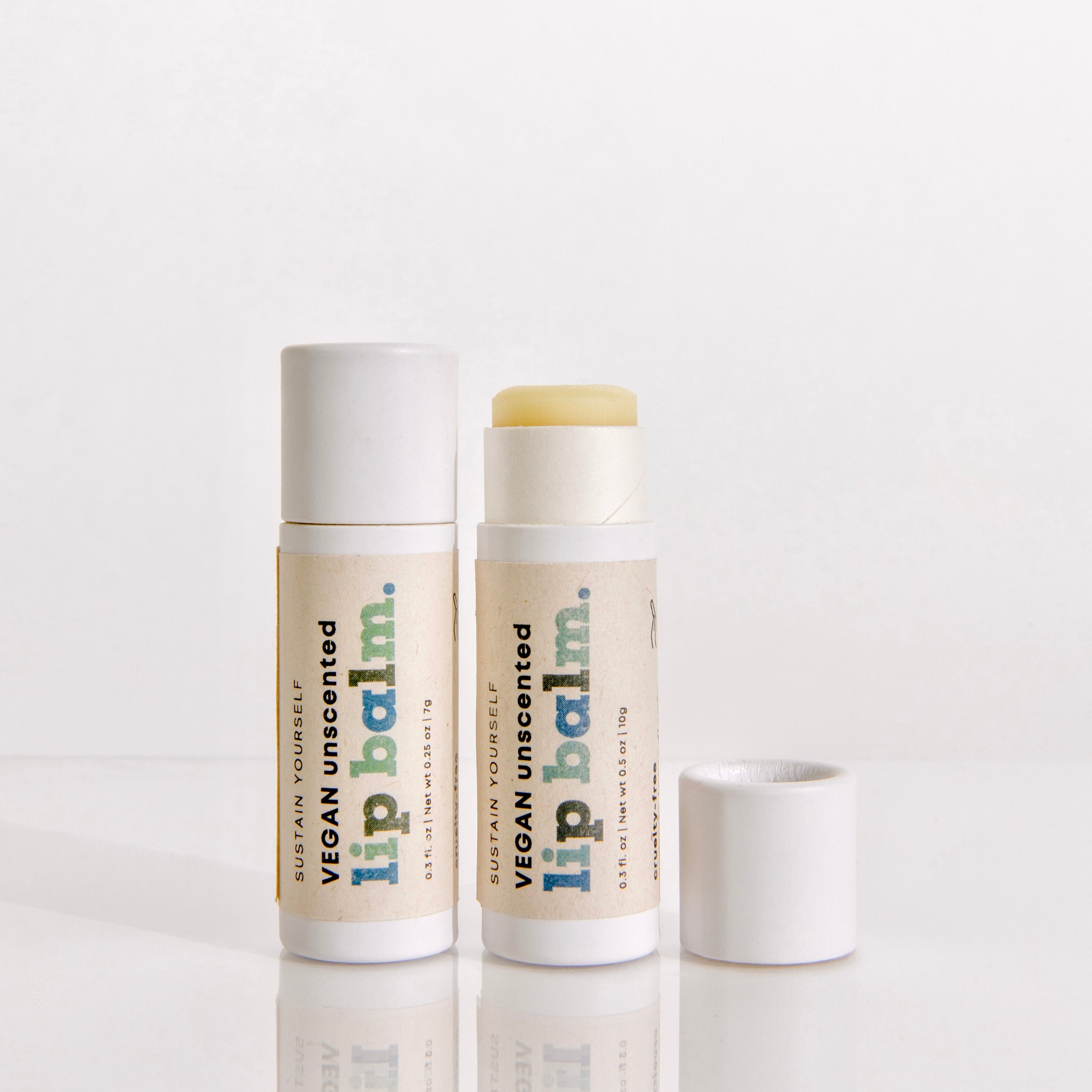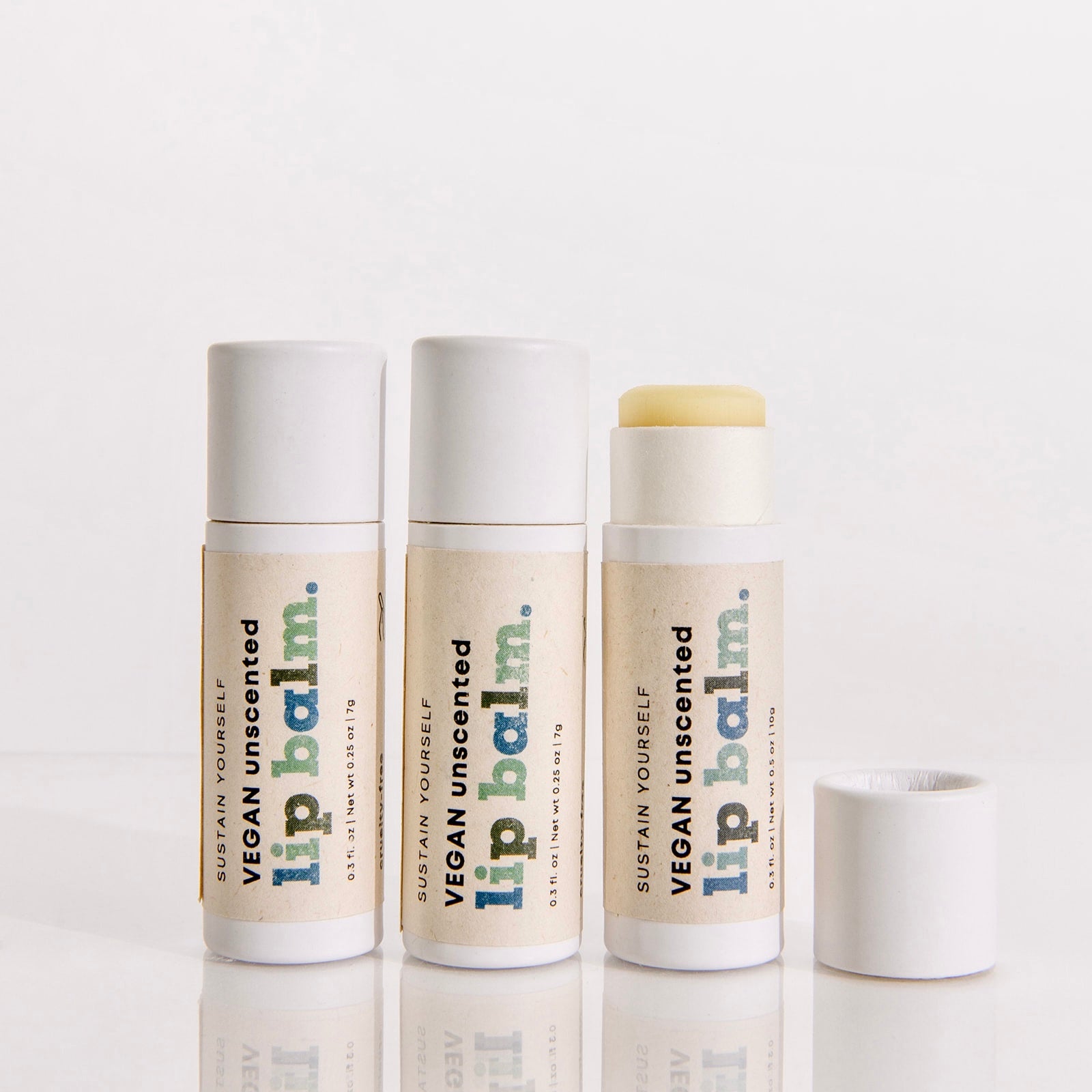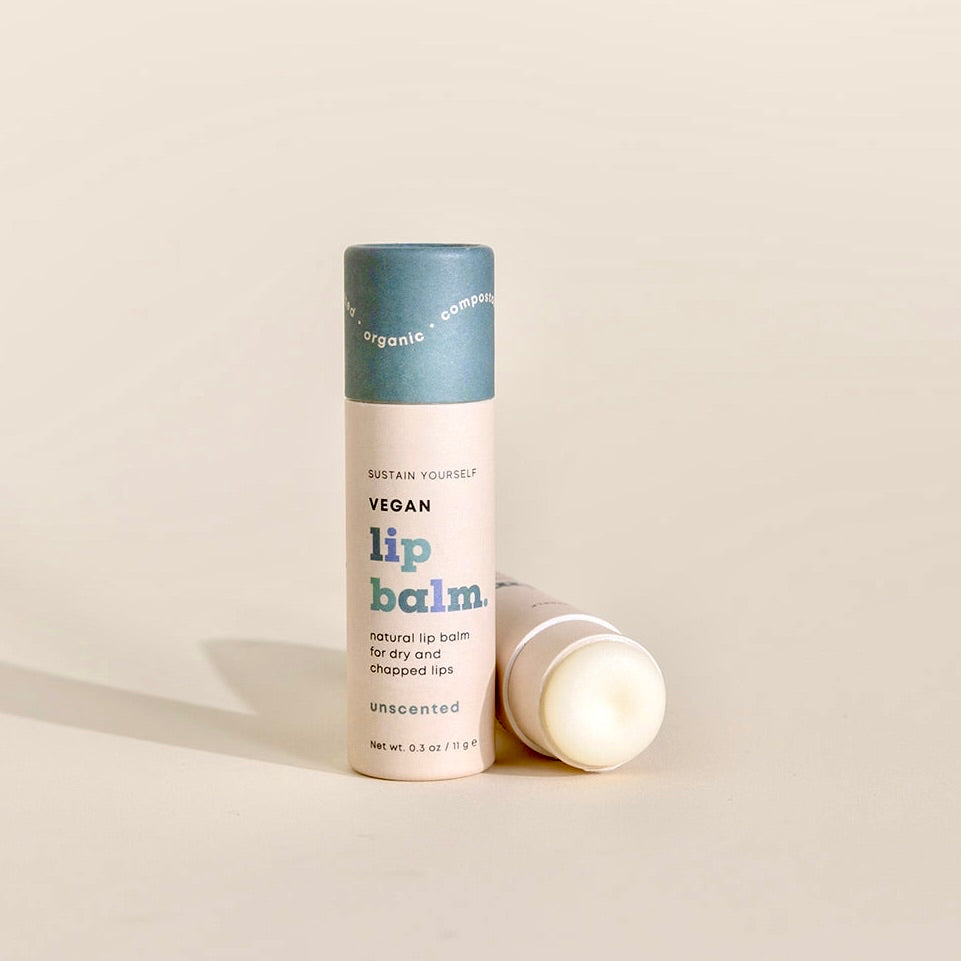 Please note: We are transitioning to new packaging! During this process, you may receive product with either the new or old packaging as pictured above.
A vegan alternative to our best-selling original lip balm and completely plastic-free, our lip balm is delicately hand poured in small batches with natural and high quality ingredients meant to repair and hydrate chapped lips. All of our ingredients are 100% natural and are sustainably and ethically sourced.
Tip: our vegan lip balm formula can get a little dry if not used for several days, due to dry air in the winter. Rub on your lips a few times to warm it up and it'll work good as new!
Ingredients
*shea butter (butyrospermum parkii), *sunflower seed oil (helianthus annuus), sunflower seed wax (helianthus annuus cera), *pure peppermint essential oil (mentha piperita)
*certified organic
+certified fair trade
Ingredients benefits
Sunflower oil: moisturizing, antioxidant, healing
Shea butter: moisturizing, anti-inflammatory, healing
Sunflower wax: healing, moisturizing, calming, nourishing and antibacterial properties
Peppermint essential oil: anti-bacterial, antimicrobial, cool and refreshing aroma
(no essential oil for unscented option)
How to use
Push up from the bottom of the tube, using your finger. 
How to store
Store in a cool, dry place away from direct sunlight. Avoid contact with water. And don't forget it in a pocket when you do laundry!
Shelf Life
24+ months if kept in ideal conditions.
Packaging
Biodegradable paper tube.
End of life
Compost in your backyard or city curbside bin! 
My new favorite lip balm!
This lip balm is long lasting, so smooth, and has a great minty flavor! Love that it's vegan and does not melt in my pocket. This company is wonderful and I especially appreciate their conscious use of ingredients and sustainable packaging.
Best lip balm!
This stuff is amazing! I especially loved that even though it arrived on a 100-degree day, it hadn't melted at all when I opened up the package! Will be buying again :)
Truly amazed
Literally, within one use of this vegan peppermint lip balm my lips have started healing. I was SUPER shocked as I've tried SO many other options all wrapped up in plastic & with horrible ingredients. I was truly blown away to find out this only has 4 ingredients from what I can read. This is my first purchase from this small business but it certainly will NOT be my last. They have gained a customer for life and I can only look forward to what I'll try next. If you're on the fence, just buy it! Trust me, this lip balm comes with NO regrets.
LOVE
It's very difficult for me to find a lip balm that actually hydrates & keeps my lips soft. I'm so glad i stumbled upon this lip balm. Everything about it is perfect. (I went for the vegan version because my lips don't do well with beeswax)
Pleasantly Surprised
Everything about this lip balm is *chefs kiss*. The texture, the ingredients, the sustainable packaging. Ahh, I could go on forever but I won't. A lot of natural lip balms I've tried end up becoming grainy/chunky and this is one of the only ones I've found that doesn't do that. So, yay! I highly recommend!
Sustainable!
I love that SY offers "seconds" of certain products that are a little less than perfect. This allows them to be prices slightly at a discount and they make great gifts for co-workers, friends, & family! Heck, I'd even gift them to a stranger!